Doogee S90 Night Vision camera review
The good PR folks for Doogee sent me an S90, an enormous snap on battery, and their Night Vision camera to play with. Today we're going to look a little bit at the Night Vision camera. You can read my initial impressions of the Doogee S90 here.
First off the Night Vision camera is a separate magnetic snap-on unit that acts as a USB device and uses its own Night Vision app as opposed to the camera. This shall serve as your first indicator things are a little rigged in how it operates.
Secondly, this is not night vision as you probably think of it. This is light amplification. Night vision as I normally think of it involves shooting out IR and getting that weird green night glow look back. This just takes the ambient light and ups it about to what human night vision is.
Let's look at what's broken first
The Doogee S90 has some problems with the camera that could be fixed with a software update. There's no way to get rid of the "Use by default for this USB device" message. You can check the circle, not, doesn't matter, next time you plug it in you're going to see that same message.
This is the S90's OS, not the camera. The OS has a lot of annoying bugs and this is one of them. Hopefully it receive an update soon.
Second, the camera image is warped. It's correctable via software, but it's a warped image and I'm not sure what the reason behind this is. Like it's not enough warping to have a wide angle, it's just skewed. Skewed enough to make it somewhat useless to contractors who might be using it in places without electricity yet.
Door (regular)

S90 + Night Vision

Durr (Night Vision)
Now, this isn't a major complaint, this is just pointing out that the thing seems to miss the target of what I'd expect it to be aiming for (low light useful normal images,) for a fisheye experience that turns night into nightmare.
The unit arrived with nothing to cover the lens. No carrying case. No tiny lens cap. I believe it will get scratched the first time you have to chuck it in a bag or your glove compartment.
Complaints out of the way
Let's look at some actual night vision. This is a photo taken with a Samsung Galaxy Note 8 looking at one of two illuminated emergency exit signs in a studio.
Below, same shot, not particularly great with the Night Vision:
You can see in this shot there's a shelf to the left. It's closer to what I was seeing except the detail is pretty meh and the world is warped.
Above are two videos. They're taken in extremely low light. Two exit lights and an otherwise darkened production studio.
They're not particularly great, but here's the thing – they look significantly better on the Doogee S90. I've been trying to figure out what's up with the S90 display for a couple of weeks now, but it's… somehow brighter than any phone I've owned and the camera seems to be tuned to that.
Like not gouge your eyes out bright, but the colors and the intensity are wrong.
And the videos are close to what I could see in the dark. Sometimes better although I was looking at the screen on and off and that was affecting my night sight.
Product shots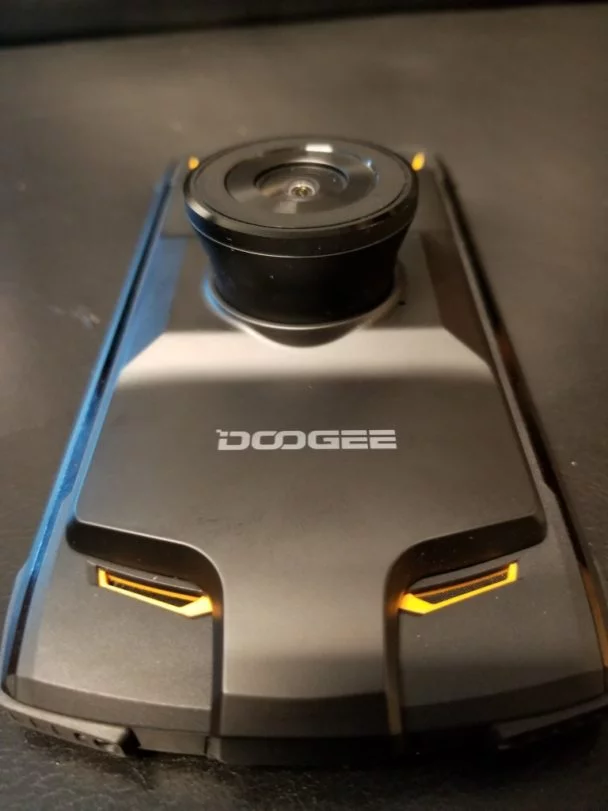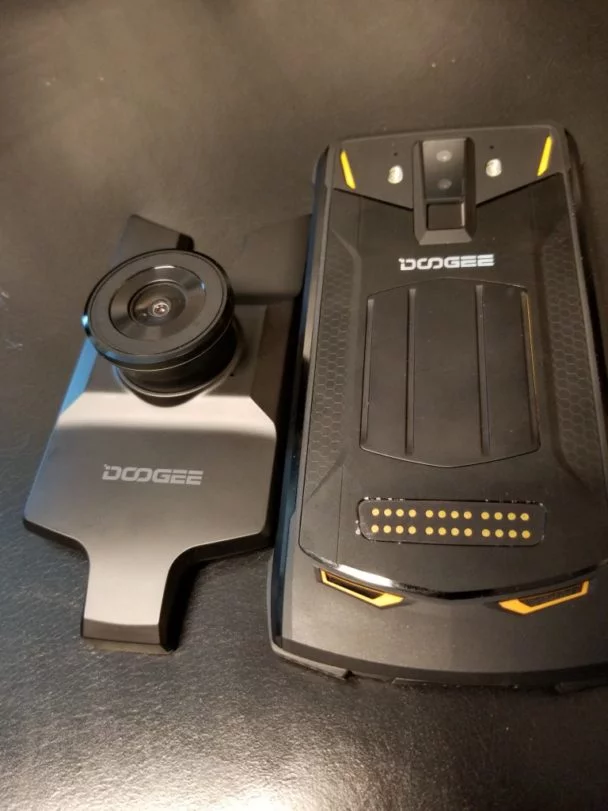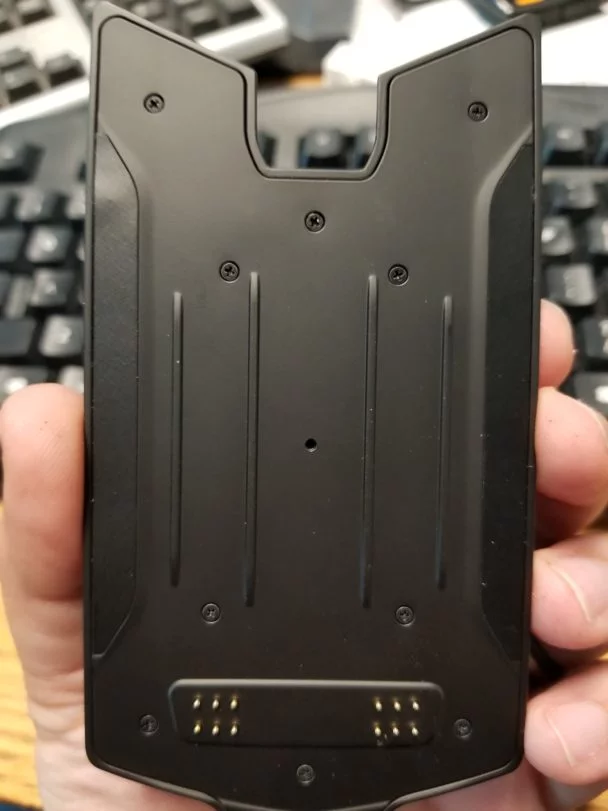 Wrap up
Other than not particularly liking the software, the Doogee S90 OS bugs, the image warping, and the image quality, it serves the purpose to take low light photos. If you're a contractor, which I seriously think this entire phone is aimed at, I can see it being useful.
For photographers, I can't imagine you wanting to go through and de-fisheye every image, and the color reproduction just something isn't perfect.
I can't find a link for just the night vision module, it's bundled with other things at the moment, so this is something on the neat side but unless you have a use case for nearly constant use I wouldn't spend more than $40 on it as it's going to break.