The Freshoe 2 (Fresh Shoe 2) is a Kickstarter project is the device nobody guessed during our last almost fun episode of "Guess What Paul's Charging".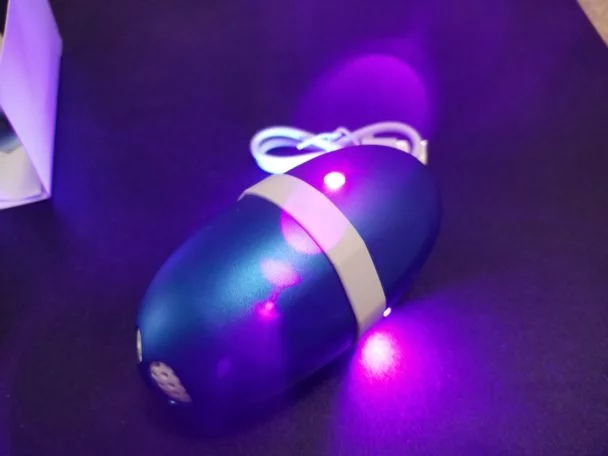 When I saw it was USB-charged, figured might as well see where the connected gadget shoe cleaner products start. I'll note I evidently missed a section in the description on the Kickstarter campaign, or I would have passed.
But, I said I'd review it and here we go.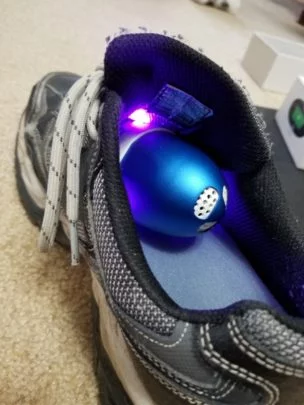 The Freshoe 2 is a portable shoe dryer and odor killer that houses a
5,000mAh battery and uses UV and IR to screw with odor causing germs. It claims a 55C/131F shoe-drying heater as well.
It features two modes – a quick dry 15 minute cycle, and a 30-minute odor elimination cycle.
Quick dry mode moved air, filled the shoe with UV rays, and worked about as well as putting the shoes in front of a fan for 15 minutes with the added benefit of reducing odor a little.
The 30-minute "works" heated the unit up and did the same thing as quick dry, but noticeably lowered odor.
Neither mode actually fully dried the interior of a shoe that had been hit with a mister. Neither mode fully deodorized on pass one. No mode dried every part of the shoe.
However, by the third round I would say my shoes smelled like almost new.
I got curious as to why 55C/131F wasn't drying the shoe. I claim no masterty of shoe drying dynamic sciences, but it didn't feel like it was 131F air, and the egg was warm but not hot.
So, I broke out my FLIR One Pro thermal imager. Seriously, that thing has had more uses than I'd ever have expected.
The highest temperature I could record with the FLIR One was 41C/106F degrees. The highest photo I took was 105.9F, it got .1F higher. I didn't get that shot.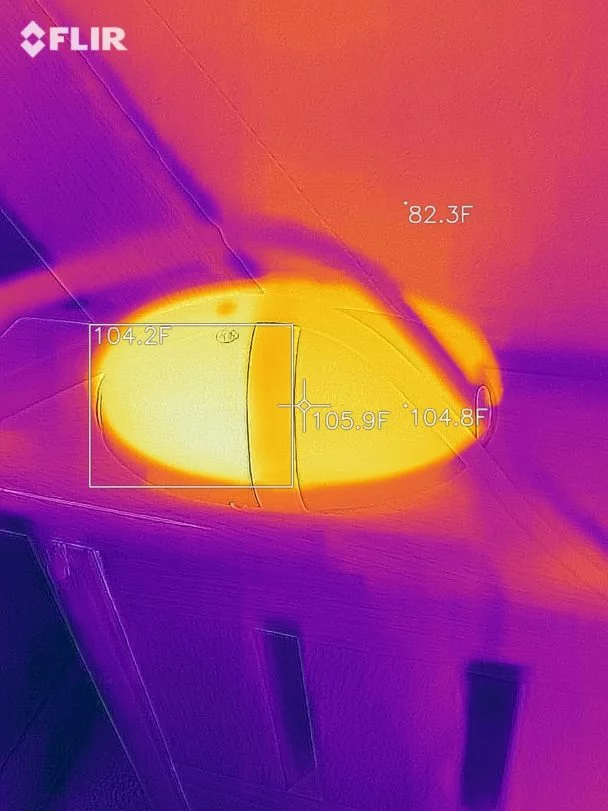 The air that's coming out of the unit can't be much hotter than that. It honestly feels like warm breath, but not much hotter than that. Whether this is my unit malfunctioning or every one, don't know.
The Freshoe 2 claims it's got an air ionizer and some pseudoscience about negative anion speeding up blood circulation so I decided to try it on one foot initially. Nope. I mean, I don't have a capillary tester, but I'm going to say there was no noticeable difference.
I'd never heard of blood flow related to contact ionization and after a little research the only thing I found was that ionizing foot detox machines (or at least one,) doesn't appear to do anything. Subjectively the ionization was only noticeable via smell.
Had I caught the negative anion increasing blood flow part I'd have skipped this review. Just was interested in the de-stink properties.
The instructions claim press once for 15 minutes, press once for 30 minutes. What it appears to mean is hold 5 seconds to get the thing on, press again about 5 seconds later to get to the 30 minute routine. Either option the blinking blue light disappears after a while so check at 16 minutes whether it's running.
Overall the unit I got is not quite living up to the claims, although this may be an outlier. I reached out a few days ago on it but did not hear back. The unit I got does indeed kill the smell, but it's not as fast as I think it needs to be.
I'd discount the bloodflow claims, but it does indeed de-stink a shoe. Just not as fast as I'd expect.