How to fix a sparking microwave? $5 fix.
This is just how to save some money, probably fix your sparking microwave. Not a huge amount of interesting Android news going on out there today, so writing about what I did this weekend.
Pocket the savings with this simple fix, or keep your microwave running long enough to see a Google Assistant microwave released.
Got sparks and lightning flying on the right side of your microwave from a silver/grey piece sitting on the side? That's called a mica plate, waveguide, E-Wave plate, or Sparky, and they can be replaced by anyone who's got two minutes and a pair of scissors.
First thing before attempting to remove it is to try and clean it. If you're seeing lightning this probably means it's past cleaning, but takes a paper towel, cleaner, and 10 seconds. Give it a shot.
Now that that's failed or hasn't, you want to pull that thing out – it's like cardboard and generally should be no harder to remove than bending it in the center slightly and pulling straight out.
Order yourself some new waveguides (make sure the new ones are larger than the old), or ask your neighborhood Facebook group (someone dropped some at my door a day after I ordered some,) don't throw the old one away.
When your non-tabbed replacement plates arrive, either trace the outline of the old waveguide on the new, or just cut around the outline. Keep in mind if you leave ink or graphite on the new waveguide you'll spark joy, and terror.
If you absolutely need a microwave in the two days or so that it takes you to get one, you can run a microwave without the waveguide although you potentially could get some of the innards damp depending on what you're cooking.
Near as I can determine it's to keep headed food particulate from tempting the radioactive demons on the other side.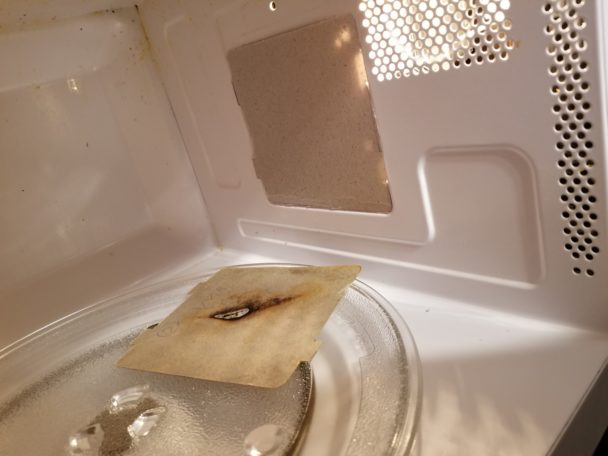 I will point out, I did this project with my kiddo who traced the outline (for the tabs) in ink. I didn't get all the ink off. It was explosive fun. Get the ink off.