Manzoku 100w equiv multicolor WiFi smart LED bulb review
The Manzoku multicolor smart LED bulb come in as the brightest (in terms of retina burning,) LED bulb I have encountered. It's got a cool white feel and you can change the color temperature in the app if you want to move it toward a little more warm. It claims to be a 100 watt equivalent pulling up to 10 watts and I'd say it's pretty close to it in LED terms.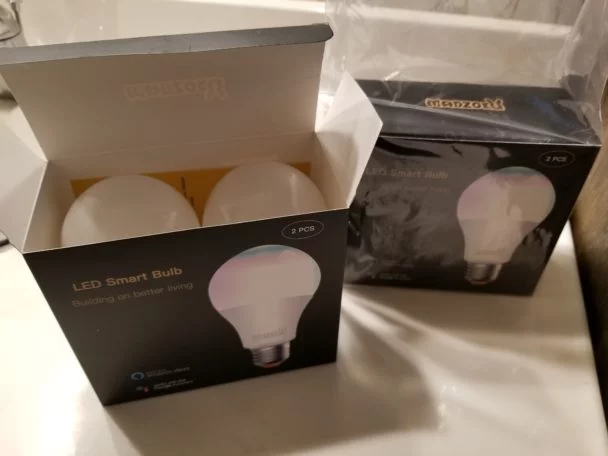 That said, I can't really spot the warmth difference, it all feels cool white to me.
These are A21 E26/27 bulbs (looks light a light bulb, will fit in the socket most light bulbs fit in) – so the only thing you might want to check for is circumference to make sure they'll fit in grandma's fabulous lamp.
I set up four bulbs from this set, two from another, and set about making some of my overhead light fixtures smart (two rooms for the kids, one for basic home security so that I can turn lights on and off as desired).
The Manzoku smart LED bulbs are controlled by the Smart Life app (which I used to set up and then let Google Home do most of the rest,) which it appears almost everything I run automated is and that's just a little scary.
Connecting was a breeze, didn't even have to break out my connecting a 2.4ghz device on 5ghz networks article for it.
One of the four bulbs was not blinking initially (indicator of it being ready to set up.) I was in a position where I just unscrewed it and rescrewed three times and it started blinking and was able to be set up. If you're not able to do that on setup, just flip the light switch three times or so giving a second or two between flips.
Even at 100Watt equiv, cool light where these shine doesn't brightly light up a room. Perhaps I'm romanticizing old 100 watt bulbs, but I think it's the color temperature being too cold blue.
With four of these in operation I got to see light lag – not terrible, but if I trigger multiple color changes you'll see them as they get that push notification.
Lights that are flipped off at the switch will maintain the same color when power is reapplied. Accidentally triggering config mode (power off and on three times) which my kids did twice on day 1 can be overcome by just shutting it off, letting it sit, and turning it on again.
They claim CE, FCC, RoHS certification, don't appear to contain any microphones or be doing much of anything on the network other than checking an IP address every little bit.
I realize this article is a little short on images. Every image I took of the bulbs doesn't look right. Like they can be lighting up a space but the bulb looks lit and everything around it dark. As such, that's not what they're pushing, moving on.
Overall the Manzoku smart LED WiFi Bulb seems like a good value coming in at $13.25 a pop (4 pack only that I see,) on Amazon. If you've got Wikibuy make sure to check out the coupon as there's a few bucks off it looks like.
Feel free to ask any questions, real review and more brands coming – for disclosure – these were purchased using my mad Pocketables millions, not provided, although if you click my link there I would be making about $3-5 on the product as commission.