A record player in a box? Dodocool DA187
Two years ago I had been given a record player. The vinyl player needed attention and a custom box to put that in. The record player still waits for a skilful person (not me) to make the enclosure, and I ended up with a stack of vinyl records I can't use. Since I'm connected to the right people, I got the Dodocool DA187 to try out. Note that, if you have DNA of a hipster my choice of the record player will offend you.
Dodocool DA187 is a peculiar device
Looking at the Dodocool DA187 box, I struggle to imagine the target customer base. Vinyls are loved by both audiophiles and hipsters for many different reasons, and I highly doubt this device would please either of it. But here I am with a stack of vinyl records and nothing to play it on.
This is not just a record player. The Dodocool DA187 comes with a couple of functions:
A record player
The blue box is capable of playing records at 33 1/3, 45, 78 RPM and
7″/ 10″/ 12″ in size. This should cover most of your needs. The player has auto stop option, headphones jack, RCA for external output too.
It's easy to use, and the only issue I have is the speed selector. It's very hard to read. You will learn over the time which speed setting it has been set to, but I wish the labels were more visible.
The music experience especially using my Sennheiser PXC550 is pretty good. You can hear a pretty decent mastering of the records and the characteristic noise and spikes associated with imperfections of the medium. Basically, you can very well tell, that the music is played from a vinyl record.
A vinyl disc recorder
I dismissed this option at first, but as soon as I played a couple of vinyl records, I started to understand why we all moved to a different medium. If you never used vinyl, music quality aside, you will babysit your playlists. I have records that come with 2 songs per vinyl's side. Making trips to the record player every 10 min can be annoying.
There aren't any fancy features. Press the record button, it will stop when you tell it to stop (track) or when the vinyl stop (one side). A nice touch is the auto-play. The moment you run out of the tracks on the vinyl,
Dodocool DA187 switches to MP3 playback and continues music until you flip the vinyl again. The music has 128-bitrate – you can listen to the sample here:
You can play and record the music to a USB stick or an SD card. I always complain that options like these should come with a mandatory LCD screen. It's nice to see the file structure rather than pick tracks blindly.
A bluetooth speaker
Dodocool DA187 comes with built-in speakers (2x5W). These are your average Bluetooth speakers. They are not amazing, but serviceable. If you want a better grade music experience, you have your RCAs.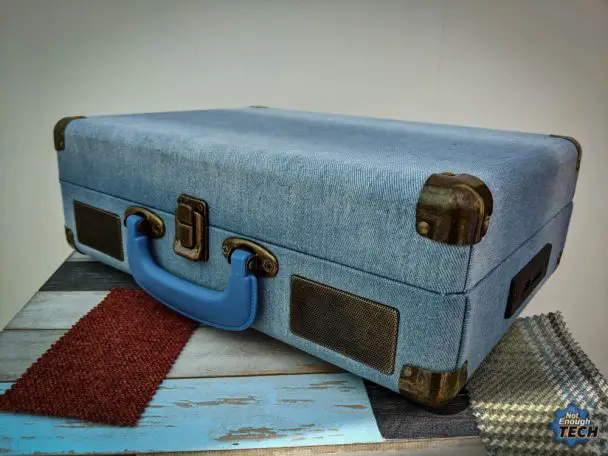 The box doesn't come with a battery. It's a shame really, I could totally impress the neighbours playing vinyl discs during a garden party!
Conclusion
Disclaimer
The Dodocool DA187 record player has been provided to me for the purpose of the review. As usual, with all my reviews I reserve the right to an honest critique of the product.
Picking the right market for the Dodocool DA187 could be difficult. Audio geeks will give it a pass, but perhaps someone that just inherited a stack of vinyl records could use it? There is a niche for everything, clearly, there is one for this record player too. What do you think? Are you in the audiophile's camp or do you prefer the simplicity of use?
You can buy this beast of a box on: