A review of the Samsung Galaxy S10+ after three weeks (compared to the Note 8)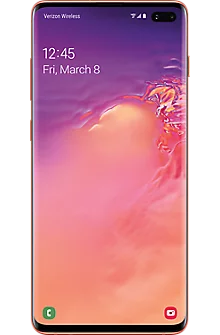 I really love my Samsung Galaxy Note 8, so we're going to compare the Galaxy S10+ to it and you're going to probably by the end understand why sending the S10+ back doesn't make me sad.
I mean, you can stop there if you want. The S10+'s camera app is better and has a really improved Live Focus feature of selective saturation
Basically Google's "Color Pop" but you're more in control.
Today WordPress is determined to not let me upload a photo it doesn't rotate and then show me that it's rotated correctly in one screen and not in the final product. So if the images are sideways, that's yet another thing that's being worked on on our site. Fixed (thanks "Fix Image Rotation" plugin)
Processor wise, the S10+ feels a bit faster. Based purely on the GHz it's 20% faster. If I was to estimate how much faster I would have said about 18-25% on certain functions. 33% more RAM makes programs run better as well, however something with the very buggy OS they just rolled out for it is killing tasks that aren't supposed to die, so at least at the moment the additional RAM is not helping as expected.
The screen real estate you'll note is extremely less than a Note 8. The dimensions aren't all that different but the notch means videos are losing the entire upper section of the phone.
I'll note I didn't dislike the S10+, it just wasn't my Note 8. Videos weren't as large, games tended to place things I needed to tap right on the camera cutout. The S10+ claims a 6.4″ display (which is .1″ more than the Note 8) but you're losing the upper section or putting a cutout camera in it.
Battery
Underwhelmed. The Note 8 with the same use generally lasted me until about 8pm every day before getting dire warnings. The Note 8 has a 3300mAh battery, the S10+ a 4100mAh. The S10+ was complaining about low battery every day around 7:30pm. This could be due to the radio issues that Sprint's been having with recent firmware updates, but who knows.
Network speed
While hard to metric properly since my Note 8 was not live at the same time, the network speed downloading seemed absurd (200+mbit,) while the upload speed seemed universally abysmal (~3mbit).
This compared to my Note 8 standard 30-60mbit down and 8-10mbit up. I really felt like it may have been the victim of the roaming issue some of the S10 line had because 200+mbit does not feel like Sprint at all.
Software enhancements
I tried to mimic every detail of the S10+ on my Note 8 but two have eluded me. While the Note 8 has face unlock, it doesn't have face unlock followed by no-swipe, which the S10+ did.
I could tap my screen, look at it, then be in whatever app I was before. I can't seem to replicate that with the Note 8, but man that was a nice feature.
Also the color pop, that will be missed.
I learned gestures as opposed to Nav bar on the S10+, but that was a Pie thing so I'm now doing gestures on the Note 8. That did feel like a leap for a minute though.
Dat WiFi Charging tho…
All those happy people charging their friend's phones, no. Charging is slewwww. I put two Samsung devices back to back and it couldn't maintain +500mA (slow charge,) it kept dropping to +200 throughout testing. That and I achieved a conversion efficiency of like 34%.
Overall
Did I mention I really love my Note 8? Keep that in mind when I say that the S10+ didn't feel like a two generation newer upgrade. Maybe a one. I'm not exactly sure what is required to wow me now, but I did not see it in my forced test drive.
Perhaps we've reached the point where there's nothing really new in the Android world and everything is just a little bit better or worse than any other phone and we'll all realize that the only thing that's holding any one phone back from the others is just network, and operator.