HÄNS Swipe – portable screen cleaner review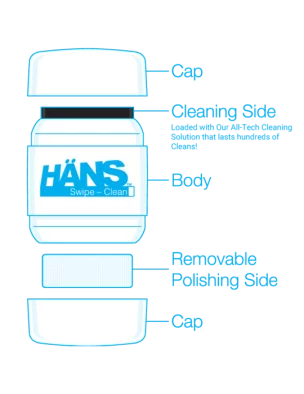 HÄNS is a pocketable screen cleaner that you can take wherever you go and not risk the bottle breaking, or having to keep up with an applicator and a cloth as it's all built into one portable device.
You could think of this as a phone squeegee, and you wouldn't be wrong. It looks more like phone deodorant, but whatever.
Your phone or tablet is filthy, fingerprints all over it, fecal bacteria and face oil combine to form a more perfect and ghastly microbiome that would turn most people's stomachs if they thought about it. Or not.
It's not particularly worse than walking through a fart, but it's considerably more annoying visually to be trying to operate a phone or tablet that's dirty.
The HÄNS container can be refilled, and the wiping surface can be washed, so theoretically you're in a one-time purchase other than for refill bottles (or make your own.)
I'm not exactly sure what the cleaning agent is, but it works. It smells a little like permanent marker but evaporates fairly quickly.
A couple of passes with the cleaner and the microfiber side and my screen was clearer, cleaner, and slides to the touch again (it was getting a little grippy today.)
Of course with a clean screen comes the rather large letdown of seeing fingerprints immediately appear. If HÄNS has fingerprint-resistance, it's not evident nor advertised.
The one complaint I have about HÄNS is that the caps are a bit difficult to open. They didn't put any grips on the caps and they tend to stay put. Other than that, if you want a portable pocketable screen cleaner, this one's pretty good.
Grab HÄNS at Amazon or the Manufacturer's website.