Jabra Move Style Edition Review
There is no shortage of Bluetooth headphones on the market and we've covered our fair share here on Pocketables. Today, we're looking at the newest entry from Jabra, the Move Style Edition. They're $99 headphones with a lot of competition. Are they worth buying? Read on to find out.
DESIGN
I really like the look of the Jabra Move Style Edition. There's nothing flashy about them but their design is a step up from the generic $40 sets that populate Amazon. The angled metallic armature for the earpieces and the exposed wiring lends a sophistication to the Move Style Edition that I enjoy. They are available in several colors (navy, black, beige, red, blue, gold) so anyone should be able to match one to their taste.
The on-ear pads are comfortable faux leather and color-match the rest of the unit perfectly. The padding is quite soft meaning that you can go several hours before experiencing ear discomfort. The band padding is also soft and very comfortable on your head. One thing that some might view as a negative is the earpieces do not fold in for storage purposes.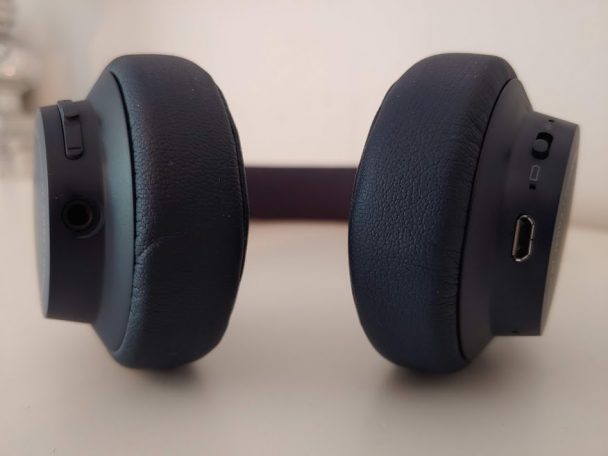 Button placement is well thought out. The power switch is an actual toggle that also serves as the Bluetooth control. It's easy to know when the headphones are on or off. That sounds silly but it is a problem I've run into before. The buttons for volume and play/pause are easily found and used. There's also a 3.5 mm jack for corded use if that's your thing or if the battery runs out.
That leads to my biggest gripe about these headphones. The charging port is microUSB which is pretty annoying in 2019 and will only get more annoying the longer these headphones are in service. It's a USB C world and it is time that manufacturers embrace it.
PERFORMANCE – BATTERY
There are two primary things to consider performance-wise with Bluetooth headphones – battery life and sound quality. Batterywise, the Move Style Edition is excellent. They are rated for up to 14 hours of use. What I can say is that they definitely last an entire business day (9 hours) and more. That's the measure I use. With occasional use things get even better. You can easily use these headphones for a week or more without needing to charge.
PERFORMANCE – AUDIO
I've tried to standardize some of the music I test headphones against so I can get a good feel for how new units compare to previously tested ones. I use only high quality downloaded tracks from Google Play for consistency. I've put down my thoughts re: the Move Style Edition's handling of each of these tracks below.
Led Zeppelin – Fool In The Rain (2012 remaster): This classic song has just about everything needed for a headphone test – strong vocals, heavy guitar, a frantic musical interlude, and whistles. The Move Style Edition handles it perfectly. The instruments are clear and Robert Plant's voice is true. It's a perfect match.
Humble Pie – 30 Days In The Hole: The Move Style Edition proves it's worth as soon as 30 Days In The Hole starts. At the beginning of the recording you can hear some pre-song discussion and vocal tests. Not every pair of headphones will reproduce this clearly. It often sounds muddled. Not so here.
The Piano Guys – The Cello Song: The Piano Guys have taken Bach's classic cello prelude and layered it with parts for seven cellists and other sounds. The Move Style Edition does a great job of reproducing the warmth and fullness of the cellos in this recording.
Harry Roy – Wah De Da De (Remix): I don't listen to a lot of bass heavy music but one of the bassier songs in my rotation is this remix of a long forgotten Harry Roy song. The Move Style Edition does an admirable job but these won't be mistaken for Sony's Extra Bass line of headphones anytime soon.
FINAL THOUGHTS
I really like the Jabra Move Style Edition (other than that goofy name). They look sharp without trying too hard to be cool. The ear pads are comfortable and general music performance is excellent. Bass could be deeper so if that really matters to you you might want to look elsewhere. But for general rock, classical, swing, and more the Move Style Edition does an excellent job. The $99 headphone market is crowded but Jabra has a strong entry here that I can definitely recommend.