LIFEACTÍV Power Pack 20 Battery Review
We get the chance to review a lot of accessories here at Pocketables and today that continues with the LIFEACTIV Power Pack 20 (LPP20) from LifeProof. It's a 20,000 mAh IP68-rated battery pack. Is it worth the $99 MSRP? Read on to find out.
DESIGN
The LPP20 is designed to be rugged. It is advertised as drop proof, waterproof, dirt proof, and snow proof. That's no surprise as LifeProof has made a business out of protecting devices with heavy-duty cases. The LPP20 has a solid hard plastic shell that is bordered by protective rubberry edges.
It's pretty large at 18.11×7.52×2.59 cm and hefty at 538 g. It's narrow enough to slide into pants or backpack pockets.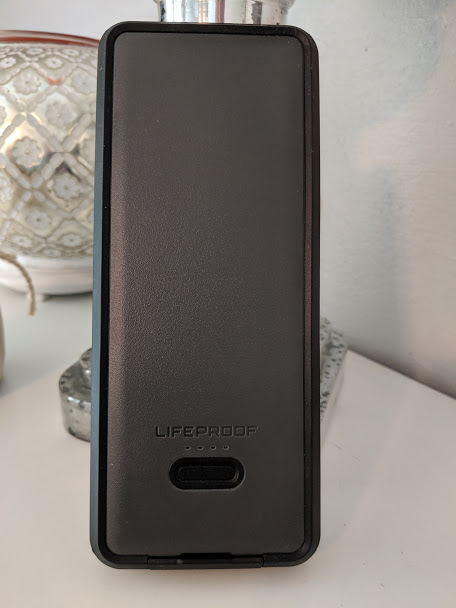 Two of the corners have slots for attaching lanyards. Conveniently, LifeProof sells lanyard cables for connecting USB-C and Lightning devices. There's a single button that lights up the charge status indicator lights when pressed. A long press on the same button activates an LED light bank that doubles as a white-light flashlight and a red-light blinking safety light.
There are two ports for connecting charging cables – one USB-A and one USB-C PD which is used for power input and output. A hinged door enclosure seals up the ports. I could not locate the USB PD output specs but I'm assuming at least 18W since it charged my Pixel 2 XL rapidly. I will update if/when I hear from the LifeProof folks.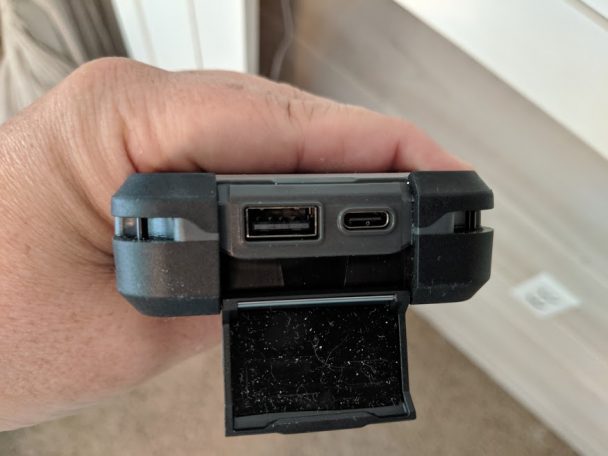 The only real complaint I have with the LPP20 is it's balance. It's pretty heavy on one side which I think would make it prone to being dropped. I never actually unintentionally dropped it but it is a little wobbly when being held.
PERFORMANCE
The LPP20 works just as promised. The 20,000 mAh battery is large enough to provide multiple charges to any phone. It can also charge tablets and laptops – particularly if they support USB PD. I decided to test the battery by using it as the only power source for my Pixel 2 XL for a week. I made it from Tuesday to Friday only using the LPP20 to charge my phone. I would definitely trust the battery pack to power my phone through a weekend camping trip or during a hotel stay where there are limited power outlets.
The LPP20 should withstand drops from up to four feet and it certainly did in my testing. It looks nearly as clean and nice as the day I received it for testing purposes. With the port door closed, the LPP20 is IP68 rated which means it can survive being 6 feet underwater for up to 1 hour and is protected against most dust gaining entry.
FINAL THOUGHTS
I'm of two minds with the LIFEACTIV Power Pack 20. First, it is a quality product from a reputable company. It does exactly what it claims it will do. It's durable and should last a long time and has the right features (USB-A, USB-C PD, flashlight) for this kind of product. On the other hand, it is a little expensive at $99 from LifeProof and there are competing products available for much less, albeit without some of the durability features. I guess it boils down to personal needs. If you are someone that spends a lot of time outdoors or in situations where product durability is a factor then the LIFEACTIV Power Pack 20 makes a lot of sense. I can recommend it but if the price is an issue for you then keep an eye out for discounts.