LG G8 ThinQ Review – A Second Look
I received an LG G8 ThinQ for a second round review a while ago. Since much has already been written on the G8 I thought I'd approach this review a little differently. I'll focus on the highlights, lowlights, and midlights of the phone that I thinq are worth calling out rather than sticking with my normally structured review format.
HIGHLIGHTS
Size: No "size matters" jokes here; the LG G8 ThinQ has hit the sweet spot for me on modern phones. The 6.1″ display coupled with the 151.9×71.8×8.4 mm body make this phone the perfect one-handed device for me. I can easily reach all parts of the screen without doing some of the gymnastics necessary on bigger phones like the Galaxy S10+, Pixel 3 XL, or iPhone XS Max.
Performance: The G8 is responsive and handled everything I threw at it thanks to the SnapDragon 855 platform it runs on. RAM slots in slightly lower than some other headline phones at 6 GB but my experience never suffered because of that.
Display: LG is getting really good at making OLED screens. The G8 display is gorgeous – right there with Samsung's latest phones to my eyes. At max brightness it is readable in full sun. There are plenty of options for adjusting the look of the screen. My preferred settings? True View: on (matches the screen with ambient lighting), Screen Color: web, HDR: on, Resolution: 3120×1440, Comfort View (blue light filter): off, Brightness: 80% without auto.
Audio Options: While the speakers on the G8 aren't great (see below) the headphone options are. First, there's a headphone jack with DAC that sounds great over wired headphones. Then there's the DTS X 3D support and sound equalizer. Whether you are using wired or wireless, the G8 really provides a great headphone experience.
MIDLIGHTS
Camera: The camera is a tough one for me. Most of the time, it takes good-to-great pictures. There's a decent low-light mode and plenty of options to configure things just so. Probably too many options. The camera never rises to the level of recent efforts from Google, Samsung, or Huawei. It's good but not great.
Skin: There's a lot to dislike about the default Android skin on the G8. It looks like a complete afterthought and cannot compete with the modern look and feel of Google or Samsung's offerings. The good news is that 95% of the skin problems go away just by replacing the launcher. I've been running the phone with the Rootless Launcher from almost day 1 and I've been very happy with it.
Google Assistant Button: I'm of two minds here. I do appreciate the convenience of accessing the Assistant with a button press, but I much prefer the squeeze gesture available on some other phones. The Assistant Button just gets in the way of the volume buttons sometimes.
Battery Life: There are plenty of options on the G8 saving battery life – background restrictions, lowering screen resolution, enabling Adaptive Battery. That's not the problem. The problem is that I just never felt like I could get a full 15 hour day out of the G8. More like 9 or 10 hours. It isn't horrible but I hoped for better. One nice bit is that the phone supports Qualcomm Quick Charge 3.0 and Qi charging. USB Power Delivery isn't an advertised feature but it does recognize my USB PD chargers as providing "fast charging".
LOWLIGHTS
Option Overload: The G8 has its share of useless features. Air Motion? Complete waste of engineering time and resources. It is completely useless. Other options like smart cleaning, having two instances of the same app, and game mode are nice to have on their own but there might just be too many features. It takes a lot of time to comb through the myriad settings menus and configure the phone just the way you want it.
Speakers: I'm glad there's stereo sound available on the G8 but the under-screen piezoelectric speaker system leaves much to be desired. The speakers aren't balanced properly – the downward facing traditional speaker is much louder and it's placement lends to it being blocked by your hand when in use. Not a fan of this setup.
Slippery: This must be emphasized. The LG G8 ThinQ is one darn slippery phone. You absolutely must use a case with it. I ordered the $18 leather VOIA case from Amazon and I love it.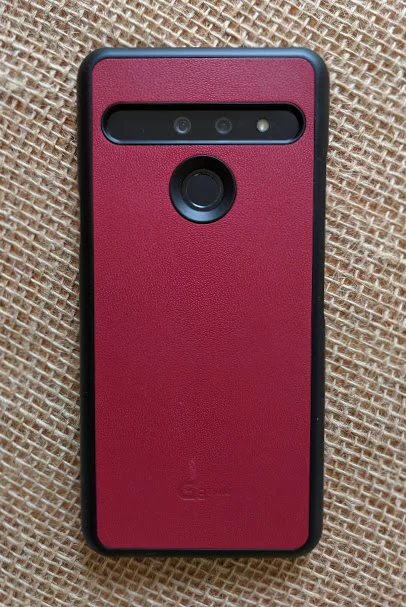 FINAL THOUGHTS
In the end, the G8 is a flawed phone but one that I find myself going back to. I love the size of it. The screen is fantastic. It does almost everything that I want it to do really well. Maybe it tries to do too many things but, in the end, I can just ignore the features I don't care about and be happy to have the ones I do. The G8 is often discounted and can be found for $600. At that price, it is a bargain.