Acer Spin 5 Laptop Review – An All Around Winner
The Acer Spin 5 is an $800 laptop/tablet hybrid computer priced for the midrange audience but with some of the spit and polish normally found on higher priced machines. It isn't perfect but it is good. Will it meet your needs? Read on to find out.
DESIGN
The Spin 5 is designed to be used in three distinct modes – regular laptop mode, "tent" media mode, and tablet mode. It is hinged so that the screen will flip around to support the tent and tablet modes. The body is aluminum, lending a premium feel to the laptop that matches other more expensive devices. It's quite solid with no creaking (looking at you Huawei Matebook X Pro) or bowing even when flipping around the screen to the different modes.
The Spin 5 has an island style keyboard that is responsive and feels quite good to type on. The key travel distance isn't published but it feels great. The keyboard has an adjustable backlight (white only) which is great for typing at night.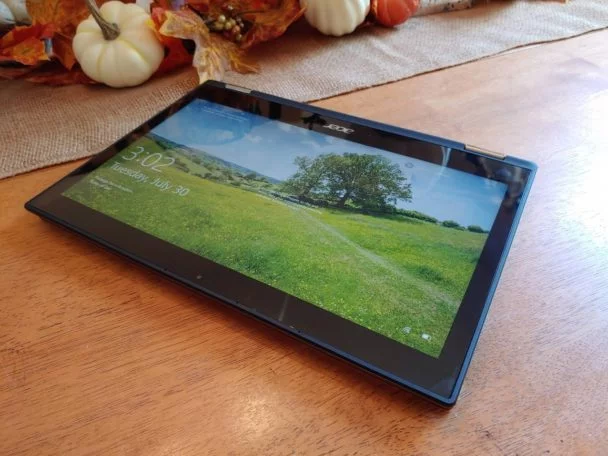 There are stereo Realtek speakers above the keyboard that are Dolby certified. The speakers are crystal clear, even at high volume, but they suffer from a decided lack of punch in the bass department.
The screen is a 13.3″ 1920×1080 IPS LCD that has pretty large bezels. Some bezel is required, of course, for tablet mode but these are pretty large even still. Take a look at the Surface Pro line for a tablet-style PC with appropriate bezels. Otherwise, the screen is fantastic. It's bright, appears to have good contrast, and is readable at basically any angle. There's a single camera above the screen that's useful for video calls but not much else.
There are plenty of ports on the Spin 5. It's got a USB 3.1 USB-C port, three USB-A ports, a full HDMI port, an SD slot, and a 3.5mm headphone jack. The USB-C port is useful for charging and video out. There's also a barrel charging port.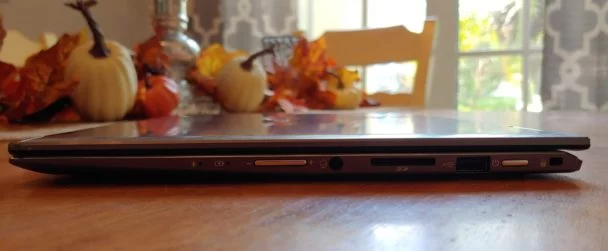 PERFORMANCE
In general usage, the Spin 5 is excellent. It runs on an 8th gen Intel i5 8265U with 8 GB DDR4 RAM and a 256 GB SSD. The laptop ships with Windows 10 Home and, of course, is eligible for all the updates that Microsoft pushes out for the OS. Navigating around the OS, browsing the web, and using the out-of-box apps are all seamless activites. Apps open quickly and are quite responsive.
The Spin 5 is definitely not a gaming machine. There's no discrete GPU – instead it relies on an Intel 620 integrated GPU with no dedicated graphics memory. It can handle simple games like League of Legends and can even play 3D games like Fortnite with adjusted settings but do not buy this machine to be a gaming laptop. 3DMark benchmarks bear this out as you can see below. Of course, it isn't priced like a gaming laptop so that really shouldn't be a consideration going in.
On the other hand, the Spin 5 is great for movie watching. The adjustable screen makes for a pleasant experience. My wife and I spent some time watching movies from Netflix and Google Play this way and were quite surprised at how good the experience was. The flexibility combined with the display quality really made it a fun machine to watch video on. If only the speakers were a little better it'd be a real video powerhouse.
The battery is a 3 cell 4,670 mAh affair that Acer clais can get up to 13 hours of battery life. Thirteen hours is a little ambitious but with general usage I get about 8 hours. That's not class leading by any stretch but it is good enough to not have to constantly worry about having a charger nearby.
BENCHMARKS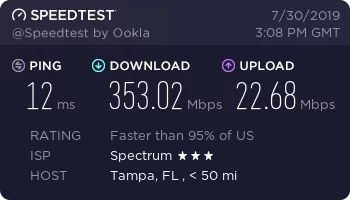 PROS
The fingerprint reader is really fast. It's position in the trackpad is convenient and helps avoid accidental readings.
Speaking of the trackpad, it is just the right size – not too big, not too small. It is quite responsive and supports the Windows 10 gestures.
As described above, there are plenty of ports for all sorts of interfaces.
The keyboard is really fantastic. My fingers almost fly across the keys. It's a really good typing experience.
The storage device is a 256 GB PCIe SSD. It's large enough for most users and it's nice that it's not a slow physical HDD.
8GB RAM is plenty for the use cases the Spin 5 is best suited for.
I'm very pleased to see at least one USB-C 3.1 port. Frankly, I would prefer to trade one of the USB-A ports for another USB-C.
The IPS display is excellent. It's crisp and bright and has active stylus support.
The 802.11 AC WiFi is very fast. The Spin 5 has the fastest WiFi download speeds I've seen on my network of any device. 350+ mb/s on a 400 mb/s cable network.
CONS
Barrel chargers are so old-fashioned. It's nice to have USB-C charging as an option but next time just drop the barrel charger and give us another USB-C port.
The bezels are way too big, especially above and below the screen.
Relying on Intel 620 integrated graphics really eliminates any chance of serious or semi-serious gaming on the Spin 5. It just can't handle modern 3D games.
I'd love to see the Spin 5 with a 3:2 screen. 16:9 screens on PCs were probably a mistake from the get-go and are certainly past their prime now. Use up all of the space in the lid with a larger, squarer screen.
The speakers are too tinny to be taken seriously. They're OK for occasional video watching but forget about listening to music on them.
FINAL THOUGHTS
The Acer Spin 5 is a laptop/tablet hybrid device that does almost everything well but excels when used as a traditional laptop. It looks great, performs well for most tasks that most users will throw at it, and costs a respectable $800. It isn't perfect – the bezels are too big, the speakers are lacking, and the GPU is weak – but for the price it's a fine machine. It's ideal for students or general purpose users.
SPECS
CPU
Intel i5 8265U, 8th gen quad-core @ 1.6 GHz
RAM
8 GB DDR4 dual-channel
Internal Storage
256 GB PCIe SSD
SD Support
Yes
WiFi
802.11a/b/g/n/ac
Bluetooth
5.0
Battery
4670 mAh
OS
Windows 10 Home
Display
13.3 inches IPS LCD, 1920x1080, 165 PPI
Fingerprint Sensor
Yes, in touchpad
Weight
3.5 pounds
USB-C
1, USB 3.1
USB-A
1, USB 2.0
2, USB 3.0
HDMI
Full size
Speakers
2 Realtek Stereo