The OOLER Sleep System, night 45
My wife loves the OOLER now, she's said she's going to be sad whenever we go somewhere where she can't pile 600 blankets on and be the perfect temperature.
Her one concern was that she was worried that the thing would be filled with mildew and sludge. I assured her that one of the advantages of the OOLER over the Chillpad was that it boasts "Includes a self cleaning UV lamp to automatically clean the water."
Last night neither of the OOLERS seemed to be working particularly well – it wasn't their fault, it was that they'd just kicked on (we went to bed early, this almost never happens) – and while in the app I got a low water warning.
I get warnings all the time from that app about updating the firmware when I'm nowhere near the bed (such as at work,) and there's never any firmware to update, but this was a new one. Since the beds were warm (once again, not their fault,) I set about getting this done.
Popped open the OOLER base to put in some new sparkling distilled water and bam. It's like someone blended Kermit up.
Honestly looks like antifreeze. You can see on the top of the ooler some of the "dirt" is actually just water that came out.
This is on both OOLER units with self cleaning UV lights we have as a note. I've gone ahead and ordered some of the Chillpad cleaner to put in them and am running the deep clean as we speak. The integrated UV light evidently didn't do anything much on either of these units.
While the OOLER is a sealed system and we're not ever touching the cooling agent, I do worry that the efficiency of cooling is going to be adversely affected by having a solid wall of algae slime on it. Or a giant ball of algae getting wedged in the tubes.
So, 45 days with the built in UV light evidently not able to handle distilled water and whatever airborne contamination entered. The water looks like green antifreeze at this point.
I've started the deep clean mode, which I'll probably do on a weekly basis at this point. Going to add the Chillpad cleaner and see what happens as I'm thinking if I drain this, there's no way to clean the insides any way. Better to treat the water than open the system up for more airborne contamination.
Other annoyances
As I switch WiFi from say home to work I get a popup to update the OOLER firmware. Whenever I come home to update said firmware, neither my nor Kim's OOLER claim to need it.
We've had multiple times between OOLERs where they did not kick on on schedule. While I can't rule out that there was a power loss at some point, it does get annoying to go to bed and it's hot / have to wait 20 minutes or so to chill down.
You can't be connected to all of your OOLERs at the same time. This means a 5-10 second delay switching and while that doesn't sound bad, sometimes the data you see isn't right and you have to reconnect or switch.
Sometimes the app can become confused and will say it's connected but not allow you to do anything. I've found that terminating the app sometimes works, sometimes I have to reboot the phone (guessing how it opened the Bluetooth connection failed). This isn't an app you want to deal with when you're trying to sleep.
Paul's complained, but what about performance?
I would buy this. We've showed friends and they're buying this. It needs work and a better price point though.
Room for improvement
We have two OOLER pads, each one is held by a band to the bed. There's no way to tighten the bands, as such the pads slip up and down. My pad will move about 6-8 inches south over the course of a couple of days.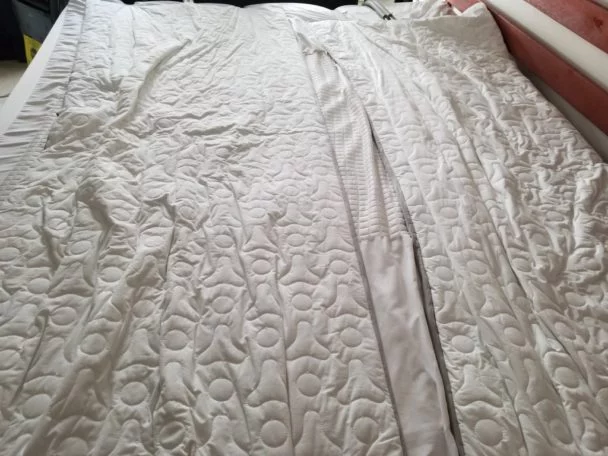 Both pads will move apart from each other. Really feels like they could run a zipper on the side or something to connect multiple pads, and use a ratchetable seat-belt like fastener.