Duplicate UUID (Universally Unique ID) – more common than expected
We'll start with what's been my personal work project for the past six weeks – figuring out why our brand new fancy Veeam was not working with one two physical machines.
Basically the one known as Andy-W10 works perfect, backed up to storage\andy-w10 and does so every night. After it's backed up at some point it's copied off site and if the building explodes there's a backup somewhere else.
The next machine was called XD6Server – it backs up to slowstorage\XD6Server, but when you looked at the job in Veeam it was always claiming the computer name was andy-w10.
I'll save the multiple tiers I've traversed to get to this point, but the big discovery is the Windows reported UUID is duplicated. It's not unique. A UUID is an identifier that really should be about 59.6 billion to one against a dupe, but Microsoft man… or maybe the motherboard manufacturers… I've got two in my office.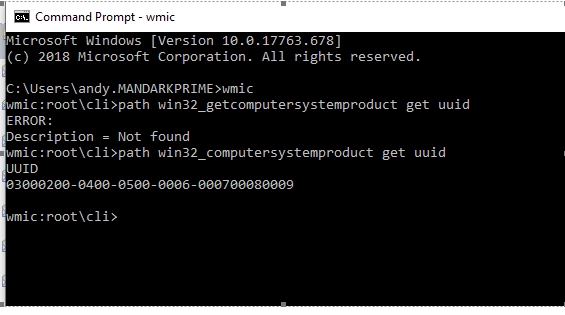 One device is an Azulle Byte3 (shipped with Windows 10,) and the other is a machine that had Windows 7 and upgraded to Windows 10 if I remember correctly. Both legal, both installed and set up normally.
Both have the UUID 03000200-0400-0500-0006-000700080009. That's a really interesting number because it's the same UUID reported in this thread. If you look around for "duplicate UUID" you'll see that one pop up time and again, different manufacturers.
Unfortunately it appears Veeam's bet on UUID actually being unique, and they're quite regularly not. At least not on my machines.
From where I'm at on the support tree they're thinking it's in the BIOS and needs to be changed. From where I'm at I'm thinking no software should ever rely on UUID being actually unique. We'll see.
Should you be interested in seeing what your computer is reporting as the UUID, open a command prompt and run wmic path win32_computersystemproduct get uuid" – if you're one of the lucky ones with 03000200-0400-0500-0006-000700080009 comment below and win nothing.