MiBand 4 review – 4th time the charm?
It takes time and iteration to create perfection. Are four iterations enough to create a sports tracker worth your time and money? I'm about to find out as I got the MiBand 4 to play with and share my experience with you. It's not the first MiBand I own. I used MiBand 2 and MiBand 3 before so I can witness the evolution of the Xiaomi's sports tracker first hand.
MiBand 4 the perfect sports tracker?
To answer shortly and bluntly: No! But before you stop reading this review and give up the whole idea, let's examine how close MiBand 4 comes to perfection.
In the sub $50 (or around $35 – category depending on the discount) the Xiaomi's device is what I would still class as "budget" offering. "Thanks" to misguided WearOS updates, which are trying to change wearables into smartphones, spending £270 for a glorified pedometer is exactly what I'd like to avoid.
What do you get for your hard-earned money? A completely new device! While MiBand 3 felt like an upgrade to the MiBand 2, the current iteration feels fresh without losing its identity.
Display
Do yourself a favour and crank up that 240×120 AMOLED colour display. I ran mine at 50% brightness for 2 days before I realised there was an option to do so. Now every time I lift my wrist, the sports tracker lights up with beautiful colours of my custom MiBand face! Day or night – it's bright. On that note, there are settings to dial the brightness at night automatically, so take advantage of it.
With a great display comes improved touch detection. tapping, swiping and selecting is much easier and less prone to errors. My fat fingers often took me to a wrong menu on the MiBand 3, on the MiBand 4 this is not an issue.
Lastly, there are custom MiBand 4 faces. The app comes with a couple of dozens of it, the tracker has stored 3 + custom one, but there is also a way of creating your own.
Workouts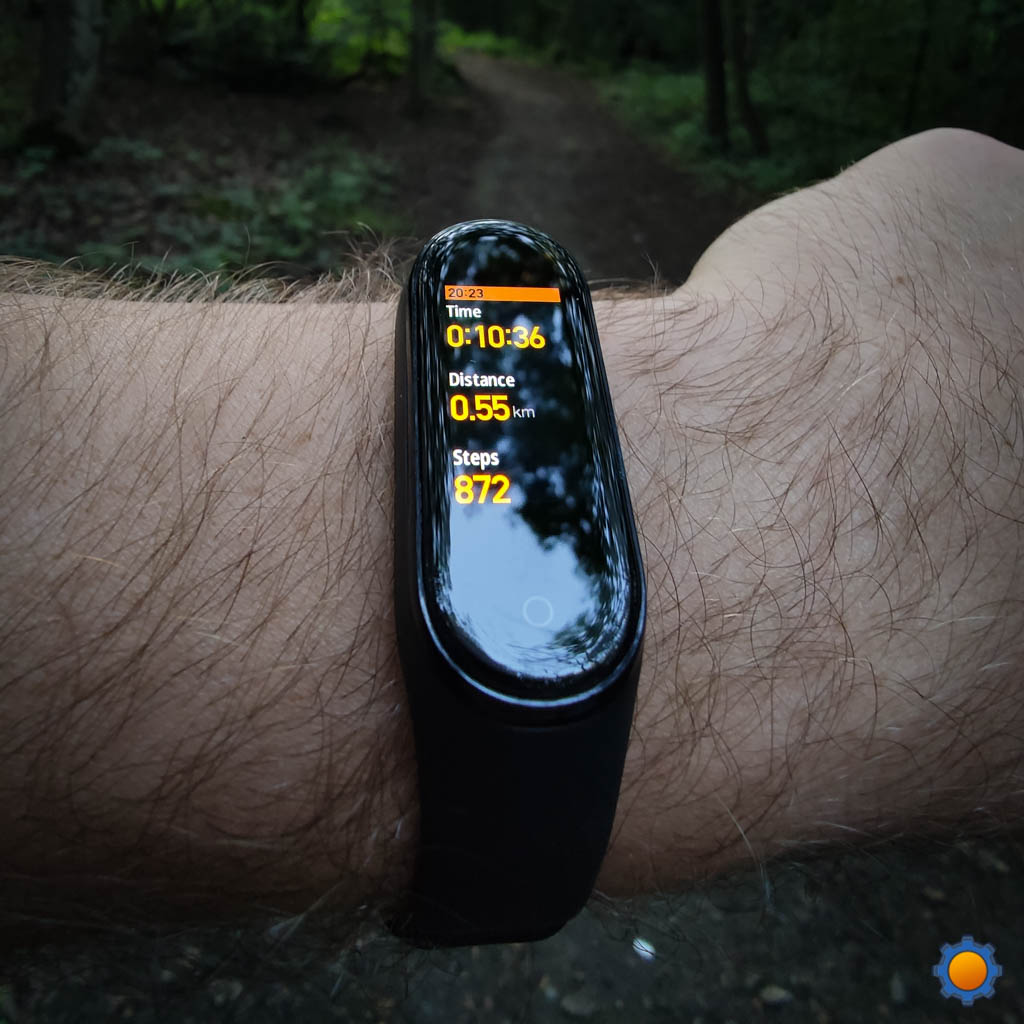 Start your workout directly from the tracker and select activities like walking, running, cycling or swimming! The tracker will keep you updated about your progress and buzz every time you start another km.
Thanks to the new display, monitoring the workout on MiBand 4 is easy even in the brightest days you won't have problems reading your stats.
Wrist heart detection isn't the best. The tracker seems to be reporting accurately (measured against my Sigma ROX10 + chest strap) but it's hard to get decent readouts during an active workout. The bad has to be positioned in the right spot for accurate measurements.
The MiFit app has been updated some time ago, so anyone using MiBand3 will be very familiar with the interface already. The GUI of MiFit is still slightly confusing at times, but once you know your way around, you will find all the information needed.
MiFit integrates with Google Fit, so you can share the activities with other accounts that are able to sync the activities with Google Fit.!
Sleep
I have to give it to Xiaomi, MiBand 4 sleep measurement accuracy is spot on. I'm a person who falls asleep within 1-2 min and wakes up once or twice a night and the tracker accurately reflects that! I only wish I could follow all the tips about better sleep. My deep sleep minutes are very low, I guess it reflects all these long nights I spend working.
Extras
Where MiBand 4 shines are the extras. Mobile notifications, music control (new) and Tasker integration (through plugins) is what always attracted me to the tracker.
Music controls display the current track and let you skip/back pause/play or volume up/down your favourite tracks. The layout is functional and it's has been one of the missing features! (If your music screen isn't available when you lift the tracker, swipe the screen left/right to access it). I'd love to see a shutter release too! (Click here, to learn how to start the playback directly from the tracker)
Notifications can display more text, so you won't find yourself scrolling through countless pages to read just one message.
Weather and other extras remain mostly unchanged in how they work but come with an overhauled design and colour features.
Battery
It's been days, and I'm on 40%. With that battery drain, I'm expecting the band to last about 20-25 days. You will be charging this band once or twice a month depending on your use.
Room for improvements
There is a really cool feature that allows you to assign custom vibrate patterns on your MiBand just by tapping the screen, but the option does not let you assign these notifications to different apps (you can do so with Tasker plugin). I hope this will come as a feature in an update.
I mentioned the music controls, I would love to see the camera shutter being added as well.
With Mi Band tools app you can create swipe gestures and assign quick actions or tasker tasks. I will write a tutorial explaining this in detail.
Conclusion
Disclaimer
The MiBand 4 tracker has been provided to me for the purpose of the review. As usual, with all my reviews I reserve the right to an honest critique of the product.
The fact that MiBand 4 comes with NFC (payments not available for the Westerners) and costs under $50 makes it a really good tracker. I will probably get the NFC version (and donate this one to my partner) and I really want to use the band as the access key for my local hackspace, just a shame I won't be able to use it to pay for my coffee! The heartbeat sensor is a bit of a letdown, but the wrist monitoring has always been spotty at best.
To make things even more attractive, MiBand 4 fits the bands from MiBand 3 so if you got yourself a collection of colours, you will be able to reuse the bands with your new upgrade!
I have no desire to use my WearOS device. I'm very happy with mobile notifications, the battery and how comfortable the band feels on my wrist. Let me know what do you think about the MiBand 4 and what wearable would replace your current one.
You can purchase MiBand 4 (affiliate link that keeps me fed) from Banggood.com