GOVEE deals at Amazon today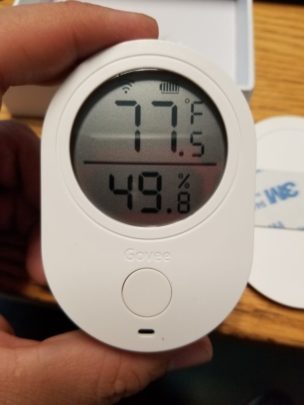 GOVEE provided us with a WiFi Hygrometer a while back, it worked pretty decently and has been a tool we've used at my work. So here's some unrelated promo for them.
10% off plus they're all quite a bit off today as an Amazon Deal of the Day.
---
Extra 10% OFF plus CODE GOVEEOFF  
[Code can be used to all smart thermo-hygrometers 
running promotion
]
Govee mini Thermo-hygrometer 
https://www.amazon.com/dp/B07R586J37
Regular on Amazon 
$26.99
Deal of the Day $18.89
w/ Code: 
$17.00
Govee WiFi Thermo-hygrometer https://www.amazon.com/dp/B07FBCTQ3L
Regular on Amazon $49.99
Deal of the Day $34.99
w/ Code: $31.49
Govee Bluetooth Thermo-hygrometer  https://www.amazon.com/dp/B07DWMJKP5 
Regular on Amazon $19.99
Deal of the Day $13.99
w/ Code: $12.59
Govee WiFi Thermo-Hygrometer  https://www.amazon.com/dp/B07QV1CQFG 
Regular on Amazon $49.99
Deal of the Day $34.99
w/ Code: $31.49