I've had the opportunity to review quite a few wireless earbuds in the last few months. Mat has covered a couple, also. May favorite of the bunch thus far is the Creative Outlier Gold. I found it to be an excellent combination of features, battery life, comfort, and price. Today, I'm taking a look at a challenger to the throne, the $60 Tribit FlyBuds. Will they topple the Outlier Gold as my favorite earbuds? We'll see.
DESIGN
The FlyBuds look like pretty vanilla wireless earbuds. They are all black – from the case to the buds to the tips. There's not much to look at that makes them stand out. They certainly are not as bold as the Outlier Gold and that's not a bad thing in my opinion. One thing that the FlyBuds do and do well is the button implementation. They use capacitive virtual buttons for pairing, play/pause, skip, etc and they do it really well. They're also IPX5 rated so sweating up a storm at the gym shouldn't cause you any trouble.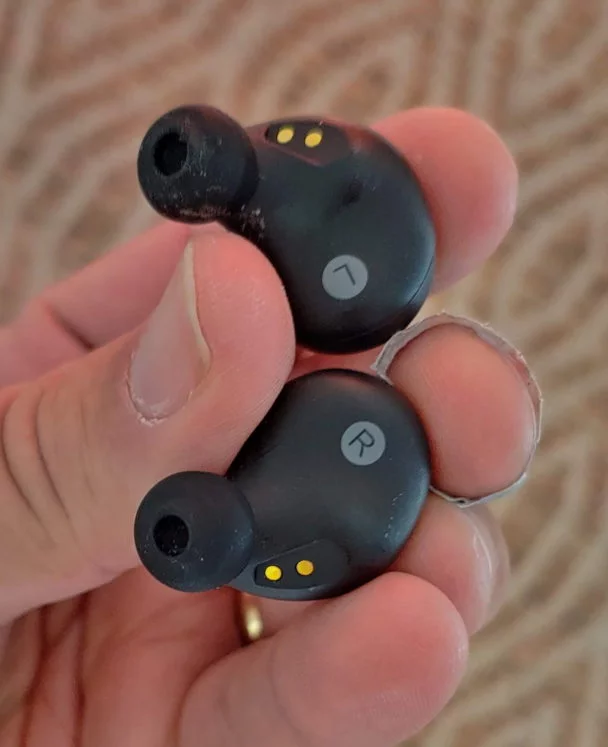 The FlyBuds fit comfortably in my ears. Despite the absence of any wings or fins I never had the FlyBuds fall out of my ears or even feel loose. They are molded to tuck into the ear concha and I found them to be nice and snug. Importantly, they are pretty lightweight so even when I wore them for hours at a time my ears didn't get tired.
Like other wireless earbuds the FlyBuds come with a carrying case that doubles as a charger when the earbuds aren't in use. The case is shaped like a river rock (kind of like the Palm Pre from days gone by) and is nice and compact. The size and shape make it easy to slip in and out of pockets which is something I really appreciate. Also, the case charges via USB-C, which is a critical feature to me. I really cannot stand to see electronics ship in 2019 with microUSB. Fortunately that's not an issue here.
PERFORMANCE
There are three things that wireless earbuds must do well. First, they must have and maintain a rock-solid connection to the phone or other device they are paired with. The FlyBuds had a couple of issues here. When I first set them up and paired them to my phone they worked fine. But after a few hours the left earbud stopped connecting. I followed the reset procedure outlined in the manual and things have been fine for the last couple of weeks. I'm going to give Tribit a pass here and assume that was a random glitch or user error.
Unfortunately, I also had another problem with the FlyBuds. Twice while using them they just randomly powered off. It wasn't a battery issue in either case as I was able to power them back on and continue using them. They were minor setbacks but still a little annoying.
The second thing earbuds must do is get good battery life. That's kind of a mixed bag, too. The FlyBuds get about 5 hours of use per charge which is just OK. That's somewhat mollified by the case holding about five more full charges of the earbuds so you can get about 30 hours usage out of one full charging cycle. That's pretty good. With typical usage I think most folks will go days without having to recharge the case.
The last thing earbuds need to do is sound good. The FlyBuds do a good enough job in the sound department. They aren't as crisp as the Cleer Ally earbuds but they certainly don't sound bad. The word I'd use to sum up the sound is average.
FINAL THOUGHTS
As I was writing the performance section of this review I really felt like I was coming across a little too harsh on the Tribit FlyBuds. Everything I said was true but I kind of feel like the sum or the parts is much better than the individual pieces. The FlyBuds fit great, sound good, last a long time, and are lightweight enough to wear all day. And at $60 they are a pretty good value. Yes, there were a couple of issues but nothing serious enough to discourage me from using them.
So would I choose them over the Outlier Gold? Probably not. I think if I was forced to choose and cost didn't enter into it I'd still go with the Creative product but not without some regrets. But since the FlyBuds are $40 cheaper the decision isn't quite so clear cut. You won't be disappointed and for $60 they are an excellent value.