Crossrope – an app, a rope, a review.
Crossrope is an app and a set of weighted ropes that can increase the calories burned during a jump rope session. I'm going to divide this review into hardware and app and note that I have markedly different feelings about each.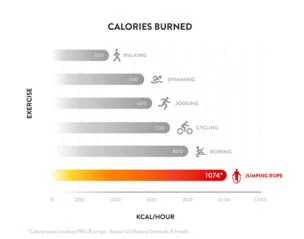 It should be noted that you don't have to have the Crossrope system to use the app. Calorie targets will be slightly off, but you can try before you decide if you want to skip it, or not.
Hardware
The hardware I was sent appears to be the Get Lean Set. It comes in at $88, and I can honestly say I've never had a jump rope as good as, or like the Crossrope. That said, I'm not the target audience and my jump roping budget is probably in the $20 range.
The handles switch between ropes with a fast-detach system that had me wanting a very short run of rope for nunchuck training, but I'm a geek so skip that.
The feel of the ropes is solid. the handles rotate so you're not dealing with torsion on the rope, and that makes it feel less like the ropes I've dealt with and more in line with something that's actively helping you accomplish your goals.
The two weights of rope are two different experiences entirely, and there's a bag to carry all of this around.
That said, it feels like this should have been a small case product as the bag doesn't fit without squishing into a small duffel. Then again, your experience and use cases will vary.
Solid product, make sure if you get it that you put your height in correctly or you'll not have a particularly premium experience.
So hardware, great. Feels solid. Looking at pricing it looks like you could get individual weighted ropes for about a third to half the price. That said, I can't speak to the quality of those.
The software
OK, we've got advertised that it's an exciting new jump rope workout that fits my busy schedule. I'll note I was supposed to do this review a few weeks ago, but my busy schedule kept me from doing it. My bad.
OK, the app… I'm hoping it's better on iOS because it's not exciting to me on Android. It beeps, tells me what to do, beeps again, and tells me to rest. Beep again, a voice tells me another thing to do. Repeat a few times and then we're done.
Here's the app on Android and iOS. You can try it out without purchasing anything.
I'm not what you would call rope adept. I can guess from the animated portion, which you do not see while the workout is actually in progress, what I need to do.
There is a learn to rope section, but that just pops open a web browser that takes you here.
Not saying there has to be one included, but my alternating foot technique was learned in my backyard when I was eight. The animated ones I see in the preview, but not in the actual workout, seem significantly better.
Would be nice for people who want to take it up to have a beginner course section by section in-app.
There's no in-workout video, no pacing tones, no animations once you're in the workout, it's just a timer, a voice (configurable,) and some beeps. There's no option I found to play music or interface with a music player. You can spawn one, but you're going to fight app vs music (there's no music dimming). It's designed sans-music capabilities.
With it not knowing the pacing you're going at, and not setting the pacing, the calorie burned estimates are going to be high for people like me, low for people who know what they're doing.
The app is 32 megabytes on Android, I sort of feel like it should be a bit more than a timer, 3 animated gifs, an interface to Google Fit, and a link to a web page with an instructional video.
Rather than a huge timer maybe use that animated jumper you've got on the workout?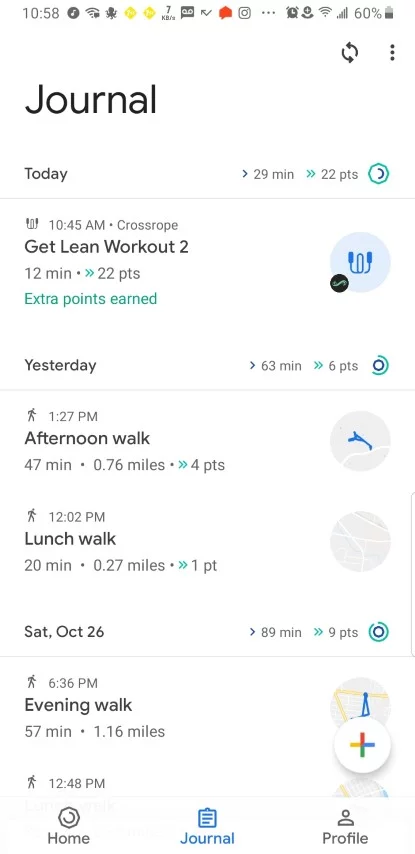 The app interfaces with your phone's Fit/HealthKit backend, but there doesn't appear to be a way to say "don't record this, I had to go deal with a crisis." Interestingly if you end a workout with less than 50 percent progress it will not save your data – why? There are 30 minute workouts there and there are 12 minute workouts. Seems it would be able to record a reduced rate.
App, I do not like. I want music integrated or at least play and mutable, I want an animated workout partner even if it's a stickman, I want pacing, and I want the ability to not store an activity in Fit if I didn't complete it.
I'd rather watch a video than use the app. It's not terrible, it's just not particularly useful to me.
---
Overall
For the price I'd hope I'd like both the app and the hardware. I really do not dig the app. That's fixable of course.
Crossrope at Amazon, where we earn commission.