Helm TW5 Headphones Review – I Don't Want to Like Them But I Can't Help Myself
I've reviewed a lot of true wireless headphones in the last few months and I'm back covering the $130 Helm TW5 wireless earbuds today. Of all the headphone sets that have come across my desk, the TW5 was the last one I thought I'd actually like. They're bulky, ugly, use microUSB for charging, and have a bulbous carrying case. Yet, they sound fantastic. Keep reading for details and photos.
DESIGN
I was really put off by the Helm TW5 as soon as I took opened the box. The storage and charging case for the earbuds immediately jumps out as large and ugly. I've become accustomed to small, pocketable, cases like those for the Creative Outlier and Cleer ALLY. Compared to those, the Helm TW5 case is massive and doesn't comfortably fit in my pockets. And, perhaps worst of all, it has a microUSB charging port. I cannot complain about this enough. It's almost 2020 and there's no excuse for new devices to be shipping without USB-C charging. Maybe that won't matter to you but it really bugs me.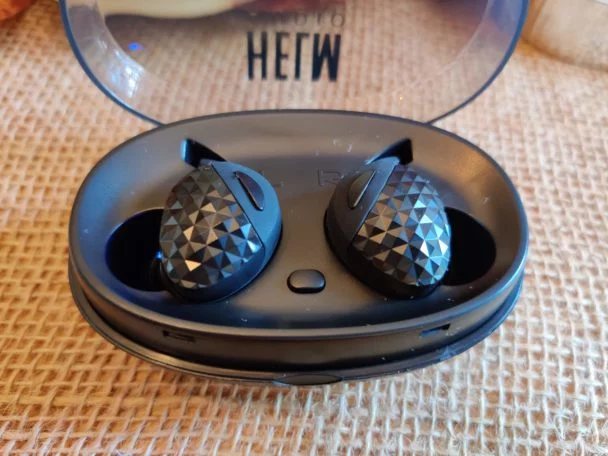 The oversized nature continues on the actual earbuds. They are pretty large themselves. The back of each bud has a diamond texture and there's one arm that helps hold the earbud in place. Each earbud has a button for play/pause/power/etc. I don't think the Helm TW5 earbuds are sharp looking. They're frankly just too large in almost every way. Despite that, they actually fit quite comfortable in my ears and I never felt like they were going to fall out or come loose.
PERFORMANCE
It's easy to see why I had my doubts about the TW5s. Those doubts gave way once I actually paired them up with my phone and started listening to music. The Helm TW5 sound amazing. They sound rich and full and they support aptX audio. I cannot stress enough how surprisingly rich they are for wireless headphones.
In addition to their sound performance, the TW5 has incredible range. I can walk all around my 1,950 sq ft house and not lose connection. That's pretty impressive considering that my walls are full of metal studs and I was in rooms closed in by metal doors. Helm claims that the TW5 uses a specially designed antenna that supports connections up to 60 feet and, based on my experience, I do not doubt them.
The final piece to the performance puzzle is battery life. The TW5 lasts about five hours on a single charge and the charging case carries four additional charges. You can get between 25-30 hours which is, frankly, plenty for most applications.
FINAL THOUGHTS
I can just sum things up this way – I like the Helm Audio TW5. I can't help myself. I'm not a fan of the design, the size, the high cost, or the microUSB charging but they sound really great. I wouldn't buy them personally because I really don't want to have to carry around a microUSB charger but if you can get past that you'll have a very good sounding set of wireless earbuds.