Technaxx TX-100 car alarm/charger review
The Tehcnaxx TX-100 is an interesting device that does a few things. One of them is it adds a 110dB PIR sensitive alarm to your car. The other is it gives you two USB charging ports.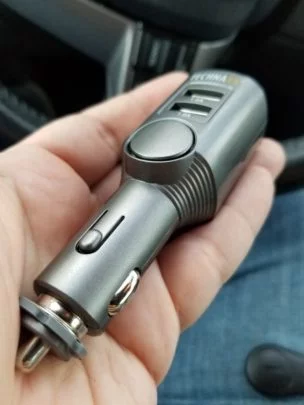 The TX-100 has a 450mAh battery built in which should allow the device to run for up to six days, and it recharges every time your car is running or the power port is turned on.
Testing
The Technaxx TX-100 uses passive infrared scanning. Basically it's looking for a body, it's not lighting up the car with IR that can be spotted by any cell phone with a working camera. Should note it's only looking for a body, nothing else triggered the alarm that I threw at it (shaking the car, waving a stick in the line of sight).
Here the TX-100 shines. If I was near it, it usually went off. If I could see the dome and I was near it, it went off. At line-of-sight detection it does exactly what you'd want it to do.
But I "broke" into my car from the back doors and was able to do my imagined burglary for about two minutes before I wandered into the line of sight. For this device to function perfectly it needs to be basically overhead, dead center of the car. That's not how it's designed and this is a problem unless you're just interested in a front-seat car alarm.
Opening the front, bam, thing goes off when I'd expect it to.
Alarm
It clocks in at 110dB which sounded a little low on paper and in an environment in which there was background car noise it wasn't particularly noticeable.
Forgive the messy car, I loaned it to someone who had a girl scout troop in it. The short of the above video is that when the alarm goes off simply closing the door makes it so it's barely audible.
Even with the door left wide open it could only be heard in the house if the doors to the house were wide open. In my particular scenario the criminal would have to leave the door to the car open, come and open my door, and basically announce to the family they were robbing me and wanted me to shut off the alarm because it was slightly annoying.
Now, for the next year or two his thing would probably scare off a neighborhood gang going car to car testing doors to see who's left their door unlocked. But if you see one or two of these things in the wild they're going to do what I did in video #1 and just close their hand around the device that's got a bright blinking alarm light on it and is making a slightly annoying chirp. It gets a lot quieter then.
Cool concept, audio probably would carry in the country, probably will scare the crap out of a door puller for the next year or two until these things become common. I wouldn't expect to hear this unless I was sleeping next to an open window no more than 50 feet from the car.
Charger
While I'm not terribly impressed with the audio, I… no, 1 amp. Dual 1 amp charging. Really sad they couldn't have reached 2.4 amp on at least one port. When I'm in a car it's usually not that long and every amp counts.
Overall
The alarm is probably going to work, even positioned in a non ideal location, it's probably going to scare people off, but I would not count on you ever hearing it. Even on the other side of my car with the door open I did not particularly register that there was anything going on.
As a thief, if I run into one of these I'm going to know in the future just grab the blinking noisy thing, sit on it, take it with me while holding it.
The Technaxx TX-100 car monitoring alarm system is available from Amazon for $49.99.
It might scare someone off.