Urban Armor Gear Monarch iPhone 11 case
I'll start this with the statement that I do not have an iPhone 11 and you should not, based on that, completely rely on this as a review. I do however exclusively keep my phones in Urban Armor Gear Monarch cases, and one of the iPhone variety showed up at my doorstep the other day unprompted.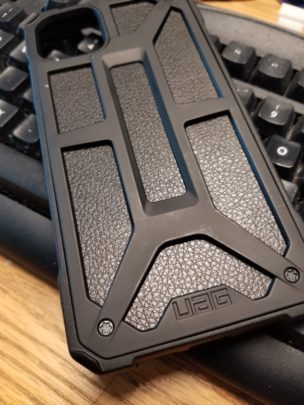 So I'm going to tell you a little bit about the two UAG Monarch cases I've used personally, and the two or three my friends have, over the past few years. They work. They feel right. The few times the phones have dropped they've protected them and not taken damage to the case.
As cases go there's not a lot more you could want. On my Note 8 case (pictured here alongside the iPhone 11 case,) it's thin enough to allow wireless charging. I don't know that will be the case with the 11 however, someone is going to have to tell me as I don't have an 11 in to test. It claims it's compatible with wireless charging. I'll believe it.
The back of the Monarch, that's top grain leather, alloy metal, the sides are perfect to grip with your hand without gripping your pockets. Raised case volume and power buttons placed right where they need to be.
Urban Armor Gear's Monarch series, they've historically had no complaints by me or the people I've given them out to. Your mileage may vary, but if you're looking for a phone case to protect your spendy phone, this one works extremely well.
Should be noted an $11 case works well too if you're on a budget, but this series has historically been great, looks great, feels great.