Spyguy Scout: hidden camera finder review
Scout is a product that finds most hidden cameras on the market and is aimed at the AirBnB guest crowd who didn't sign up to have video of themselves taken.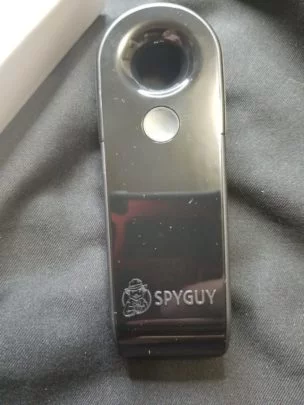 It's a pretty simple concept – a device that looks vaguely like a magnifying glass encircled with LEDs that when looked through, aimed, and on cause the IR filter used on almost every camera out there to light up like a Christmas tree.
I tried to take a video, you can sort of see the camera light up. In use I was able to locate a camera from about 10 feet away – it's a bit more obvious in use than the video I have shows, probably specifically because it's targeting camera infrared filters.
If you're traveling a lot and worried, I sort of think this is going to find you whatever cameras are in the room without too much effort. I tried multiple cell phone cameras, hidden cameras that were sent for review (long story on those,) they all light up about the same.
The device, it works. That said, coming in at $99 it's pretty spendy for two AAA batteries, some LEDs crafted into a shaped piece of plastic, a small circuit board to flash, sustain, or turn off, and a test camera that I'm seeing for $4.80.
This is the sort of product I'd expect AirBnB to offer guests who have reservations about making reservations, or perhaps AirBnB hosts to provide on site to offer assurances that they have no interest in video of you washing your behind.
It works, works better than I can show. I'm going to use it to check for cameras elsewhere, but $99… that's a haul.
You can get the Scout on the Spyguy website.