Robotic lasers on carpets – Xiaomi 1S vacuum
Starting a review article with "hey, look at this cool vacuum cleaner" isn't going to get much attention, but if I open with "there is a robot in my house that beams lasers everywhere!" probably will. Without getting "clickbaity" – here is a Xiaomi 1S – a robotic vacuum that shoots lasers around my house while traversing omnipresent carpets!
It feels like the future!
Getting old is mandatory, but growing older (or being an adult) is not! I realised, that I'm a fully grown adult when I got my first vacuum (hoover) and it made me genuinely happy. "That's it", I thought, "I'm no longer a teenager!".
Getting Xiaomi 1S robotic vacuum felt somehow different. I didn't get yet another appliance for the house, I got my hands on a sophisticated tech and a taste of future that came in the form of an accretion disk (OK, it's a cylinder, but I really love the word accretion and I wanted to use it, a perfect black hole reference here!).
The Xiaomi 1S is shipped in an almost ready state. Unpack, plug-in, and if it wasn't for the update, it would have taken me the same amount of time to get started as with my regular vacuum.
Xiaomi 1S and impressive MiHome integration
Xiaomi 1S is integrated with Xiaomi MiHome system and if you have a MiHome Hub, you will take advantage of the ecosystem. Once the Xiaomi 1S is running, it will use LIDAR to scan the area and project a very accurate floor plan to your MiHome app.
In experimental options, you will be able to map rooms, name it and then use the map to clean individual rooms only. The LIDAR is impressive! I could use the hoover just to map the floor plans alone!
The zones (rooms) will be assigned automatically, but you can adjust and edit it later to your liking. I separated the piano room from the living room manually and corrected the size of the hall to match my preference.
You can use the compatible voice assistant (currently I have it on a Chinese server so I don't have Google Assistant or Alexa) to trigger the cleaning commands with the room specification. There are schedules you can set or simply press one of two buttons on the robot to start a clean or return it to the dock.
There are other functions like voice packs (and silly Chinese voices, English is available too), find my hoover (this thing is big, enough but whatever) and options to use your phone as a joystick (in case you want to deliver drinks?).
MiHome app comes with automation tab, so you can set up crazy instructions like start cleaning with an Aqara button, set Yeelight to blink alarm red, and play siren noise from MiHome Hub or something less impressive like run the clean job every day on Tuesday at 9 am.
Search clean and destroy
I adore the fact that my carpet looks like a football pitch after each clean job. The vacuum leaves the characteristic trails on the carpet. Xiaomi 1S comes with four suction modes, but honestly, even in the MAX setting it's quiet enough to go upstairs and have a nap.
Despite its size, Xiaomi 1S can get into many places. It went under the chairs and table, it navigates tight spaces around the piano and it's more agile than I would initially assume. It cleans with an average 1m2 per min which is actually quicker than I thought. A clean job for my ground floor takes about 40min and uses less than 50% battery. The dust tray should be emptied every 100m2.
The Xiaomi 1S will scan the room and go around the walls establishing the edge, then it will finish the clean job filling in the room with regular long sweeps.
The surfaces are swept well, but Xiaomi 1S lacks the power to deal with sticky dirt (wet soil). There are no sensors to trigger "do-over" so if the surface isn't clear enough, you can select the room to be cleaned once over.
Corners are also a weak spot due to Xiaomi 1S size. It's round, corners aren't, so it doesn't take a mathematician to figure this out.
The biggest nemesis Xiaomi 1S
Every superhero has its nemesis. The Xiaomi 1S is no different. I let the vacuum run wildly across the rooms, but it was the hallway where the ultimate battle had been lost!
Mirrors – it seems obvious now, but I watched with a grin on my face how LIDAR rays got bounced at a long mirror, creating a "Narnia" style universe behind the surface of the mirror. An exact copy fo the hallway was created in the mind of the poor Xiaomi 1S.
If the "room" is there, then Xiaomi 1S will try to enter it. Before I have added an exclusion zone, it was pure comedy gold to watch Xiaomi 1S enter another universe only visible to the poor little machine! I believe the vacuum gave up after 5 or so attempts.
Another archnemesis
This is not the only obstacle that Xiaomi 1S was defeated by. I've seen this robot going over the washing stand rails which was impressive, but the Xiaomi 1S was not able to tackle two thick carpets serving as doormats.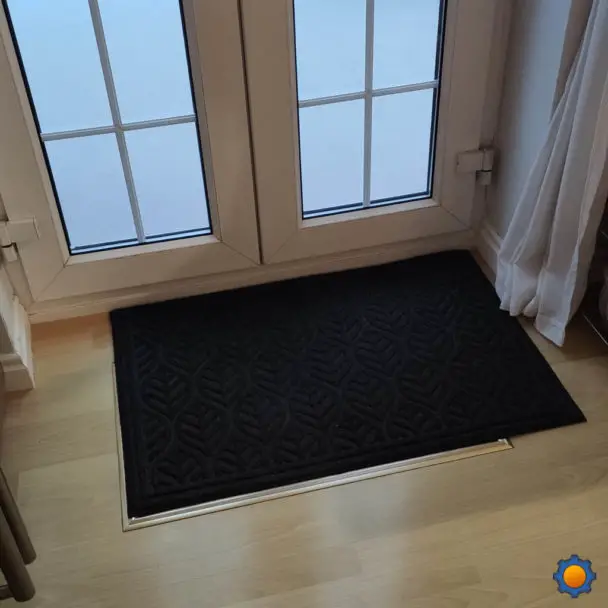 I'm sure that I can fix one of the carpets with some 3M tape to remedy this, the other one will be a challenge until I can even out the slope.
Stairs are also topic you should look out for. Xiaomi manual recommends boarding off the rails and stairs to let the hover work in peace. Xiaomi 1S will attempt to go around each barrier, so setting "no go" zones could be very useful. I do not want to mess around with boards.
Conclusion
Disclaimer
This product has been provided to me for the purpose of the review. As usual, with all my reviews I reserve the right to an honest critique of the product.
I'm in love with this thing. The job is good enough that I can limit the regular hoovering to one a month. Xiaomi 1S may not be quicker than doing it yourself, but you won't feel "ran down", you can actually do something creative and let the robot do the rest.
You can grab Xiaomi 1S on Banggood at a very reasonable price!