Is that a gym in your pocket or are you just disturbingly happy to see me? The activ5
We're going to be covering the activ5 in a few days, planned to today, however due to time constraints, Christmas & New Year timing, and the Nashville Funk, there's been a change of plans.
As such, this will serve as a preview of the activ5 bluetooth isometric strength trainer, and a request for input on testing that I will do on the device as I am not familiar with isometric exercise apps at this point.
The activ5 is a bluetooth isometric exercise device that aims at strength training for most of your body via an Android or iOS app. A single AAA battery is included that should power it through a year of use, your experience will vary.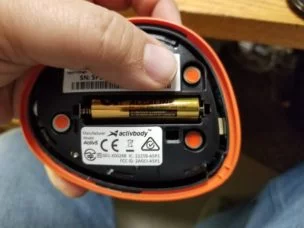 Think of the thing as a miniature scale that is Bluetooth and has a series of exercises that focus on strength training in limited spaces and you've probably got an idea of this thing.
The exercises are interactive, you get feedback as you're going (pictured is the setup exercise in which you attempt to hold a set pressure (and one writer discovers there's no way to screenshot it without releasing).
It comes with a stand for your phone or tablet, and a much needed instruction manual on how to access the battery compartment (it really feels like you're about to break something.)
My only complaint at the moment is the battery compartment access seems unusually difficult.
I will be going about my testing and have a review up as soon as I have review material, in the meantime if you've got any questions drop me a line.
The activ5 is available at Amazon for $113.18 currently.
The above link is tagged on Amazon to give us commission. Should you not want Pocketables to receive any, go whatever store you want and search for it yourself.
Do not take anything in the above pre-review as an endorsement for this product as I have not had a chance (yet,) to really get into it.