Is there anything that Xiaomi DLP projector can't do?
What is "a cinematic experience"? A big screen, overpriced popcorn or other snacks, crowd and inability to pause the movie to nip out for a toilet break. It's still fun to go now and then, but ever since I took Xiaomi DLP projector (MJJGTYDS02FM) to my bedroom, up to 200″ big screen covers 99% of my entertainment needs. It's my first projector (work projectors don't count) so call me impressed!
Grand things come in small packages
Spartan in design, Xiaomi DLP projector comes in an unimpressive box with lacking, at first sight, I/O. Don't be mistaken, this white Pandora box is filled with entertainment for days.
I guess we are used to the size being a deciding factor, but that's no longer the case! Xiaomi DLP projector is more than capable of providing you with a complete entertainment packet at a reasonable price. All this if you are willing to take a couple of trade-offs.
I/O – less means more?
DC jack, 3.5mm audio, USB 3.0 and HDMI don't seem impressive at first until you power the Xiaomi DLP projector on. Connected via 2.4GHz/5Ghz, sporting Chinese (unfortunately) MIUI TV box turns this gadget into a wireless display, self-contained DLNA or SMB player, Bluetooth speaker and more!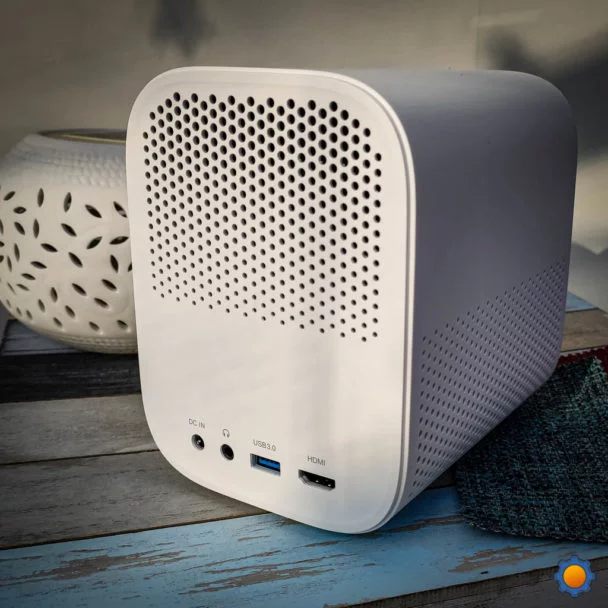 No to Google, but…
Once I figured out English language settings, things were easier to set up. MIUI TV box, unfortunately, comes with Google Play restrictions and the default store is full of Chinese apps. At first, I thought, "Oh well, it's still a good deal for a projector", but then I discover the saving grace:
apk sideloading
Within minutes I was installing my favourite apps from a USB stick, and after using AptoidTV, I was even able to bypass YouTube Google Play services restrictions (if you want to have full Google support, just plug in Chomecast!).
Things you can do:
access DLNA and SMB based content (video|music|pictures)
Enjoy PLEX or Netflix, Amazon Prime and more
Access YouTube app
Install your favourite catch up TV like BBC's player
Install SteamLink and play PC games* (more about it later)
Within minutes, the Xiaomi DLP projector was set to play my usual content. I was no longer a slave to the MIUI interface!
Smart, Smarter, Xiaomi
Xiaomi DLP projector comes with MiHome integration. The MiHome app offers basic controls, but the lack of phone-based keyboard and mouse pad is frustrating.
If you access the MiHome menu, you can access lights and control selected devices. In addition to this, the Bluetooth remote comes with an AI button, so if you are fluent in Chinese, you can say what do you want to do with a voice command.
I really wish there were a Google Assistant and Alexa enabled versions of this device!
USB 3.0
Some might say, it's a single USB port. I say, plug a USB 3.0 hub and be done with it. Within moments, I was using a keyboard, mouse and a controller. Since my Android phone worked with an Ethernet pass-through, I suspect you could also use a LAN cable this way – in case 5GHz isn't enough.
Games?
Yes, but not without an issue. Installing a Steamlink app takes moments. To my surprise, I was able just plug-in a keyboard & mouse or a PlayStation 4 controller!
The App behaved well, however, there is a latency problem. The latency isn't caused by the network delay as I had the same latency with PlayStation connected via HDMI. You will have to forget twitch shooters, but anything without lightning-fast reflexes streams in a beautiful 1080p in glorious 200-inch format! That's gaming on another level!
Picture and sound
Xiaomi DLP projector is not only tiny, comes with a reasonable price but also offers a longer lifespan (30.000h) than I will ever be able to chew through.
Sound
I considered getting a sound system, but as soon as I plugged the Xiaomi DLP projector, I was impressed with the build-in 10W speakers. I know that 10W and "cinematic" is not what you would put in a single sentence, but thanks to Dolby Sound, Xiaomi projectors fills the room with audio of really impressive quality.
Despite having the projector just above our heads, the sound seemed like coming from the direction of the projection. It's more than enough to feel a bedroom with deep bass and rich frequencies.
If you want to know how good is the sound, watch me twitch and get genuinely scared at the sound of the gun being reloaded in the livestream at 54:30. Gun sounds and explosions are deep so if you are watching an action film you are not going to be disappointed.
I'm aware that you could have an even better experience with a proper sound system, but if you just splashed out for a projector, it will be a while before you feel the need for an upgrade.
I should also mention the cooling fan sound. The noise is present, but in no way distracting unless your video is almost silent. With that said, you could turn off the screen and use the projector as a very expensive Bluetooth speaker, but the fan never switches off which makes it really annoying!
Picture
This is a DLP projector, it comes with a "square pixel" technology which should improve how lines are being handled. The result is a visually clear interface that can span over 200 inches!
Please discard the rainbow effect on my pictures and the video. This is only visible to the camera. In-person, (in ideal dark conditions) you see a vivid screen makes the screening experience awesome! The first film I tackled was the "Avengers: Endgame". Strong visuals, great colour and decent brightness made me feel like I'm watching it in the cinema (if cinemas have beds for seats, all my favourite snacks for free, and you can pause a 3h long film for a quick visit in the bathroom).
The projector comes with autofocus (with manual override) and keystone correction. Regardless of where you going to put it, Xiaomi DLP projector will try its best to cast a perfectly rectangular image. The better the placement, the more screen estate there is to be enjoyed.
The downside is the brightness (500 ANSI). Forget about the day use with your blinds open, but if you have decent blinds, your experience will be fine. Not as perfect as in pitch black but fine.
Conclusion
Disclaimer
This product has been provided to me for the purpose of the review. As usual, with all my reviews I reserve the right to an honest critique of the product.
Xiaomi DLP projector isn't perfect, but at the price that oscillates around £300 – this is a gadget that is really hard to beat! The nights are longer, the Black Friday around the corner, why don't you treat yourself to a personal home cinema in your bedroom (or other rooms!). For once, I'm happy to be way behind in terms of the latest film releases. I'm off to watch the "Spider-Man: Far From Home!".
You can grab the Xiaomi DLP Projector on Banggood