The Sunnybag Leaf PRO is a 7.5 watt solar panel that's designed to be strapped to backpacks, tents, or pretty much anything. It includes a couple of suction cups in case you want to attach it to your windows for solar charging.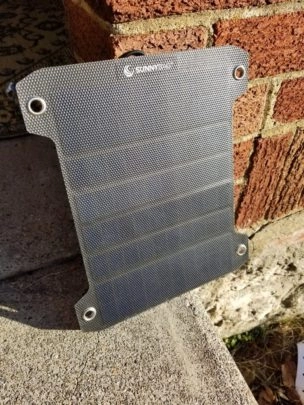 It works as it says it does, it maxes out at 7.5 watt / ~1500mA @5v in testing. That requires direct sunlight and being angled correctly. When on my back we were getting about +800mA at best, and the last month with the sun hiding away I'm lucky to get +300.
Should you get the Sunnybag Leaf PRO?
This sort of depends. You're not going to save any money using a 7.5 watt solar panel. Or, you will, but it will take you a while to recoup your investment.
Assuming you managed to get 5000mA charge from it a day, that's ~25 Wh, 9125Wh a year, average 12 cents per kWh at 12 cents you're looking at an energy savings of $1.09 a year using it every single day. Start on Jan 1st 2020 and it pays for itself in September of the year 2109.
So, you're not going to make money on it, this is for charging when you're off the grid and need to power up a battery pack or a camera slowly… so slowly… seriously, you want a battery pack for this additionally.
One of the use cases I had with it was to charge up a rechargeable hand warmer, which it should have been able to do, but not this particular one (this was not the Sunnybag Leaf PRO's fault).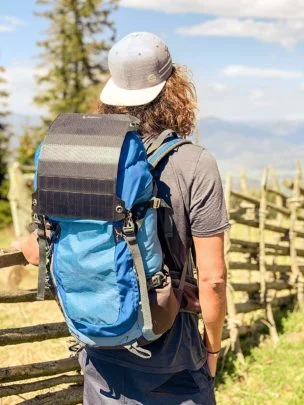 If you're going to be out in nature for an extended time, if you want to have a power source in case of an emergency, or if you just are trying to always be prepared, these are pretty cool little gadgets.
That said, topping out at 7.5 watts there's not a lot to put this at an innovative peak… I should say that statement is to the end user. This is quite an advancement – bendable, light, high output for the weight, but it doesn't feel incredibly new.
The lack of power storing options means you're going to have to purchase a power bank to charge if you don't want your phone tethered to a panel the entire day. So lighter panel with a requirement for another half pound of battery.
Overall?
It may sound like I'm dissing on this product. I'm not. Your use case is your use case. For me, hiking into the woods is going to be no more than a two or three day endeavor and I'll take a battery pack or two at a pound of travel weight.
Extended periods I'd probably really dig the Sunnybag Leaf PRO. I'm just not quite the target.
Availability
You can get a Sunnybag Leaf PRO from Amazon for about $98.
As always with these reviews, we probably get a commission if you purchase through the link. Don't want us to get a commission, don't click the link and go search for it yourself.