Extra Oomph with Tronsmart T6 Plus Speaker
I don't believe I tried a cylindrical Bluetooth speaker yet. Tronsmart T6 Plus Bluetooth 5.0 speaker brings Amazon Echo to my mind each time I look at it. Is it a good thing? It's a matter of taste, if you are swayed by the physical appearance, you probably want to know what's the music like and whether you should consider buying it.
Tronsmart T6 Plus Bluetooth 5.0 Speaker
I could find a fair number of functions on this speaker. The things I'm instantly drawn to are: a pleasant in touch and move rotary encoder to control the volume and smart assistant functions, and the USB-C for charging. It's 2020 and any products made in the last 2-3 years which still use microUSB are not getting the brownie points.
Another 2 things that stand out are the TWS (stereo pairing if you have 2 speakers) and a power bank function (600mAh). To complete the list of the features, I will mention the 40W rated sound (across 2 speakers), 3.5 mm AUX-in and completely useless in my opinion (there is no screen) a microSD card slot (if you are going to use storage for playback, please add a screen, and since there is already a USB-A port, making it compatible with USB sticks would be way to go).
Overall, Tronsmart T6 Plus is a solid speaker. Mesh looks like it could take some beating, the rubber finish is pleasant to the touch and doesn't feel cheap and advertised 15h playback holds true.
Let's play some tunes
There is an impressive bass speaker at the bottom of the Tronsmart T6 Plus. While I have not taken the speaker apart, I have a feeling that this Bluetooth speaker comes with 2 main speakers facing outwards and the bass speaker positioned at the bottom of the enclosure.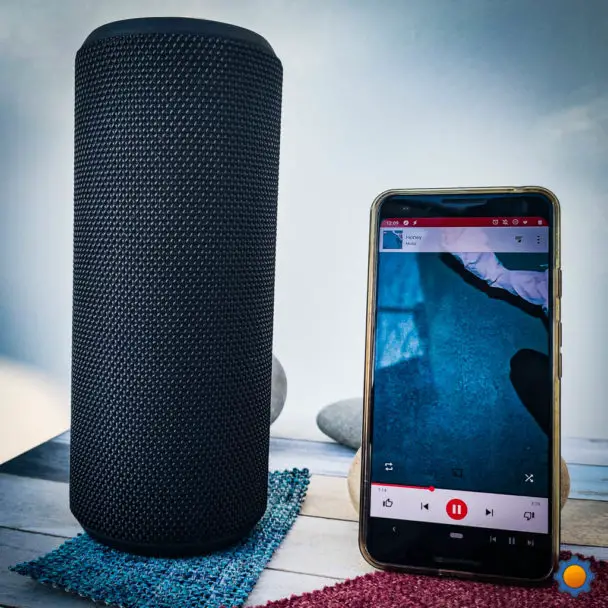 Because of the design, Tronsmart T6 Plus is a directional speaker. The orientation of the speaker will matter, even if the cylindrical design suggests otherwise (especially that PR text claims 360º sound. Unfortunately, I have been sent only one speaker so I was not able to test the TWS function. If Tronsmart T6 Plus' TWS as fun as Alexa Stereo pairing, then you are really in for a nice music experience!
Extra Bass & and EQ
The intended selling point is the extra bass speaker. I'm not into R&B or anything that would put that speaker to a real test but my usual playlist of tunes I love and know by heart can verify that with the right EQ setting the beats are very much pronounced!
The orientation of the Tronsmart T6 Plus has a big impact on how high frequencies are received so make sure the speaker always faces your way.
The sound is pleasant to the ear, but I have to say that the biggest genre to benefit from the Tronsmart T6 Plus would be anything with the beat and oomph to it.
Not everything is well rounded
The review wouldn't be complete if I didn't mention things that could be done better. The power bank function seems rather small considering the overall size of the Tronsmart T6 Plus, and the USB-A port delivers 5V at 1A. Sadly USB-C can be used for charging only. A PD USB-C with Quickcharge 3.0 would be so nice to see!
The call pass trough and smart speaker interactions are handled by the standard Bluetooth interface (HFP, HSP) which, sound average. I'm not buying the speaker to have conference calls for sure.
Lastly, playback buttons could use better texture. When listening to music, these buttons will be behind the speaker. It will be hard to distinguish it until you master the layout of the back panel.
Conclusion
Tronsmart T6 Plus is a decent speaker. It would be nice to use it in TWS mode but buyers might find hard to swallow its $50-60 price (times 2x) to enjoy the experience. As far as Bluetooth speakers go Tronsmart T6 Plus will keep you happy, even if you have to rotate to enjoy the music at its best. You can grab it from the following stores:
All links come with an affiliate tag, and this is how I pay for my coffee, so don't hesitate to use it!