Xiaomi MiiiW for Android, iPhone, Mac and PC
It's not a popular opinion but I'm actually better at typing (speed and accuracy) on flat profile, membrane keyboards (currently on Lenovo Yoga) than mechanical keyboards (I have a modified Roccat Ryos MK Pro with Cherry MX Brown switches). I love the mechanical key for other than typing, tasks. This review will be typed on a very fancy Xiaomi MiiiW keyboard that comes with one interesting feature.
Xiaomi MiiiW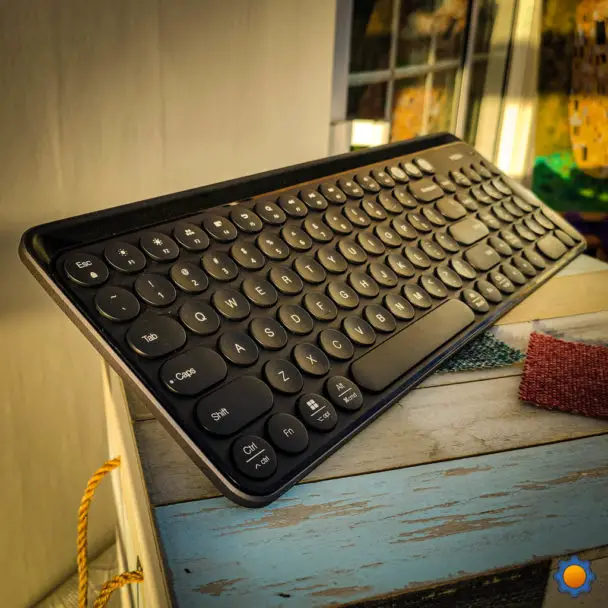 I'm not going to lie, I'm struggling to find the correct keys as I type this. I'm so used to my laptop, that touching bigger, round keys make my fingers feel lost. Getting used to the keyboard can be lengthy experience, but with time I'm sure I will be able to match the laptop's speed. I need to be able to type fast on this keyboard as I want to take it to work. Why? Because of one very nice feature.
Layout
Everyone has a preferred layout of their keys. It's something we are all used to after some time and it's hard at times to change our habits. The placement of # ~ @ ' : ~ " are different from what I have on my both keyboards at home. While remapping keys isn't very complicated, I wish spare keycaps were available to customise the most popular choices.
I'm a fan of oversized Enter, Backspace and Shift keys, the only change I would make to the physical layout would be to move Mac/PC button to the right (Let's face it, you won't use it that often) and then raise the Insert, Delete, PageUp/Down row to separate the arrow keys better.
Function keys (Fn) come with the standard rooster of actions plus a couple less common like Go to Desktop, Tabs and Search. You can also toggle between having the buttons on by default (Fn+ESC) or using F1-12 keys instead.
Despite the extra keys and the NumPad, the keyboard feels small. Measuring 40cm x 15 cm takes half the surface my Roccat Ryos MK Pro takes and if it wasn't for the power shortcuts, I would be switching over permanently.
Don't tell your boss about Xiaomi MiiiW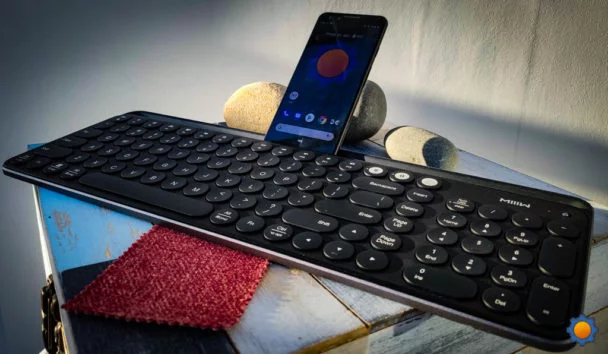 It's the switching between computer and Bluetooth devices I was interested in most. Designed for mobiles, Xiaomi MiiiW comes with dedicated buttons to toggle between Bluetooth and Wireless output. It takes less than 2 seconds to switch which is awesome.
If you work in a place where your computer is locked out from certain options but you have your mobile at hand, you can switch between work and Whatsapp conversations (and other apps) seamlessly.
This also applies to other Bluetooth devices. I can use Xiaomi MiiiW with my desktop computer then switch to my laptop when the keyboard is paired (you will still have to use a separate mouse or touchpad unless your shortcut game is strong).
What's missing are the Bluetooth profiles. I'd love to see the ability to change between Bluetooth devices.
Mobile and Fn buttons
To my surprise, the Fn buttons on Xiaomi MiiiW are mapped to mobiles as well. I can change the volume and brightness, search, control music and switch between apps. I'm planning on extending this functionality with a Tasker profile to launch more shortcuts.
What's missing?
I mentioned the lack of Bluetooth profiles, but that's not the only feature that I would add to this keyboard. It would be great to have highlighted keys, as I can't stress enough how useful this function is when you spend your evenings in front of a computer.
I would appreciate an indicator (LED) to show me if the Fn Lock is enabled or not. I found myself hitting F1-12 keys a couple of times while the functions keys were set as default.
Conclusion
I can see the typing improvements already. It took me 700 words to improve the input speed and I have no doubts that with time I will get better. I will keep the Roccat Ryos MK Pro for now, but I will definitely take the advantage of this keyboard at work, and link it to my Xiaomi Projector at home to make the YouTube easier!
You can get the Xiaomi MiiiW on Banggood from this link.