I've had an LG V60 in for review for a couple of weeks as a second round unit. As such, I'm going to do a bit of an abbreviated review since so much has been written about this device already. Similar to the LG G8 ThinQ review from last year this review is broken down into highlights and lowlights to try and bring to the forefront the primary selling points and obstacles this phone has. The review unit I received is the Verizon version but other models should be similar. Without further ado:
HIGHLIGHTS
Design: The phone is beautiful. I received the gold and white version for review. It feels premium in every way. I have two knocks against it.There's a bit of a bezel chin above and below the screen. It's not horrible but I hoped for better. Also, the phone is a bit thick at 8.9mm. Otherwise, the colors are striking and the button layout and feel is perfect.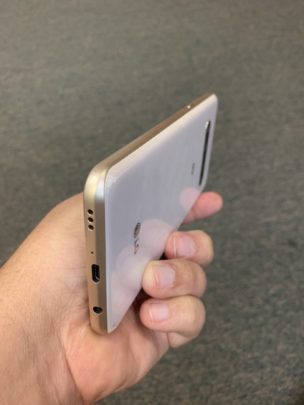 Display: The LG V60 screen is beautiful. LG OLED displays struggled out of the gate with the Pixel 2 XL and G7 but those days are well and truly behind them. The 6.8 inch 2460×1080 display on the V60 is basically flawless. Colors are true. There's a tiny waterdrop notch but it doesn't extend below the status bar and never bothered me at all. The only negative is the lack of a high-refresh rate.
Battery: While it's true that being stuck at home during the COVID-19 quarantine doesn't give one the best opportunity to do real-life battery testing, I have never once had the battery on the V60 drop below 50% after a days usage. It's a huge 5,000 mAh battery that should power through a normal day. I should also note that I'm not in a Verizon 5G area. Had I been testing this with 5G access the results might not have been as glowing.
Performance: The V60 flies. It is powered by a Qualcomm SnapDragon 865 and 8GB RAM. I never saw a single performance hiccup during the entire review period. The 128GB on-board storage and ability to add 2TB via microSD is the sweet spot.
Audio: The integrated stereo speakers sound fantastic. I was a bit nervous after using the G8's under display speaker but the V60 shines. This is an important feature for me as my wife and I listen to the Bible daily together and I listen to a lot of podcasts and audiobooks through the speakers. There's also a 3.5mm headphone jack with DAC, an integrated software equalizer, and 3D sound profiles. It's clear that audio performance is a focus of LG's engineers.
Camera: The camera has all the modes you want (slo-mo, night view, etc) and has standard, close-up, and ultrawide lenses. Importantly, the horizontal lense arrangement, while not flush against the back of the phone, protrudes only slightly and is much more attractive than the hideous iPhone and Galaxy square layout.
Fingerprint Reader: The in-screen fingerprint reader is excellent. There's a handy swirly circle that appears on screen when you move your locked phone to guide you to the proper location. It is fast and accurate and confirms for me that this is the bio security method for me.
Price: The V60 comes in at $899 almost everywhere and is often discounted. Compared to the other flagship type devices from this generation that is excellent.
LOWLIGHTS
Software: The V60 does ship with Android 10 but LG has done nothing to address their horrible custom skin. Some examples of problems I have:
1) The Home app is a horrendous iPhone-ish clone. There's no app sorting by default, round icons are not actually round but rather rounded squares.
2) Bloatware is a problem. There are tons of unnecessary or duplicative apps. I'd love to see LG pare this back. I had to disable many apps using either the built in disable option or adb. Many folks won't know enough to do either.
3) Changing any default app or certain system settings causes the navigations gestures to revert to buttons. Change your messaging app? Buttons. Set an app to open certain links by default? Buttons. Change the launcher? Buttons. I assume this is supposed to be a security feature alerting the use that some app has become default. What it is is annoying.
The Second Screen: I really, really wanted to like the second screen attachment. I think it is a good idea in theory. In practice, however, it is way too bulky. I used it only for testing and never had an actual use case for it. It's cool to have a movie playing on one screen and a browser on the other but I never found it particularly useful. And the added bulk means it's not something you can leave on all the time. This was a miss for me and I'm glas it's an optional purchase.
No High Refresh Rate: Every other flagship device hits 90Hz+. It's inexcusable for LG to stay at 60Hz. If I could change only one thing about this phone this would be it.
WiFi: The LG V60 supports WiFi 6, which is great. The problem I had was that twice during the review period I lost connection to my home 5GHz connection and then the phone would not re-find any 5GHz network until the phone was rebooted. I've never had this issue with any other device so I don't think this was my router.
TBD
Updates: It remains to be seen how well LG handles updates to the V60. During my review the T-Mobile variant did receive a security update but neither my Verizon version nor the AT&T version did. Time will tell here.
FINAL THOUGHTS
Setting aside the second screen as an optional, don't buy, accessory I really liked using the V60. It's fast, premium, and a great value. Even with the software hiccups I definitely recommend this phone as worth a look to anyone looking at the Galaxy S20 or OnePlus 8 series'.