Mu6 Space 2 Active Noise Cancelling Headphone initial review
This is an initial review of the Mu6 Space 2 Triple Digital Active Noise Cancelling Headphones and as such is not complete. I will be using these in active service for the next month or so and post a follow up at which point we'll complete the review.
TL;DR – Great ANC, confusing controls initially, continuing music tests to next review.
The Mu6 Space 2 are loud, quiet, and comfy. Loud in that they achieve a volume higher than most headphones I've heard, quiet in that the active noise cancelling is really noticeable (they claim -40db cancelled,) and comfy as my ears fit in 'em, the headband is padded, and it doesn't feel like someone with a big head was an afterthought.
The Mu6 Space 2 also holds a place as one of the few headsets that it feels ok to talk on the phone with. For me this is kind of a big deal. The noise cancellation plus microphone quality combined to make it possible to be in the same house with my two quarantined kids and be on a conference call.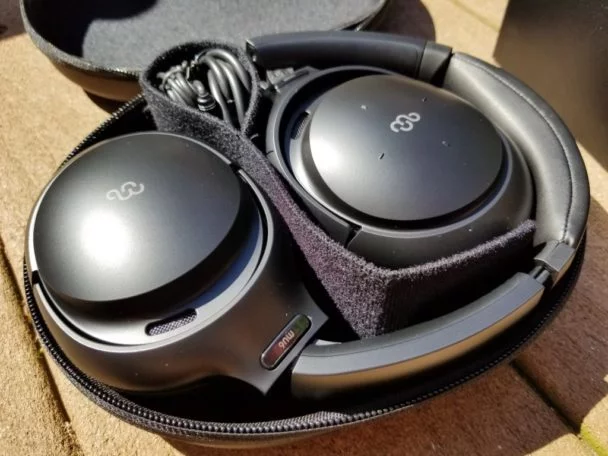 Thank you active noise cancellation for allowing me to not have to hit mute and scream "quiet psychos!" for the umpteenth time that day.
---
Testing the Mu6 Space 2
My normal testing does not involve calling just due to the inherent issues that I've had lo these past 20 years with Sprint, however a recent non-beta VoLTE and Sprint's T-Mobile merger seems to have made the phone capable of making phone calls. Yay.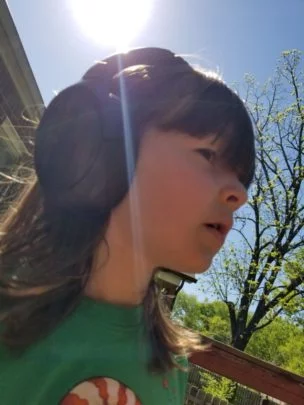 So I've had multiple phone calls on this now. Lemme tell you, active noise cancelling two kids screaming "I'm gonna poop on you," from a floor away should be the number one selling point of these in Covid-19 times.
My personal opinion of the audio was up there with higher end Jabra office headsets I've tried, with ANC thrown in and, not to my liking, a 3D touch control.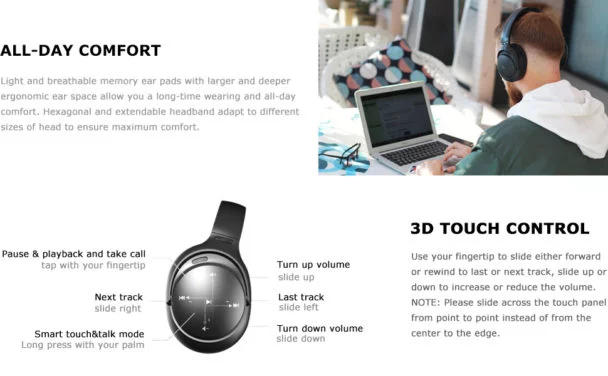 There's nothing wrong with the 3d touch control, it's just not something I like, and when I was attempting to play with it I kept inadvertently activating, pausing, etc. I believe as I go on that'll be less of a thing.
Music sounds… ok. I think when ANC is running it's flatter. I don't particularly feel it excels while that's on, but then again it sounds better than trying to listen to music while hearing a 4yo screaming "Maggie give it back!!!". I'm trying to think if there have been any headphones I've liked with ANC that I liked how the music played with it on and I'm drawing blanks.
ANC while mowing was mostly good. I did however manage to hit a perfect storm of exterior noise in which whatever algorithm they use for ANC was overloaded and started thumping in my ear in an attempt to cancel out the exterior noise. That was strange and harkened back to the early days of ANC for me.
The headset can be used as Bluetooth or plugged in and includes a 1/8th inch / 3.5mm standard headphone cable and I must say I'm pretty disappointed in it. Feels cheap, doesn't fit quite right, pretty much going away as I have much better cables to plug it into.
After grabbing a replacement cable I discovered it's not a standard… standard 3.5mm on one side, smaller on the other. Not something I've run into in the units I've tested. Tends to fall 1/3rd out of the headset if slightly tugged. My use case is it's plugged into an XBOX controller so if I move too much it's popping out. Guess it's time to pair it BT.
There's a pass through option I have not explored, in which you can hear the world and your music. As my hearing feels like it's been being damaged by proximity to loud children lately I've been quite enjoying the noise cancellation to attempt to get one single thought together.
---
Mu6 Space 2 takeaway
What I believe I've been playing with is a highly evolved noise cancelling beast that does music pretty well. I need to redo the testing more without the ANC, but it's been pretty good and what I would expect in a higher end mid-range priced headset.
I'm not enthused with the bass reproduction at the moment but reading through other reviews I'm betting that's because of the ANC, or my player has gotten befarged.
Works great for gaming. I can't think of a time in the past 10 years I've been as immersed as when I had the ANC on and was listening to characters whispering around me.
More testing required, more getting familiar with the controls as well, but dang impressive noise reduction.
You can find the Mu6 Space 2 at the manufacturer's website, or Amazon (full disclosure we'd make a comission on the Amazon link.)