Retail data indicates least risky times to shop during pandemic
Have a press release here from Zenreach that analyzed consumer behavior in the United States from April 1-May 5 and has come up with the following to keep you as far away from people as possible.
Should you not want to get Covid 19, but still need to go out and shop, here's the best way to minimize contact risk. Even if you think you're healthy, I've got a presumably healthy former tenant who's on week seven of it, so yeah. Not something you want.
---
Cut and pasted:
The busiest shopping days overall are Friday and Saturday. 
The least busy days are Tuesday and Sunday.
Midday—between noon and two o'clock—is the busiest time for shoppers, so try to avoid going to stores during these hours if possible.
Another spike in foot traffic occurs between 4pm and 6pm, right when people are finishing up the workday. 
The least busy times of day for shoppers are before 9am and after 8pm.
So, for those feeling uneasy about venturing back into the wild, also known as the local corner store, the safest times to go would be in the early morning or later evening hours on Tuesday or Sunday.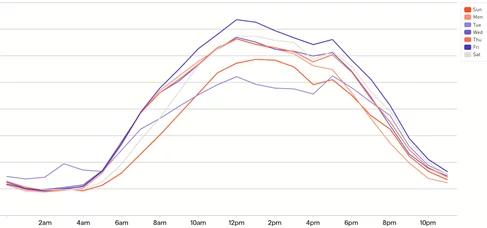 ---
That is probably going to change significantly as the reopening happens, but for now it's valid.