Uniq Vertex Duo slim fast wireless charger gets two devices at once
If you've got a smartwatch or some wireless earbuds with a wireless charging case and a phone these days, chances are you've wanted the ability to charge them all from one device for a while. The Uniq Vertex Duo was built to charge two devices quickly in one slim form factor, saving space and time like Doctor Who.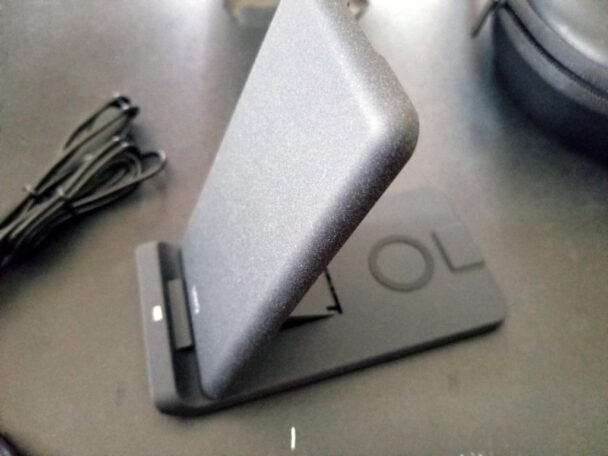 The Vertex Duo can charge up to 15 watts wirelessly, however it doesn't come with a power supply, so keep in mind you'll need something to deliver that level of juice if you want to charge at that speed.
The Duo can be either just a little flat one device charging pad (meh,) or a stand-up affair (yay) which allows you to charge two devices at the same time, one over the other.
Unless you're planning on traveling with the device I don't personally see the desire to transform the thing, but perhaps I'm being a little short sighted in my use cases for it. Transforming may also save packaging space and shipping costs. I just don't feel there's that much transformation need after you put this thing where it's going to go.
It comes with a USB-C to USB-C cable as well as a USB-A to USB-C cable, both of which feel a marked level of quality below what the charging pad feels like. I mean, in my opinion this feels like a premium device with a gas station power cable.
While it seems to work with almost every wireless Qi charging device I have, there's one exception. My Galaxy Note 8 with its thick case does not charge. This has been an issue a couple of times previously with other brands so I'm not knocking the Uniq Vertex Duo here, just saying if you have a thick case you might not want to look at this.
What is unique about Uniq's charger and the thick case is the charger blinks blue, which according to the manual means it thinks it's charging. The phone never picks it up. No clue.
It seems like a fairly elegant solution (other than the cables,) to a multi-charging desire.
You can find the Uniq Vertex Duo on the manufacturer's website.