The all-new Echo Dot (4th gen) is Amazballs
Because you wanted the shape of a crystal ball and the ability of a child to order services that cost you money right out of the gate, Amazon has reengineered the Alexa-powered Echo Dot into what vaguely looks like a shipping container for a silicon breast implant, or a PR kit for a really unimpressive set of tire monitors.
As a note, I didn't come up with Amazballs, that's all Mat.
There are a couple of versions of the 4g, different colors, a clock that's under the cloth, and of course a kids edition that's a tiger because… um, Echo Dots and Amazon are known for tigers?
Google says no, but then as a competitor of Amazon, perhaps they have reasons to present the truth.
My guess is the things will sound extremely good, I've been impressed with the third generation Dot (although I'm all in for Google it's nice to listen to the news and a couple of podcasts on the Dot.)
The kids edition it should be noted will eventually start charging you a monthly fee if you want to keep some of the things it comes with (such as audiobooks, interactive games, etc) so prepare to shell out either $35.88 a year + tax for the service, or $59.99 for a replacement or additional tiger every year that will come with yet another year of Freetime.
Release date is October 22, 2020 and if you think that date looks strangely ominous let me know why… I've been staring at it and all I can figure out is if you take the two O's in October it's 2o2o 2020 and some letters left over… maybe the 2020…
My guess is they'll be at people's houses the day of release as opposed to later, but who knows.
There's also a panda.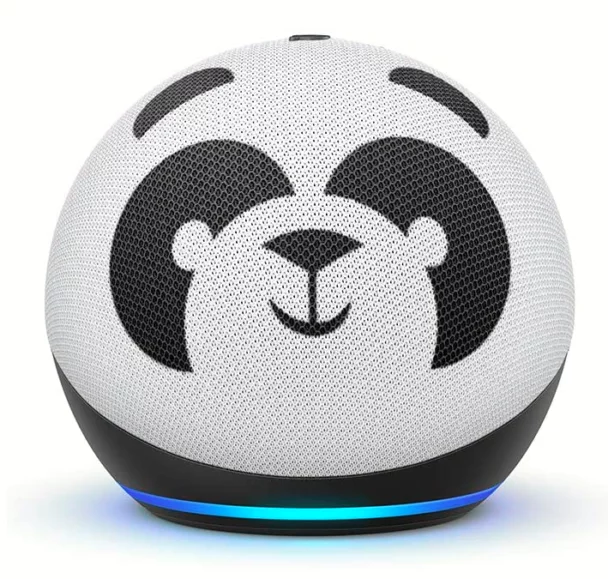 In theory clicking/tapping/licking on any of the Amazballs should take you to Amazon to find them. They're tagged with a Pocketables commission link so if you don't want us to make any income just go to Amazon and search by yourself. Also if you're there try and remember to change the URL on anything from www to SMILE so that the charities you want to support get supported.
Also Amazballs