The Cat S42 – a rugged multi-day smartphone
The Cat S42 is designed to take a beating and keep on ticking with MIL-SPEC 810H, IP68, and a 4200 mAh battery that is capable of running for a couple of days under average use. Keep in mind, there's not really an average use so your experience in how long it lasts will vary by how much you actually use it.
TL;DR – hardened all day phone, good price, with an Achilles heel for no obvious reason.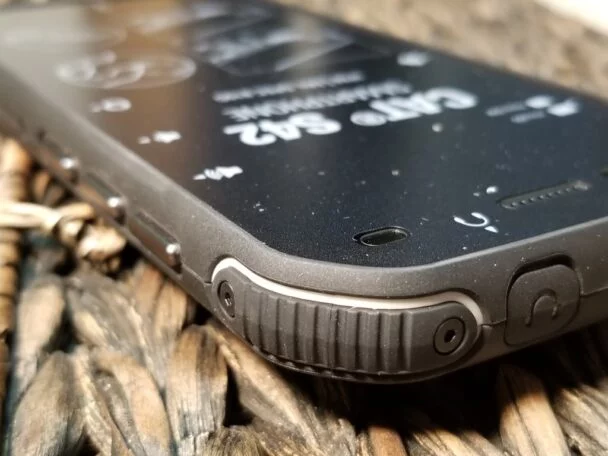 Specs
MIL-SPEC 810H, IP68 Water and Dust Proof
Drop Tested up to 1.8m (6ft) onto steel
Corning® Gorilla® Glass 5
4200 mAh Battery (non user replacable)
Android™ 10 ( with upgrade to 11) and 90 day security patch
5.5″ HD+ Display (1440×720) 18:9
Mediatek Helio A20 MT Quad core @ 1.8GHz
NFC, Bluetooth 5.0, 2.4/5gHz WiFi, audio jack, GPS
13mp primary camera, 5MP selfie
3GB RAM
32GB ROM/Internal storage
Drop tested 6 feet on steel
2G, 3G, 4G LTE
6.35 x 3.04 x .5 in
7.76 oz
Expandable to 128GB via microSD
2 SIM slots
Micro-USB running USB 2.0/USB OTG
---
OK, so we've got a pretty decently specked waterproof, drop resistant mid-range all day work phone here. It's not going to win against anything top-end from a a few years back but the object here is not to have 160 FPS in Fortnite, it's to have a phone that works and won't stop working.
As a note, while I'm not sure if it was this particular Cat phone or another one of the selling points was if you have to wash your hands quite a bit you probably need to be able to wash your phone, and you can do that with this one and be using it again as soon as you dry the screen off.
And if you don't want to dry the screen off, gloved mode works as well. Useful for when it's going to rain, and you've got to talk to someone without an errant drop hanging up your call or tapping the wrong thing.
Side push to talk / configurable button can be configured however you need it within the settings.
Paul finds things to complain about
The lack of Qi/wireless charging means you're going to be accessing the USB connector fairly frequently. While USB-C is a whole lot tougher than anything previous, this still means you're going to get wear and tear on the case and the jack. I'd really like to see this unit with wireless charging and was hoping the spec sheet had just left it off (if it had, neither of my Qi chargers worked on it.)
edit: holy crap, it's Micro USB, screw that you're going to break it within a year if you're in construction or have to plug it in while driving. Why would something this tough charge via a format that was replaced years ago by a nearly indestructible cable?
The thing is not built for speed. Oh, it's acceptable to most, (keep in mind I was a phone speed freak for years and I've got an octa-core phone at the moment,) but if a couple of seconds counts to you you're going to become frustrated with the quad core A20. The GPU is nothing to write home about either, you're not going to be playing top end games, but you know what, that's not what this phone is for. That said, you're not going to be playing FPS games with this phone.
The speakerphone is loud and sounds good, however as a music reproduction device you're going to want to get something else. It's not got the boom that you're going to want if you're on a job site.
Lack of 5G also means you're a bit closer to lower band sunset. While 3G has about a year or two left, and LTE is probably going to be around a few years after that, well.. you know what, don't worry about that, no phone built today is going to make it to LTE sunset. That said, check the bands and make sure your carrier is going to handle them.
Taking a screenshot is a little more difficult due to the position of the Push to Talk button. If it had been half an inch in either direction I don't think I'd have as much of an issue but it's driving me nuts. Then again, I don't think most people start out taking 30 screenshots in a row on a phone so that probably will not be your issue.
Military time by default? Not a huge deal to change but not something I see a lot in devices.
Camera comparison
This is a quick and dirty side by side (or above and below) of an attempt to put the S42 up against my old Galaxy Note 8. Lighting and camera position as close to the same as I could make it for both of them. Both set to absurd quality mode, both being lit by a Sandmarc bi-color light we'll review later. Clicking on any of these will go to the original resolution photos for a couple of weeks but they'll be resized by October as we're out of space on Pocketables for huge items.
Overall, to my colorblind self the cameras look about the same (for a consumer,) I think the processing on the old Note 8 may have beat the S42 but it's acceptable.
Selfie cam I felt a little smoothed over and washed out. It was a 5MP that felt a little like a 1. It looks like a makeup filter was applied and definition was lost everywhere. Also my chin seems to have a new set of dimples I can't figure out how to reproduce. I checked, my chin doesn't look like that. I mean it's close but there's been some weird smoothing/chin reconstruction going on here.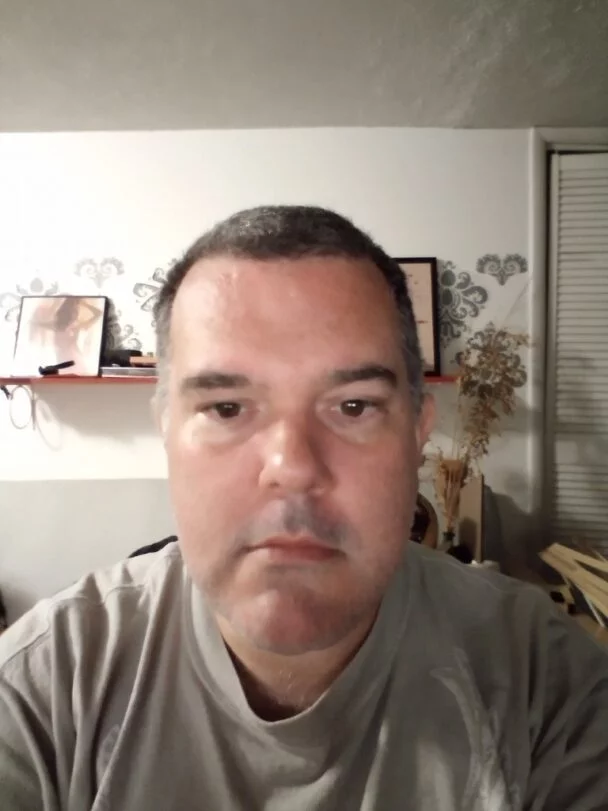 I found no smoothing or options that related to makeup like some devices have, so there's something afoot here.
Overall – should you buy the Cat S42?
Were I into rugged phones that last all day, can be dropped from height, washed in a bucket, and aren't designed to play games I would generally say yes, however years after the introduction of USB-C I'm shocked that anything calling itself durable would include the second worst for breaking popular charging cable connector. The only thing worse than MicroUSB is an Apple Lightning connector in my experience. Seriously, USB-C, it's been around years at this point and is great.
Everything about this but that port screams acceptable for a mid range mostly indestructible device. If you plug in your Micro USB gently you should be fine, but it feels really weird to have a tough as nails phone with a charging port that only goes one way and can break if you push the cable in the other.
They're expected to ship September 8th, 2020 and at that point you you can grab a Cat S42 at Amazon, or on Cat's website.