3Stone 10W (100W equ) WiFi color changing light bulb review
The 3Stone Smart LED bulb is a WiFi connected smart bulb that works with Alexa, Google Assistant, and any Smart-Life capable system most likely.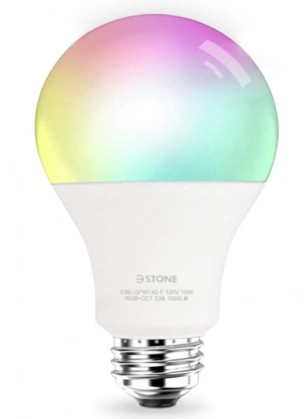 Specs
1050 Lumens (white)
2700-6500K tunable white light
Smart Life integration for a pretty easy pairing experience
Rated life span claims 250,000 hours (not happening, but they have a 3 year warranty)
Install
Smart Life has been updated recently which made this a breeze. Install smart life, get it happy with an account. Open, screw in the light bulb, it'll start blinking, press auto scan, you'll see the bulb listed there and choose add. If you're going to add it to Google Home or such open assistant, say "synchronize devices" if you've already got Smart Life paired in Home, and go on with your bad self.
If you don't have Smart Life already configured, sign up for an account, go into the Google Home app, link it as a service. After you've set something up in Smart Life just tell assistant to synchronize devices and it should pull your new devices into the Home app. Make sure to rename them in Smart Life as you add them or you'll have 15 devices called 3GLPD2 instead of like "baby room".
The good
These are the brightest white bulbs I've ever played with. As with all smart color changing bulbs the colors are significantly less bright, so don't get your hopes up for a 100 watt black light or anything. I'm going to hazard a guess that the effective wattage of the non-white is about 20-30 Watts.
But yeah, bright white light. I'm not sure I'd say it's actually a 100 Watt equivalent but it is better than a 75 Watt standard I have to test against.
The bad
I should explain that I have a lot of bulbs and devices. I've been reviewing these things for a long time and I really honestly like automating a few non-essential things like my deck lights, basement lights, plant air purifier at home and work, etc. I have a pretty good idea of how well any of these should work. I will not call myself an expert in the field of bulbs, but I know my WiFi goes to my mailbox and gets really good speed tests.
The 3Stone Smart LED bulbs don't play well with my WiFi. My initial setup was in my daughter's room and it's 30 feet and 3 feet of floor and wall between it and the router. A previous bulb had burned out after 5-6 years and this was the replacement. It took a couple of times and then seemed to work fine.
The next day it was dead in her lamp post. I moved it to another and it was fine. Swapped it out with another and that one worked for approx one day and then also disconnected and could not be reconnected unless I moved it closer. I should also mention I purchased three of these.
Third one's a charm, plugged it in, seemed to work, but the next day it was showing on Smart Life but only as an on/off, no color change, no nothing. Went to change it again and it was hot to the touch. That one bad, it went back to Amazon / got a new one no heat issues / going to call that one an outlier.
I did some site surveys, signal was not perfect but if you're getting 80-130mbps on 2.4ghz and you're a lightbulb it's good enough. I replaced the one in my daughter's room with an ancient color changing light bulb I had sitting in a lamp upstairs and bam, all good. No issues.
As far as I can tell the effective range on the 3Stone Smart LED Light Bulbs are somewhere in the neighborhood of 30-40 feet in my house. (1940s, plaster walls, weird chicken-wire type structure behind the walls I'm assuming to hold the plaster on.) But, as I said above, I have a LOT of devices and I've never had this issue. I suspect the antennas are weak.
The Ugly
So, while I cannot say for certain at this point that it's not my equipment somehow being the cause, since I installed these lights one of my Google Home devices keeps disconnecting from WiFi. These bulbs are around the area that it's in at this point and unscrewing them it appears to stop the Lenovo Smart Display from disconnecting.
If I move the bulbs away from it, things appear to be fine. I am not sure if the bulbs are setting up WiFi interference, my network is finally overloaded, or what the issue is, but it's new. I mean with 30+ devices in my house I could be nearing max capacity on my router, but I've got the same at work and we have 40 connections regularly.
The price on these is about $5 more than it needs to be unless you purchase a 4 pack. Stupid me ordered a couple, then a third.
Overall
I would try them, they honestly are the brightest lights I've seen to date. Any issues return them or move them to a different location.
The 3Stone Smart LED color changing light bulb is available from Amazon for $14.99 for one, or $39.99 for 4.