Enhancing the Sense Home Energy Monitor
Over the past week my enthusiasm about energy conservation was renewed by two additions to my Sense Home Energy monitor. These being the arrival of a TP-Link Kasa Smart Plug, and a set of Sense Flex Sensors that was provided by Sense. I also had a short call with Sense in which I said what everyone says, and expressed a desire to have more training ability. That's all they hear bloggers, let's agree to stop asking. I kicked myself afterward.
While training still doesn't look like it's going to happen (machine learning that does wonders for 90% of people makes this not an easy task to accomplish,) you can fudge training with the addition of dedicated circuit monitoring (the Flex Sensors,) and some Kasa Smart Plugs.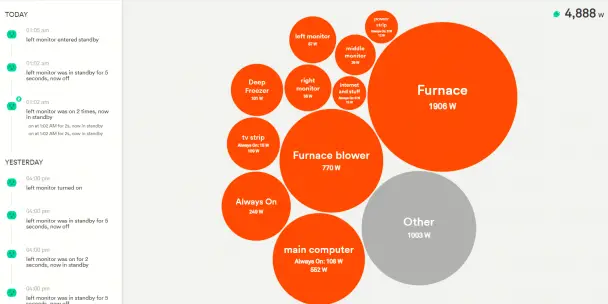 My first enhancement was the TP-Link Kasa Smart Plug, I'll be doing a separate review of this but the short of it is is it's a power strip with a couple of USB ports and the ability to turn any outlet on and off remotely, and transmit the current power draw to devices like the Sense Home Energy Monitor. As Sense can't seem to smell out a power draw from behind a UPS, and since anything I have in my house that's always on is most likely behind a UPS, we've had some issues tracking down vampire power.
Within 10 minutes of installing the Kasa and integrating it with Sense I knew where 547 always on watts were coming from (work project, remote storage/server, billable, $1.28 a day, about $40 a month.)
The Flex Sensors were my second enhancement. They're the same as the base sensors, but you'll need to pop out the center solar section on your Sense device if it's not already open. I accomplished this with ease, however I was also of the idea that I came close to breaking something, so be careful with that. There are instructions on Sense's website that make much more sense than what I did.
I received what I assume is not the end-shipping kit, so I'll say for the moment only use these photos as reference to what the thing is, which is basically the solar clamps (which are the same as the main clamps, but a different logo I think). *update* these are evidently misprints, should have a sense logo on the other side.
My assumption is the final kit will have instructions and there will be a clearly labeled "this is clamp 1," as there were none – there also may be writing or stickers on these I didn't catch. I clamped these onto the AC air handler/furnace, and the heat pump. My previous heat pump had been detected fine, but my new one is in month 4 and still coming up as "other".
Flex sensors had to be activated in the app, and then I just sort of had to wait in a basement within Bluetooth range for a central unit to decide to kick on after it had been off (timed delay after power outages,) but things picked right up.
With the addition of two devices I appeared within 249 watts of knowing what everything was. I also have the ability to bill out what the work project is costing me personally rather than saying "the average computer uses this." Yeah, this ain't average, it's a 560 watt drain on my kid's shoe fund.
So, overall – Kasa sensor I'm going to cover separately, and I hope Sense will continue to integrate things such as it into their monitoring.
Flex Sensors – I do not assume this was the final packaging or look, but if you want to get dedicated circuit monitoring right off the bat it's the way to go. I'm not entirely sure but I think some of the electric heat from the furnace blower and some of the water heater heating elements were getting confused.
With the addition of Sense Labs (has to be enabled in-app,) you can get some alerts for motor stalls on your AC units which indicate, I'm guessing, bad things that can be prevented.
---
Does Sense make Sense?
So as we know, I received all of this stuff over the course of the past three years from Sense (actually most, we'll talk about that in the Kasa review,) – so here's the breakdown of cost vs savings had I purchased this.
So for what we're discussing here four years in this being a $429 hardware investment. I additionally had to hire an electrician as I do not touch the mains and they were too close in my 1980's updated electric panel to get a clamp around. Initial investment about $500 as electrician wanted to see.
My first savings was not from finding that replacing a couple of lights would help me out, no it came a few months in when I got a sticker shock electric bill and managed to trace it down to my water heater never shutting off. Bad thermostat. I was able to tell it was the water heater just by looking and seeing the water heater never ever went off Sense, and my water was absurdly warm.
I don't know for a fact how much I saved, but I spent about $120 extra one month for a heating element on a rampage. I don't know if I would have caught that without standing outside and watching the meter spin and playing Breaker Box Bingo. I generally consider that it saved me at least the cost of half the base unit there, if not a lot more.
I've also used it as a "did we turn off the stove?" reassurance many a time. In late 2018 I decided it had paid for itself had I purchased it (this was before the flex clamps/Kasa) and with my work project I'm now going to be expensing ~40 less a month if they want it to continue. That's a highly specialized savings so I don't expect this will apply to you.
I'm not entirely sure how my use case with a dedicated circuit monitor is going to play out, these may never pay off, but we'll see.
So, it all makes sense if you manage to catch a broken water heater, can wrangle some of your energy vampires, and like knowing when your wife's curling iron hasn't shut off after 20 minutes like it's supposed to, or your deep freezer hasn't been on in 6 hours (this in theory saved some food due to a tripped breaker, but I probably would have caught it so I'm not claiming $400 of rotted food,) but your usage will vary.
---