Friday Lock preview (smart WiFi lock)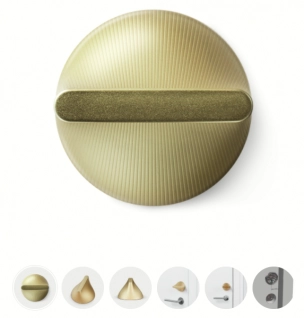 A couple of months back the Friday Home PR sent me a lock. A review that should have been completed in no time was delayed due to kids virtual classes, a busted lock screw I was attempting to retrofit over, a charger cable that was broken, rain, and you know what it was a cluster of events unrelated to this.
The basics are simple – a retrofit over your existing deadbolt that works with most major lock brands that don't have a screw that's busted like my Kwikset's was. You remove the two screws holding your deadbolt, slap on an adapter plate if required (that it comes with,) place the motor assembly on, screw in, add the rechargeable battery, and proceed to being able to lock and unlock your deadbolt from anywhere you want.
The lock connects to WiFi on demand, and barring your existing lock having a deceptively messed up screw, should go on in about five minutes with a screwdriver, and maybe a piece of painter's tape handy to if you want to not have to single hand it. Painter's tape – for when you need a hand but not that much of a hand.
I had it in use for a limited amount of time due to problems with the existing lock it retrofitted over, hopefully this weekend I can get this project fully demoed and any questions that arise here answered. So I'll tell you my impressions based on a short trial of locking and unlocking remotely a few times while realizing I needed a new lock to fit it over.
My busted lock is not their problem. Please note that.
Paul finds problems with everything
While I would generally delay this critique until I have it running for a couple of weeks, these two things irked me.
Rechargeable battery. That's great. Large, probably lasts for a very long time. The charger for the battery is even USB – great. However the charger is something you have to keep up with, not just something you can plug into the battery, which means you're going to have to remember where you put it when you finally need to recharge in three months or so. There's no way to fit it in the lock. Hello tech drawer my old friend.
I can't stress enough, we have the technology in rechargeable AAA batteries to charge directly from the battery just by plugging in a Micro USB cable. This is what the Friday Lock needs in a battery along with a way to charge without removing the handle. I'd rather run a portable charger to the door than remove the handle and remove a battery and have it charging for a few hours.
The universal adapter
OK, this thing's brilliant in design, but when attempting to match the manual for your model lock and quite possibly you're dealing with it being on upside down, numbers for the holes would be a little more useful than trying to remember the bean shaped non-frownie and the thing two over from it counter clockwise.
This may just be me admitting failure but I kept putting this on wrong again and again until I held the booklet up and realized my bad. Small etched number next to the holes would be invaluable.
Kind of loud
I'm not going to double down on the loudness because I'm retrofitting it over something I've said is broken and this may clear up when I replace the lock, but the motor is kind of jarring.
Overall
There are many smart locks out there. Most I've worked with are complete sets and a similar price. This one glides smoothly, but retrofits over your existing lock. This is something to note, and in my case I should have inspected to make sure mine was in better shape (not something you think about.)
The software allows you to remotely access it, turn it, give people access, the general suite of things. It should be one of the easier locks to install barring you've got something wrong with your existing lock.
I have not investigated fully but this does not appear to work with Google Home or Alexa, only lists Homekit. Does work on Android however.