Eggtronic Sirius 65 Watt Portable Wall Quick Charger – massive power in a pocketable package
If you're into fast charging of your laptops and devices, foldable travel prongs, and reasonably priced high wattage chargers, the Eggtronic Sirius is a serious contender for top of the market currently. If you're just looking to charge a phone however, this is overkill. Let me repeat. O, ver, kill.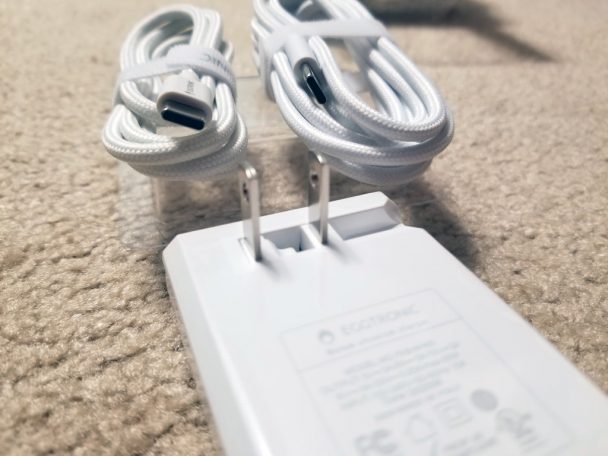 Boasting 93% efficiency, 65 watt output, and a form factor smaller than your generic 61 Watt Apple charger, this is a little engine that could. The Eggtronic Sirius is a one port USB-C out, comes with both a USB-C to USB-C cable and a USB-C to Lightning cable so you can charge pretty much anything modern. As far as a one-port USB-C charger goes, this is your thing… if you need that many watts and fast laptop charging
There's not a spec sheet of what charging formats it supports, but my old Galaxy Note 8 claims it's fast charging, the built in device detection list indicates that it will Quick Charge these (capitalization is theirs, my assumption is usually that's the Qualcomm QC standard at this point,) and it also seems to be doing the job, although not as quickly according to my monitor widget as some devoted QC3 chargers. I think I need to brush up on power delivery standards as I'm betting this is yet another format.
On laptops, unfortunately I can't test 65 watt charging. It doesn't get hot at 40-45. Should anyone wish to give me a top of the line USB-C powered laptop to test, drop me a line. The included cables are fairly nice. The lightning connection cable is nicer than one I had to get at Target for $18 in an emergency situation so the cables alone are probably something to consider as a buying perk.
The one complaint I have about this is that it requires space above or below the plug, so if you're on a power strip your options are to put it at the end of the line, or take over a total of 3 plug spaces as the 2.7 inch height and then the cable out of the top isn't space friendly.
From November 22nd to December 31st the Eggtronic Sirius 65W wall charger is $20 off at Amazon.