Get your Assistant routines in the spirit of the holidays (contest)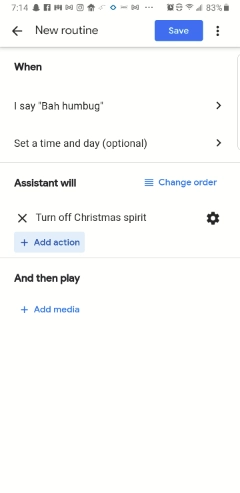 I have way too many smart lights and outlets. It's sort of what happens when you've got a combination of being a reviewer and also actually liking certain lights. One of the great things about smart LED lights is you can change the mood, and turn them on and off via app, voice, etc.
So, Pocketables is throwing a shindig/contest – have some fun with your Assistant routines, make a festive light display and/or all of your lights shut off by saying "bah humbug". Crank on your trees, WiFi-enabled menorahs, and the like with phrases of your choice like "turkey lurky dee and a turkey durkey ladle…". Post amusing routines in the comments here and the best will get something cheap and tawdry like bragging rights, or recognition or something I can fit in flat rate shipping.
Pictured here is a simple Google Home routine that triggers by "Bah humbug" and turns off Christmas spirit (a smart plug).
Feel free to use any assistant, post screenshots in the comments if you can and if you can't, let us know. If it's not evident what a device is (such as Christmas spirit is a smart plug,) let us know what it is and what actually happens.