Novostella 13W 1300LM Smart LED Light Bulb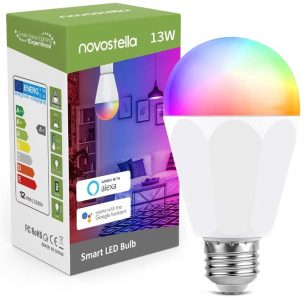 In my quest for brighter and brighter LED lights I ran across the Novostella 13W 1300LM Smart LED bulb. This might be the brightest color changing smart bulb I've run across to date coming in at a listed 1300 lumens white, and some amount that's up there on the color options.
My main complaints about smart LED bulbs is that they're cool and all, but I grew up in the era of 150 watt lighting and my house was designed somewhat around that. The ability to read while more than five feet away was what I grew up on, and my eyes never quite adjusted through the pigtail era of lighting and into the very dim smart LED early days.
The Novastella 13 Watt doesn't reach up the Reveal 150 Watt levels, which were my preferred bulb of choice for a while (apparently 1500 lumens from what I can find online,) but it's close enough that this takes the place as my new favorite brightest bulb, a spot formerly held by the bright, but not well antenna'd 3Stone series.
I attempted to get some photos of how the lighting looks, however the only thing I can get on the colors looks way off in terms of color reproduction just with how my phone captures LED lighting. So you'll have to trust a colorblind man that the colors are significantly improved over most other bulbs, and brighter as well.
The Novostella bulbs work with Smart Life, which work with Google and Alexa. The only things I would note about the Novostella bulbs are that 1) they're only about half of a bulb / directed lighting, and 2) you will have to turn them on and off three times in order to start pairing. It seems most new bulbs come ready to pair out of the box but not these. You can do that at a switch, or just screw it in until it lights up, back out for 3 seconds, screw back in, back out for 3 seconds, screw in, wait 5 seconds and it starts blinking.
They're expensive however, coming in at $26 for 1 Novostella 13 Watt bulb, or a 3-pack for $60. That's about twice the price (at the 3 pack level) that you can get other 1000+lm at a 4-pack level.
Grab a Novostella 13W 1300LM Smart LED Light Bulb at Amazon (we'll make a commission if you purchase or click, if you don't want us making anything just go to Amazon and search Novostella) or grab them at the Novostella website.