Vizio V705x-H1 70″ class UHD TV one week review
The Vizio V705x-H1 is a 70″ class UHD TV that I happened to be lucky enough to receive for review. From what I can tell they're going on sale on Friday, and I cannot tell that there's any difference between the V705x-H1 and the V705-H1 from their spec sheets, so this review may apply to the non-X as well.

TL;DR – amazing picture, acceptable FPS gameplay, budget price, meh speakers so get a soundbar (you already knew that last part).
Like my beloved Vizio M50-D1 this is a SmartCast system, which seems to have pretty robust support where I want it, specifically Plex, Disney+, Netflix, and Hulu. I believe in the past I'd been a little disappointed in the Plex support on Vizio's platform, but that seems to have been remedied recently – go Plex! The main difference I'm seeing between SmartCast and Roku these days appears to be that the SmartCast is all built in apps, and Roku you get to choose apps and they individually update.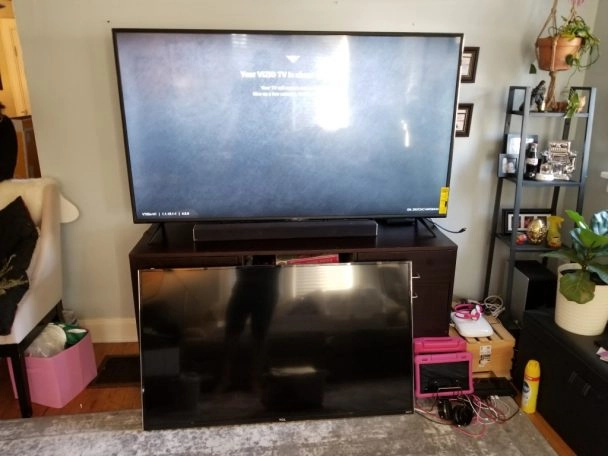 I'd assume this update difference might favor the Roku distribution system, but as it stands it seems to be working out for Vizio.
Back to the TV – this is my first VIZIO TV technically. The last was a smart display, which is a screen without a tuner. This includes the ability to tack in an over the air antenna, which I suggest you invest in for when your cable or streaming service is out, or just to see the game 7-15 seconds before your streaming friends.
The big difference between this and my older sets are the HDR tends to do what I thought it should years ago – it's come a long way and it shows. No light bleeding that I could tell in menus in games (which looked atrocious on early HDR,) and a dynamic range that felt like I was looking at the thing as opposed to looking at a picture of the thing. That part impressed me. Full array backlighting for the win.
Coming in at 50 pounds or so this is a little rough for one person to mount, but it's light enough that two people can do it without any issues (25 pounds each.) Balanced well enough on the low side that it did not feel like a fight. Got it right up onto the mounting bar with no issues other than the fear of dropping the thing.
The big thing with this that I tested other than HDR (which was amazing,) was gaming. I had not run into "120hz effective refresh rate" and was looking at the 60hz listed refresh rate on some spec sheets, and 120hz on others. It's not a real 120, but it does something that makes it feel like more than 60. As such for old gamers like myself, I do not think you're going to have much of an issue with it as a gaming location. If you're a fast-twitch sniper I'm thinking you're probably going to want to check out their videos on the gaming mode and see whether that's going to fit your life.
The minor complaint I have about this thing is when viewed at an angle the top most section appears slightly wrong when the screen is gray and not moving. I spent many days attempting to narrow that down as I would only very occasionally note something while watching way too many 4K HDR 10+ videos in an attempt to see if I could spot anything wrong. The only thing I could spot wrong – gray, not moving, and you had to be looking from a viewing angle below dead on.
Overall good TV, feel free to ask about anything on it. I'll be adding more reviews later on but getting this out before the TV gets out into the world.
It appears you can buy on Black Friday at 7pm ET on Walmart for $478. I'm not seeing the 705X anywhere else at the moment, just the 705. My guess is nearer Friday there will be many places popping up with them. You can also evidently grab one from Vizio's site for $649.99.
Three-week update here detailing some nitpicking but not really changing this review any.