Zoom lifting time limits on Thanksgiving so you can listen to your crazy uncle explain how your life choices have destroyed society.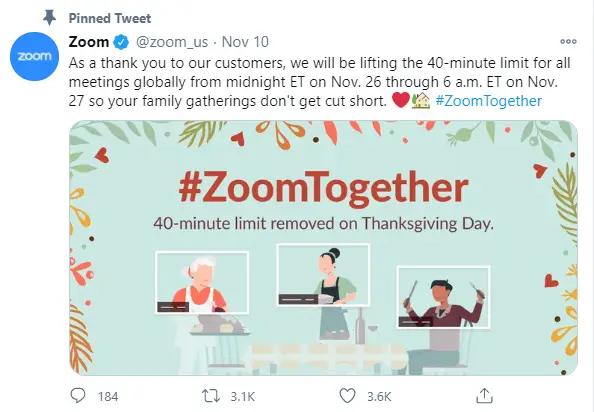 TL;DR – Zoom is free from Midnight ET Nov 26-6am Nov 27. Anything below is commentary on the U.S. Thanksgiving/Covid situation and probably will tick off 27% of you. Those it ticks off just move on to the next article.
Zoom is free on the U.S.'s Thanksgiving – unclear whether it's free for the world, or just the USA, and if so are they enforcing that via IP restrictions or not as what if someone in Japan wants to set up and host Thanksgiving because they can't get back to the US for it? Who knows.
That's the end of the news, should you want my take on why Zoom is prudent read on. Should you consider death statistic presentation political, move on. I've been writing a twice daily blog on Covid statistics since May focusing on TN / Nashville in particular, so yeah… I don't bring it over here much but damn…
Below are numbers related to Covid infections as presented by WHO, CDC, the White House Coronavirus Task Force, State and Local Health Departments, and Worldometers. Trigger warning for people who are convinced these agencies have spent the past few years conspiring to make the world part of the New World Order through a complex vaccination campaign (they control the water supplies and grocery stores, why don't they just put your nanochips in your potato chips?) or that hospitals want this to make more money.
With over 5.3 million Americans known to be currently infected and estimates of well over 10 million accounting for asymptomatic spreaders, there's about a 3% chance at this point that any one person at Thanksgiving spreads more than love and conspiracy theories that your great aunt read about on insert whatever is to be debunked next news/social outlet is here.
Personally, I've never actually understood the appeal of Thanksgiving, especially the outcries that some people seem to be expressing to go back home, and then tell tales of new mental scars, DUIs, weight gaining, someone getting hit in the face with a football, and long long hospital lines. Maybe it was just my family but we kept in touch at all times because we had phones. Why isn't every day a day for giving thanks? (also may be why I don't understand the appeal of birthdays.)
Play it safe, Zoom it in – if you were going to a family gathering I don't expect any argument will change your mind and I'm not going to try.
It's purely a numbers game at this point – assuming that someone who has it manages to spread it during a thanksgiving meal, at the end over 98.5% will claim it's a hoax (or they were lucky,) because they didn't get it, 3% will get it (1.5% not knowing they have it,) and of those 3% that know they have it, 2.6% will die based on current mortality rates. Of those 2.6% who die many/most will be in a medically induced coma for a month on a ventilator and never wake up (sorry, had a statistic number for that I couldn't back up).
So for 100,000 people at Thanksgiving dinner, 78 deaths given the average age population. Average thanksgiving dinner being 8 people that's about 12,500 gatherings. Of course the death rate goes from 2.6% known to ~13%+ for people over 65, but there aren't going to be any of them there right?
Y'all may recall I ran for council a year back, one of my opponents died after being on a vent for 5 weeks, friend of mine's dad died after similar, one of my former tenants was a long hauler and was sick for over three months with fevers of 102+ regularly, one of my current tenants was down for five weeks, one of my tenants tested positive but had the sniffles, coworker's kid got it and was hospitalized although very shortly, one street over two people died at two different houses, one of them had a funeral and from that I heard there was another funeral but that's just second hand, friend's family (mother's side) evidently five infected and one on a vent for Thanksgiving, friend who runs a local business had to quit for 2 weeks because she tested positive, our local toy store had to shutter for several days because the owners got it, and one of my old bar haunts is at six employees down in 30 days, and still open for business.
I could go into my wife's friends and families and work associates, but it's a lot of people.
Be safe.