Donut County – if all the Hole.io clones had a racoon-based backstory
A game that has the same basic premise as Hole.io (move a hole, eat a thing, get bigger, eventually eat buildings,) but with racoons, donuts, a story, and challenges? You had my attention.
I just finished the game today.
TL;DR – extreme casual, meh story, felt like a short game for $4.99, fun puzzles
Donut County difference
Each round of play is punctuated by story. Some rounds involve solving puzzles by doing things like gathering water and vomiting it out with your powers of being a spitting hole. Some things involve growing large enough to knock racoons off of tricycles and then swallowing and spitting them onto a hot air balloon to bring it down under the sheer weight of the trash bandits.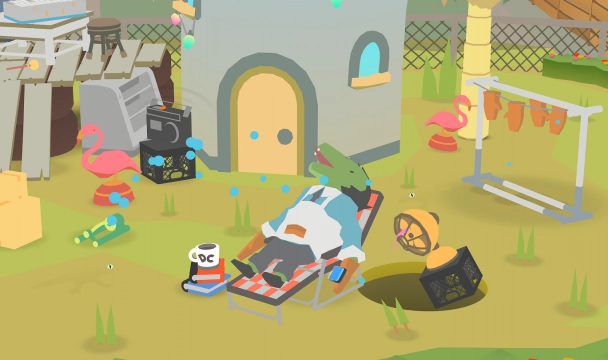 There are a couple of puzzles to solve which might take you a time or two to figure out but most things are fairly straightforward.
Donut County story
Most of the story could have been summed up in a little text and maybe an animation or two, but you have to tap as each thing writes out and some of the story between rounds can take 40+ taps to get through. I found myself not particularly enthralled and just wanting to get to the actual game more often than not, so basically by round 4 or so I was just ignoring the story.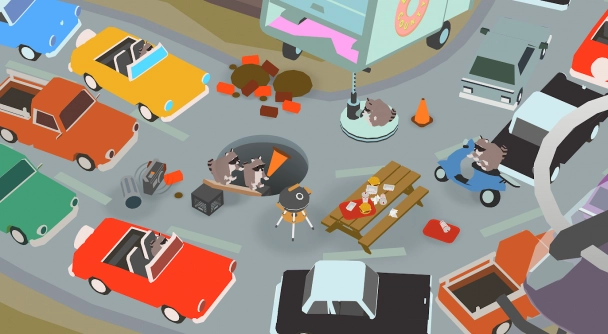 I didn't really care about where it was going, and if you can lose me in 4 story breaks to a game that's a slightly modified Hole.io with fairly easy to solve levels… uh, dunno, just was not my thing and I started feeling the story completely got in the way of what was shaping up to be an amusing game.
Glazed hole action
Most levels in Donut County can be played without skill. I mean this is not timed, you can walk away, use a stylus, have a 5yo do the level, etc. They're rounds in which you move the hole around, swallow up stuff and become a larger hole.
However, there are several levels in which you have to do things such as fill up with water, start a machine, move the hole around an object, spit the water out at a certain time, light a fuse on a rocket, swallow the rocket, move the hole somewhere and release the rocket. This is with, at least on my Note 8, an entirely different level of difficulty from the fairly casual world-consuming that you've been doing earlier in the game.
This is a bit more of a challenge because suddenly you realize that you're dealing with some hole-lag when you're attempting to move around obstacles. I mean, it's doable, but you'll feel like you're playing an emulator of an emulator from over someone's shoulder remotely on a dial up connection. It's extremely doable mind you, you're not going to get stuck, it's just … eh.
There's a boss battle in there that feels like it was shoehorned in – trying to play an action level with the engine they've got felt like… not fun. Anticlimactic ending. Cakewalk.
Overall
I'll put it out there this isn't a game that caught me but I hold nothing against it. I played through, beat it, and am now looking for something similar to the actual gameplay because the levels it had were fun, but unfortunately few. I'd like more levels, less story, and something at under the $4.99 price they're asking. The graphics are great, the gameplay is mostly fun, but the story is in the way and it's not particularly innovative.
Grab it if it's a buck or two as it does have some genuinely fun levels.
You can grab it at the Play Store (the one I reviewed,) and the App Store (where it evidently was chosen the game of the year by the Apple App Store team)