I made a 55″ 4K TV my main monitor a month ago (what I discovered will shock you to your core, no it won't I'm in clickbait mode)
If you'll recall I recently did a review of a Vizio TV I received oddly not for Pocketables but due to being in a reviewer program. Yeah, I'm lucky in that regard, free TV. But I had my old TCL 55″ that I bought way back when and it's served me well. I have no real complaints on it other than I wish it were HDR.
Recently I also came into possession of a Kasa smart outlet that told me what my power consumption was for the three monitors that were my insane setup, and also what the power consumption was for the TCL… surprisingly a 55″ TV was taking far less power than 3 old energy star monitors. The total pixel area was also a lot lot more than the 3 monitors could handle, so I decided to try it.
I ditched two of the monitors but left the third as a status monitor for when I'm stuck in full screen apps. Also did this because I have not been single monitor for over a decade and was unsure how the 2160p settings were going to fly.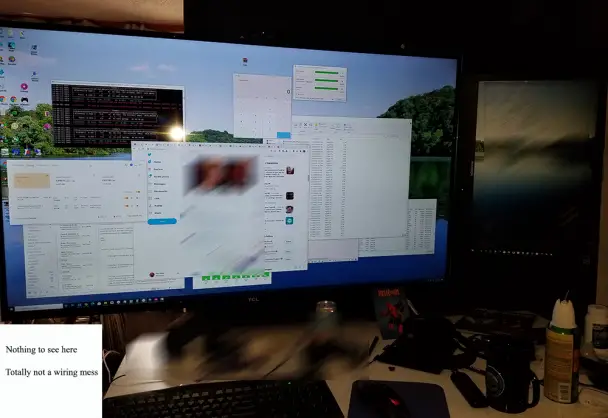 But fly it did. Games are pretty sweet and most place nicely with the dual processor 24 logical cores at 3.47ghz and my bitcoin mining video card. But more interesting I discovered some rather unexpected benefits and software features of a huge monitor.
One of the useful things that I had not discovered or heard of is that Word can look like this when you're editing large documents:
The ability to see 8 pages on screen may not appeal to you, but it does to me so there.
The other things I've learned is that it appears that YouTube 4K on a Roku and YouTube 4K on a PC have different quality. Starting both out and streaming and switching inputs and the PC looks better. What up with that? Perhaps it's my older Roku going easy on the decoding codec to not crash the TV? Dunno.
As I take an insane amount of windows screenshots of sites that require hovering over but not clicking on to get tooltip popups (Windows + shift + S) I've been pleased as I can just shove a window to the right m click on a left window, move the mouse over the right to force a tooltip popup, then capture and paste in the window I'm actually in. In case you're wondering, the TN hospitalization chart is one of them I have to screenshot info twice daily on.
Games generally play fine, I'm running into a little bit of what I assume is a vsync issue but have not had a chance to drill down – some games play fine on 4K, some sort of look like they're waiting to update a frame… eh, it's not a gaming rig. I can deal.
My wife thought I was mad… mad I tell you. She still jokes about it but the main things here are I had the equipment in house, I could save electricity, and the sheer space I have to work on is amazeballs.
Downsides are that the Roku goes to sleep and does not wake up when the computer fires the monitor back up. This is not fixable without a USB device that sends a wakup signal, can't remember what that is, but from researching the device power on it's $20 or so I have to spend to get the card to act like a wakeup device. Rassafrassa.
I might see if I can rig some sort of assistant routine to power on the TCL TV when the computer is not in screensaver mode. For now I keep the remote handy.
The only drawback thus far is that finding the mouse can be a challenge sometimes, and occasionally the secondary monitor moves its virtual position and I don't know why. I've found the right monitor sitting virtually above the TCL a couple of times and to the left once.
Am I saying you should do this? If you have a 4K TV sitting around sure, see if you like it. Just be aware the power-on-devices functionality everything out there has doesn't appear to go to the PC without a random device I cannot recall the name of at the moment. For me, saving money replacing old energy-inefficient monitors and gives me something ridiculous to play with.