Smarten up your existing home alarm system with the Nexx Smart Alarm WiFi controller
The Nexx Smart Alarm takes your existing alarm system (if supported,) and adds the ability to control it from your phone or smart assistant. With a little bit of assistant routines you can make it so your alarm system arms if you've left your house and you don't have to think about it, or disarms when you're near.
I'll preface this is in review at the moment due to the location we're testing at they had to go and have a baby 15 days ago and they've decided that is more important than helping Paul test out the Nexx Smart Alarm for some reason. People… the nerve. A such this is not a review, should not be taken as one. Also if you're searching Simon XTI and WiFi this is not your solution at the moment.
You can get notifications significantly faster than your alarm company will contact you about potential break-ins, fire, etc and of course your cat being a jerk again and swatting at your motion sensor. Combined with your camera system you can answer the phone when the alarm company calls two minutes later and tell them it's just your jerk cat.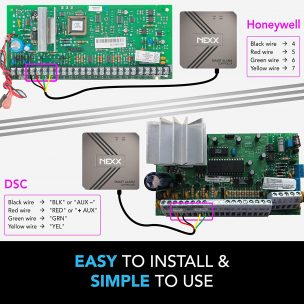 You could theoretically drop your alarm monitoring company as well. However I personally would not recommend that unless you're willing to risk the alert you've got a break in or fire coming while you've got a dead phone battery or have to call the police or fire department in a panic. If you don't have an alarm company currently, you could become your own. This is a risk assessment you will need to take, but be aware sometimes homeowners and renters insurance eats the cost of your alarm monitoring so check that as well.
Sadly this does not work with all systems, so make sure yours is supported. I made a reading mistake on their website and thought my Simon XTI was supported and was like "hell yeah, no needing to deal with Alarm.com if I want to smarten up my dumb old system!" but no, I would have to deal with them at 3x the price of my current monitoring company just to remotely arm my system. Le sigh. Nope, my Simon XTI appears to be infinitely tied to either being the dumb, or going with Alarm.com for remote arming, which I'm not going to do.
The Nexx Smart Alarm WiFi controller is available from Amazon and from the manufacturer's website.