Soliom S100 Solar-powered 1080P WiFi security camera initial review
The Soliom S100 is a solar powered 1080P WiFi security camera. We reviewed the S600 recently, and other than that this looks different and doesn't have pan/tilt/zoom the review is about the same, at least on the software side.
The software side
The software claims to have QR code pairing, as far as I can tell this is incorrect and you'll end up having to to use audio pairing. This isn't a huge issue but it's been at least 4.5 months at this point since the last review I did of their products and I would have seriously hoped this would have been worked out.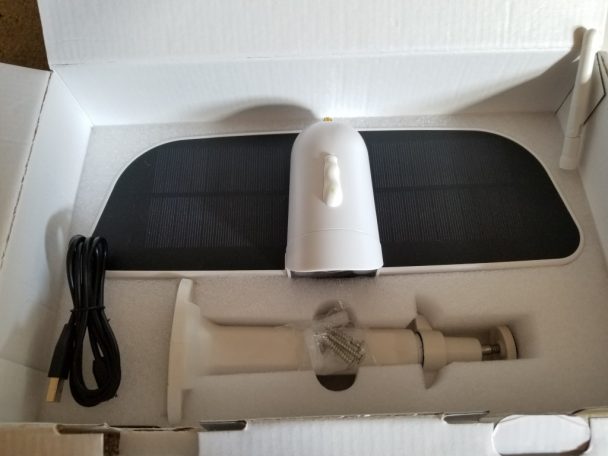 There's no FTP or ability to view from a computer, so you're going to be using the app to view, and either streaming off the SD card or paying for their cloud service. They've got to make money somehow, but throwing in FTP functionality here would make this so much more useful (but less of an income stream for Soliom I guess.)
All my complaints from July 28th's software review appear to still stand.
An update to the S600 review
So the S600 is going strong, it got mounted in direct sunlight at a bar near my house (international famous, and no I didn't write that wrong,) and now is providing security in an area they could not wire properly. They have been pleased and will be the proud recipients of this as well so we'll be getting some nighttime cat videos for Pocketables soon.
Differences between the S100 & S600
The primary difference besides the no PTZ ability is that this has a built in solar panel that cannot be tilted independently of the camera angle view. This may not be a huge problem, but if you're trying for the perfect angle on the sun and the yard, you're going to probably have to choose one or the other.
The battery capacity is the same, solar panel size seems ever so slightly larger on the S100 than the S600 but I'd still plan on mounting this where you can easily reach it in the event you need to recharge it.
The night vision is noticeably better, but the colors are weird, it's really blerky whereas the standard IR black and white night vision generally isn't. I took a pic of what you see in a dark closet so make of this what you will.
I see people raving about the night vision on Amazon, but it feels like a 480p artifact fest compared to the S600.
The S100 claims a PIR trigger distance of 26ft and 0.7 second spinup time va 20 and a 1.0 for the 600.
Mounting and install
First thing you're going to want to do when you get this is throw it on a charger for the day. When the charge is low, it will not power on, will not pair, and otherwise will be incapable of doing anything. After you've got it charged the solar panels hopefully will keep you topped off, but if they're not make sure this is mounted somewhere where you can either dismount the camera (easy to do,) or run a micro-USB cable to it to charge it. There's a water resistant charging thing on the bottom, but you will need to remove it.
Four screws and you're done. You can install the base stick without the camera as well, which honestly in the installing realm this beats the pants off of trying to get the S600 in place.
I would advise before turning a single screw to charge it, run the app, and go out and make sure the signal strength is good and things look fine with where you're considering placing it. Hand it to your kids and send them out in the dark to point it around. Once you get it in, screw the knob tight or learn that squirrels can knock your field of view out of whack in like 3 seconds.
Thoughts
It's incredibly ok. If you can't get wiring somewhere and you're in the mood to either store to an SD card (which you'll need to purchase separately,) or the cloud (which they have a month free trial,) you're not going to regret this, unless someone comes up and just steals it with your SD card in it. Lack of an AP mode means it can't double as a trail camera easily, and the software overall needs some work.
It could be great, make sure the use case is yours before thinking "aww yeah, no wires." You'll need perfect sunlight, or relatively few triggers to operate indefinitely without a top off charge, and when software is this meh this long it doesn't bring great hopes that we're in for a giant leap forward.
Overall for the price? Probably worth it for most.
The Soliom S100 is usually available from Amazon, but of course as of today they're out of stock