The Govee Aura Table Lamp feels like a musically responsive Lava Lamp
As stated before, Govee sent me a box of useful stuff. The last product from my unexpected box of neat is the Govee Aura Table Lamp.
TL;DR – fairly enjoyable audio-responsive (via microphone, this is not a speaker) LED Lava Lamp, missing some functionality I'd love to see.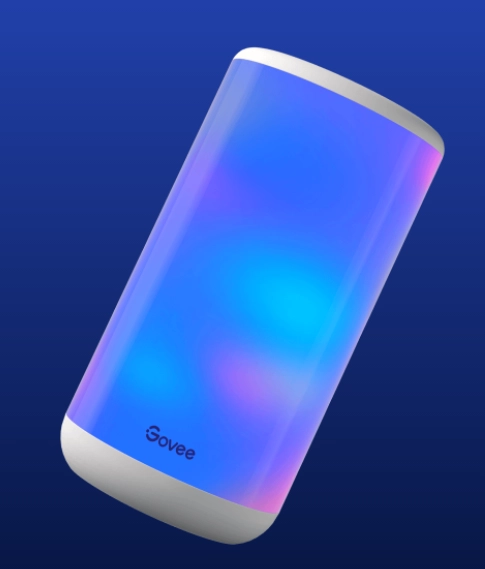 Photos don't do it justice
I'm going to state this now. The Govee Aura Table Lamp when turned on is next to unphotographable with my devices. Anything I've attempted looks kind of like a sickly … brown… I'm not quite understanding why. You're going to get stock photos here of when it's powered on. The issue I believe is with my old Samsung Galaxy Note 8's optics but not entirely sure. It's not the colors I see regardless. It's not representing it even fairly well. Stock manufacturer's photos for this review.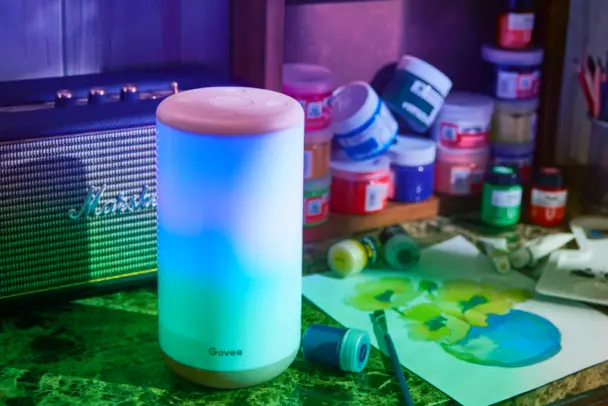 What can the Aura Table Lamp do?
The Aura connects to your WiFi and can be turned on and off by the app or your assistant. On assistant you can change colors, brightness, probably more than that but I didn't actually look into much on Assistant beyond the on and off functionality and setting it to red, green, etc. The Govee app was actually more interesting to play with than with Home/Assistant, and that's not normally something I find with these apps.
You can put on your music, let it listen and respond in a most pleasing fashion. Set timers for moods you want. Trigger it with assistant routines. All in all as a color changing WiFi lamp that can lava-lamp it up or just do its thing, it rules.
The Aura Table Lamp feels like it's missing something however. I mean as a lava lamp that responds to music and can be set up with timers and all it does exactly as advertised, but it feels like this also needs to be a speaker. As it stands it listens to the room and, honestly, does a good job of lighting it based on surrounding sound. But it really needs to be a speaker also.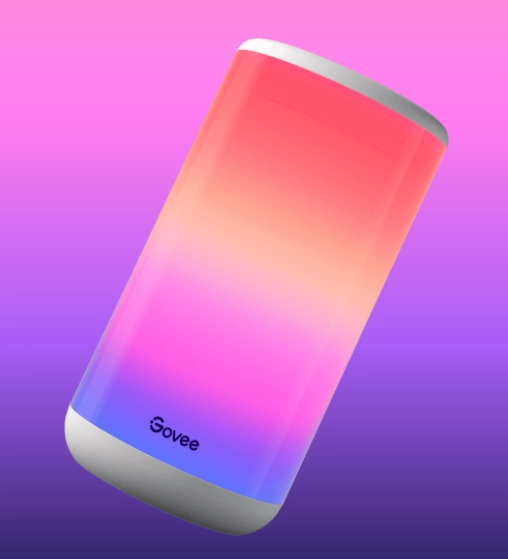 You can set timers to help you get to sleep. Timers to wake you up. For all it can do though it's not going to blast music at you, which it needs to do. Having a virtual lava lamp that responds to 5 & 7 year old kids screaming as well as responding to my music is not great for me being able to hear my music. Because the kids yell at it. The kids yelled at everything with a mic. So much yelling.
The Govee Table Lamp doesn't do one task I want
I really, really, really wish this were a WiFi Speaker as well. It's so cool as a lamp but nothing should be just one or two things any more. Especially when they have a big honking power cord like this does. Add a pass though USB charger, WiFi Speaker, pencil sharpener, it just needs to be one more thing and I'd be quite happy with the space it takes. Or if it could get ever so slightly brighter (it's 375 lumens, but I like insane brightness.) It's so close to awesome.
That, among other things, is why it's taken me a while to get to the review. I really do think all their lighting products are neat, and a few years ago this would be been the thing. At the end of 2020 this seems like a great idea for the start of 2018.
What doesn't work for it (for me,) is that I have to place it near my music source, talk to an assistant somewhere maybe not near it to get it to do what I want, and that it's essentially one thing… makes my tech nerd heart long for some input on the next version.
If you are wanting to see one in action, I suggest going and looking at their product page. That truly is a close representation of what it produces. I'm going to see if I can get someone with a newer and hopefully less brown-leaning camera to take some pictures or video of it in action, but the lighting effects they show are about what it looks like in real life.
Wrap-up
Overall – the Aura Table Lamp is a decent product, but make sure it fits your use case.
The Govee Aura Table Lamp is currently sold out. You can get on a list for when it's available on the manufacturer's website. It does not appear to be on Amazon at the moment.