These are a few of my favorite things
While there are going to be a couple of products in here, for the most part this is some free I discovered during 2020a that have brought me some joy and I'd like to hope they can bring you joy as well.
Not complete, but it's what I've got time for while waiting on an AT&T tech to fix our phone system.
Technology Connections
Technology Connections is a YouTube channel that has some of the most delightfully esoteric teardowns of tech history, what you're doing wrong (or right,) why the better format wasn't what you thought it was, and what actually was the difference between DVD+R, DVD-R, DVD-RAM, etc.
Along the way you'll probably be fascinated by how crappy percolators are, why light switches click, the one incredibly simple thing you're doing wrong with your dishwasher that you can see if you actually read the detergent instructions, video on vinyl, that every space heater out there is the same (1500 watt, ~5000 btu), why portable ACs are terrible, self destructing DVDs, and give you a very healthy obsession with a 70 year old toaster.
While I suspect I'm a bit more obsessed with this channel, my wife enjoys watching it as well.
Nest cams
While I say Nest, let's talk about what you can do with just a camera. As a parent who is capable of setting up two-factor authentication and choosing a password that is not similar to ones used elsewhere, I use some indoor cameras to determine which one of my kids is the filthy liar at any given point. There's also very little doubt about who picked a fight, who broke a thing, etc.
I've also turned over multiple things to police including video of someone doing a drive-by, a couple of attempted burglaries, video of our neighborhood car-handle pullers, was able to show my kiddo that people were not dumping garbage on the streets it was the high winds, etc.
I'm familiar with Nest and Foscam/Amcrest, my guess is Arlo, Ring, etc work as well but dang. Ability to know when kiddo got out of bed figured out where the iPad was stashed and spent the entire night from then on up watching Dr. Panda… yeah…
To be clear since someone's going to say "you don't trust your kids." That is correct. The combo of a 7 & 5yo = they lie without even knowing it sometimes. These are not trustworthy people yet. Would not do business with them.
Voice control of temperature
"Hey Google, I'm hot." All that has to be said and the central and a window unit upstairs kick into action. I can control with more granular precision such as "set hallway to 71" and "set bedroom AC to 66" but that is nice. I assume Alexa does similar, my Alexa has some issues learning and linking skills I haven't had a chance to sit down and deal with, not to say Google's without problems.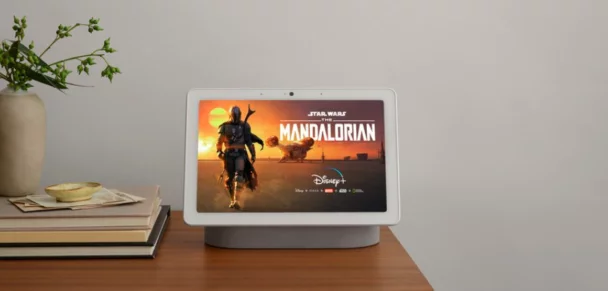 What We Do in the Shadows
I'm one of two people in my group of friends who did not particularly care for the movie. I didn't hate it, but because of this I did not rush to watch a streaming series based loosely on a movie I didn't care for. I do not binge watch things as a general rule. We cleared out two seasons in about 3 days. It's available on Hulu.
Queen's Gambit
You know what, you're going to like it or not and that's about it. I had a couple of chess obsessed friends as a young adult and this reminded me a little bit of them. It's on Netflix.
Free streaming live TV
Plex's free offerings are fun, Pluto has some good kung fu movies, there's a free live local TV streaming app somewhere as well I can't remember… plenty of free offerings so you don't actually have to sit and choose what you're going to ignore for your cell phone.
A digital Rubik's cube
Product time – I reviewed this a while back, it's really helpful for colorblind me. I can get the GoCube as screwed up as I can manage and I can get it back usually in a couple of minutes. It also teaches you how to cube.
A warm car
I did mine with a small space heater, an industrial extension cord, and a disconnectable plug (all manual,) but you can buy expensive heaters if you want. I believe I'm out $25 for everything but yeah – if I'm heading out about 10 minutes before I can power on the car warming apparatus and not have to scrape windshields or anything.
Amazon sells some non-do-it-yourself versions, but they require the battery be powered, and it's illegal in my city to run the car while you're not in it because people just walk up and steal them. If you've got it just on battery you risk draining the battery a bit.
Plus, 1500 watt $19 space heater vs 150 watt car heater… yeah… I win. As long as I don't burn the car down.
Control
It's a game, if you've ever read much Robert Anton Wilson or enjoy conspiracy / alter reality stuff you might like it. I think it was free to play on Stadia.
A bidet
In these unprecedented times, when social distancing is the new normal and getting toilet paper (and toilet paper shortage in general,) is uncertain, trying times have to be addresses. Should you ever wonder if your toilet can speak moistly to your rear, the answer is yes, and oh what it has to say is essential.
Did we complete trying times bingo? I think so.
But seriously, nothing quite says to a loved one that their butt smells foul and needs taken care of like the gift of a bidet. Want to go through 1 roll of TP with two adults every three weeks? A $25 investment and about 20 minutes to install can make this happen.
Make sure you read the instructions before purchase – things like "only works with a toilet seat that is flat on the underside" will come back to bite you, in the butt, literally. So yeah, Water Ridge / Costco toilet seats, we have a problem.
Being able to metric accomplishments/savings
We all know losing weight on a scale is a great motivator, until it suddenly become a game of diminishing returns. You lose less, the motivation goes away, you don't feel better you give up.
Similarly you invest in energy savings, you don't feel the returns. You might have a vague sense that you're saving some money, but what if you could see that that $40 water heater blanket would save you $36 the first year and you could plot out you'd have an extra $248 in 8 years which could pay for a replacement water heater (or a chunk of it,) when that one goes out?
What if you saw that physically disconnecting your TV at night, turning a power switch off, etc would save you $28.47 a year in standby power consumption costs? Would it motivate you?
Seeing where you're losing heat and insulating it. Logging device usage automatically. Knowing when you've got a leak and are in danger of finding a wall rotting from the inside.
Sense, FLIR, Eyedro, Flo (or similar, they seem to be pretty spendy)