Earin A-3 true wireless earbuds released
The third generation of the Earin truly wireless earbuds has dropped. We don't generally do non-testing PR here, but Earin's a company I've been impressed with since the beginning. There's also that I want a picture of my daughter Aerin with the Earin in her ear at Eakin (school near us,) but that's just because I'm an alliteration geek.
When I an across them in 2017, the Earin M-1s were groundbreaking. I'm not going to say they didn't get outdated fast (technology tends to have a short shelf life,) but they broke the ground and the world built up around them. In 2018 the M-2s were once again groundbreaking, and in a time of BT to BT transmission on most "truly wireless" earbuds, the technology Earin was using to get a signal from left to right earbud was about the only thing that worked for my huge skull. It wasn't Bluetooth, but I forget what it was.
The A-3 has been released, I'm not sure what the name change was from the M series to the A series, but it's the continuation of the line. I wonder if the intent is to not be confused with the BMW M3, or just move away from Apple's new chip line… should probably find that out.
Earin A-3 specs
Audio
Speaker: 14.3mm dynamic driver / Impedence 32Ω at 1kHz
Noise reduction: ambient noise reduction algorithms
Freq: 20Hz-20KHz
Mic: 4 microphones (2 Knowles, 2 voice picuo units)
Mono mode available to share audio with friends
Battery
Music and calls up to 5 hours
1.5 hour charge time
30 hours capabilities with case
Connectivity
BT 5.0, TWS, Qualcomm QCC5121 MCU, HFP, A2DP, AVRCP, RFCOMM, SDP, L2CAP
Sensors
Touch, accelerometers, proximity sensors, hall sensors
Misc
IP52, Wireless and USB-C charging
Pre-testing
Knowing what I've seen the past 10 years on earbud reviews I can tell you right off the bat that people are going to complain that it takes 1.5 hours to charge up a 5 hour potential set of earbuds. If you need all day long / 8 hour shifts this is not going to be your preferred headset.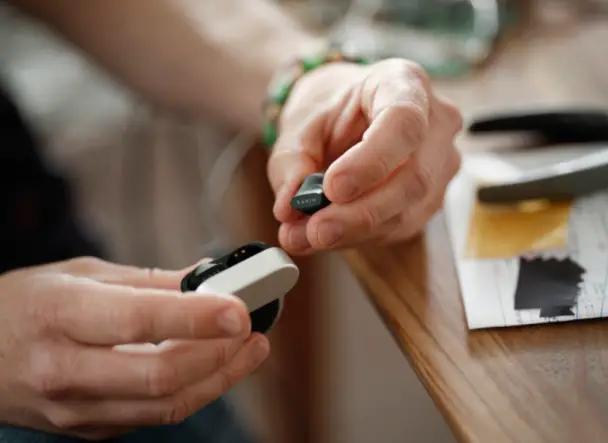 Really beyond that, I can't really comment without them in my hands. Really did dig the M2s until they disappeared.
There seems to be a lot of "no protruding stem" comments, which appears in the press kits also… if you consider that no wireless earbuds had a protruding stem until the AirPods came out and then everyone had a protruding stem, you might find this as amusing as I do.
I'll review these if we get them in for testing and link here.
Should you want to grab a set, they're available on Earin's website. They're not on Amazon yet where someone is attempting to sell the M-1s for $243 which is amusing.