Parler's coming back on Russian servers
Around the time a Martin Luther King quote about being good to be labeled an extremist was posted on the only functioning Parler web page left, Parler moved on over to DDOS-Guard. DDOS-Guard is a Russian owned service that hosts websites for Hamas (The US State Department considers it a terrorist group for the past 23 years,) and was the former host of 8kun.
DDOS-Guard has a contract with the Russian Ministry of defense, for what it's worth.
It will be interesting to see what measures Parler intends to take to protect US ID documents they're storing for their "verified citizens." Also will be interesting to see if they learned their lessons about randomizing media identifiers, not using third party sources for authorization, moving deleted items to other locations, throttling data pulls so nobody can pull 50+TB in a couple of hours, etc.
Strange bedfellows. qui cum canibus concumbunt cum pulicibus surgent.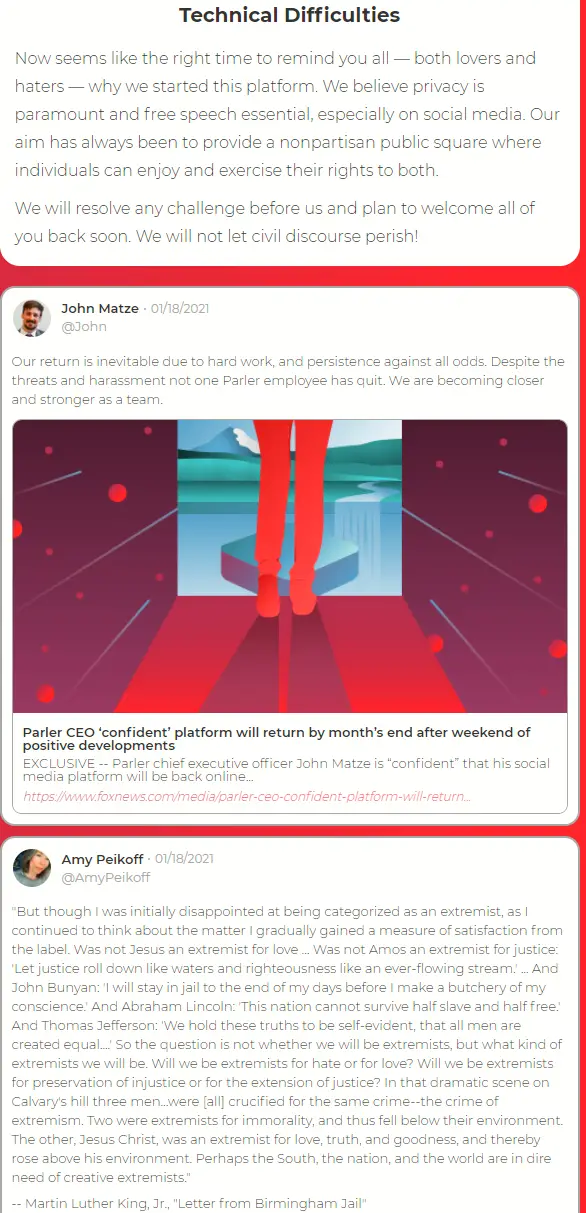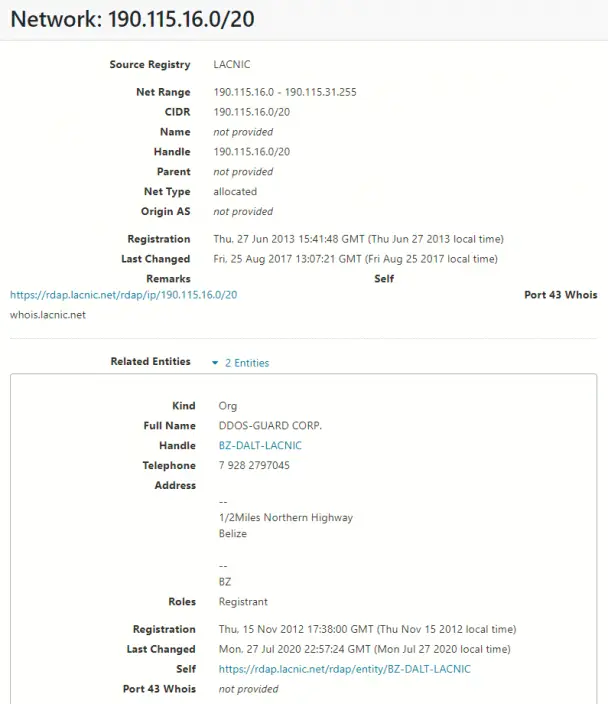 Should be noted that as of this writing TwitterforNazis had moved up to 172.67.195.158 to stick it behind Cloudflare, but it and Parler's IP both return the same error message in the same font. My guess is TwitterForNazis is a joke by someone as it redirects to Parler. While writing this TwitterForNazis changed to redirect directly to Parler.
Also should probably be noted a reverse IP lookup showing that the Parler site hosts TFN probably just takes registering a domain ($12,) pointing it to Parler's server IP, so probably Nazi Twitter is just a joke. Pretty sure I could register any domain I wanted, point it at them, and a reverse IP tool would eventually pick up that my domain was hosted on the same site. I may be wrong however, never used reverse lookup excessively.
While I am picking on Parler for their security failures and open posts promoting the events of the 6th which left several dead, the Twitter and Facebook platforms were instrumental in organizing the deaths and destruction as well. Parler is the easiest scapegoat because it was programmed so badly that the entire site with everything including GPS tagging managed to get put public and their security team wasn't even alerted.
Source thread: