Tales from the IT desk – Lumen fails
Thought I'd document for people what IT folk go through. Got answers, but no satisfaction, while writing this so there's a near complete story here.
TL;DR – Two stories – 19+ months of a project torpedoed. Days of work wasted at this point. Business as usual at every level. Second part involves them sending a disconnect notice and nobody, but nobody understanding what they wrote and what was happening and the subsequent nine months attempting to quit their service.
The fiber fail
The year: 2019, near the end of the year I got a call from Level 3 (which gets gobble up by Lumen in a bit,) telling us we were maxing out our pipe and perhaps we'd like to consider fiber with them. We had an old bonded T1 for reasons that you'd have to be in the film production industry and have dealt with ISDN 128K voice recorders to understand. BRI v PRI. Ancient tech that somehow got standard and we had to maintain.
Should be noted I'm pretty sure the company we signed up with was Time Warner/ TW Telecom, which got bought out by Level 3. So for this article: Time Warner -> TW Telecom (rebrand) -> Level 3 (acquisition) -> CenturyLink (unknown) -> Lumen (rebrand).
I talked with two guys AM, KS about this and they attempted to figure out how a phone system was pulling 3mbit constantly when it was sitting there doing absolutely nothing. The L3 it guy circled in to investigate, basically the assertion that we were maxing out a T1 for the phones was dropped and the sales pitch for a gigabit fiber run with our phone system on it was proposed. We get handed off to JW.
The savings would have been quite a bit. BRI was costing us a lot (think studio recording early 2000s you'll understand,) and fortunately we no longer needed it. We sat down and made a plan in January of 2020, they did the surveys, we were not in a rush because we had a contract on our current AT&T fiber, and L3 made a plan to install fiber, put our phones on it, then start charging for bandwidth at the time we started using it.
L3 goes away and becomes CenturyLink at some point here.
March 2020 we expected to have details and contracts but COVID happened March of 2020 and that pushed us back. I think I was in the office a total of once a week for two months and that was entirely to reboot stuff and remotely work on a couple of computers that were in the next rooms. We're talking Nashville Tornado that killed our building for a week and also Covid-19 lockdowns.
Things are a bit more normal and we've gotten things with CenturyLink worked out because we're not letting them trench our parking lot. They say their install team are experts at it, I say they've got two poles and I have watched their install teams so go on a pole or no fiber. May 2020 we've signed the contracts.
We get handed off to RH. I get an IP justification form for our class C and explain that since we own the class C through the company that was before Level 3, they own it there is probably no reason they have to have a justification form. We've got the C. No big, whatever. We have everything planned for a November fiber install, a December phone cutover, and a January data turn up date as February our AT&T fiber goes away.
Over the next two months they ship me boxes of customer premise equipment, I receive updates about various settings they've loaded regarding our phone system, status of orders, etc. They attempt to push trenching our parking lot again – the fiber would come on a pole across the street, trench across the street, through our parking lot, over our gas and water lines, before coming up onto a pole that then goes back into an access pipe – no, tell them it's got to be the same path as the current fiber because I know their installers and I don't want the building to be down for a day when they knock our water and gas out. I also don't want a parking lot of 120 cars blocked as they trench.
Plans fixed, we move on.
October 2020, things start kicking in to high gear, I've got the IP assignment on our CPE, we've got a verification of all the phone transfers, we're ready to send AT&T the cutoff notice for our fiber, and then things go silent. October 7, 2020 is the last I hear from anyone.
CenturyLink has been bought out or rebranded and is now Lumen
I start calling Lumen mid November to get a status update. I'd seen some AT&T subcontractors working on poles outside, figured they were ours, but wanted to verify. Guess what. They weren't ours.
December 1st comes and goes, I'll stress I was not in a huge rush here as our phones work and we had three months until the AT&T cutoff. I'd also had emails and calls in and did my side.
I called three times if I remember correctly to customer care and was given each time someone to leave a message for, which I did, and was never contacted back. Eh, Christmas… whatever
December 14 I email the customer care, it bounces around through a couple of steps and I get the incredibly helpful reply the next day to contact L – I email her and call her and that's the last I heard of that.
I take Christmas off, and I also don't bug them for the next few days due to the Nashville Christmas Bombing. We can't even make calls in the city so my methods of communication are emails that are never returned.
During this time I'm contacted by a Lumen sales person C who doesn't know what the deal is in Nashville and also gives me a couple of people to try and contact.
I contact a P, said fellow never calls back or responds.
I make some more calls to customer care and am told to talk with a woman we'll call M. Call, leave a a detailed email. No call back, no response.
I forget how but I learn that a couple of the people from the start were working other jobs… maybe I stalked them on Linkedin or something, but pretty much everyone who had started the project was gone, or not on LinkedIn.
January I'm told to contact a YF, do, and bam it's a human who responds and directs me to a man we'll call H. I email him, get a Mansfield Care Inquiry response (I think he's forwarded it and finally someone has contacted me) whoo hoo… contents of this were they don't have any information and I need to contact my team… yes, they read the history of everyone I've talked to and told me to contact my team.
I contact YF who had directed me earlier and get the same thing "contact your account team" along with that JB is my account team manager. At this point from phone calls I've been directed to the Portal, which just does not load in any browser for my account.
I contact JB and H and JB is an auto responder for the rest of this. H asked AskCTL team to contact me and they told me to contact the Pooled Services Delivery Team and I'm given an address. Nobody responds.
Monday 1/4 I am promised by a CSR on the phone after 10 minutes on bad jazz music that I've got a person P2 who returns phone calls and will work this and I leave him a message and that's the last I hear of that.
Given M again as a contact, didn't realize I'd contacted M before. No reply.
Jan 11, 16 minute phone call on my cell (I'd been going into the office to call usually because my mic is garbage on my Note 8 for some reason lately) I'm directed back to YF who contacts H and JB again. JB's out evidently. AskCTL tosses me a helpful note that I should contact them and reach out to the chat team.
H loops in W, J3 (neither of which reply other than an office auto reply.)
Wednesday January 13th, roughly two months since I'd started attempting to get a status update I get a random note from AskCTL that "Unfortunately your order was identified as a high cost order, meaning that the cost for the onsite work exceeded our approved threshold. Our engineering team was unable to move forward."
I call in again on January 14 and spend 13 minutes explaining the epic and that I need to speak to someone because 1) they cancelled our order and didn't tell us, 2) I've got several thousand dollars of CPE sitting in my office for the past 8 months, 3) we were down for nearly a week and need credit on that, 4) what the actual how do you have customers?.
I'm given a person's email R and assured she ALWAYS responds but she's away from the computer for some reason and that the CSR had been talking with her twenty minutes before. No chance of not responding. Yeah. 23 hours later. I CC'd H as I'd gotten a response there before.
I call up today and spend 21 minutes talking to someone who can't pull up any of this epic history. I'm given an email address R2 and assured that's who I need to fix this. There's no direct number for this R2. I email off to R2 and within 5 minutes I've got a bounced email.
H hits me and three other people up and I get two out of office auto replies.
And finally after months of this, probably 9 hours of meetings, back and forth to get the contract, probably two hours wasted just on the phone to get a status update, I get an email that the whole thing evidently is after everything signed and orders put in, 4 or 5 months after contact signing they decided to cancel it, shot an email over to the sales guy who had left months before, nobody on his team picked it up to relay the message.
Checks how many phone calls I've gotten from them in 2.5 months with that many contacts… well, I do have some from when the Christmas bombing went on but excluding those I'm going to estimate with a high degree of certainty 0.
Update: 2:37pm – January 15, 2021, 45 days since we were supposed to be live, I receive my first return call on this issue. It's R. 25 hours 1 minute from when I contacted Customer service and was given R's info.
At this point we're getting it documented that under no circumstances are their legal and contract teams to give us any problem leaving, which is happening anyway, that they're going to provide a timeline of when it was cancelled and who dropped everything, and a service credit for the time we were down (which is a separate issue that I wasn't as ticked about).
Update 11:36am January 19, 2021: no response on request for credit for time down, no documentation provided for the "we screwed up." No letter of exemption from and termination of our contract clauses. Basically got a call back after months and that's about it so far.
Update: August 25, 2021 – it's been a while, back in May I talked to someone who was trying to sell us business fiber and I laughed at them. Talked a bit about the equipment I had sitting in my office for over a year and contacted the returns department. As with all things prior to this I never heard anything from them until I got a bill for over $10,000 on Monday.
Yup, they'd charged $10K for equipment they abandoned when they abandoned the project. Rather than sending an RMA thing, or having anyone call me up, they just sent a bill. Another 9 minutes wasted in a phone tree to find that customer service couldn't do anything other than give me an email to write to and note that I'd called.
Emailed, this time got a response back. Got RMA printable, shipped the two boxes equipment that's been sitting unopened back, still unopened. As I fully expect every possible thing to go wrong here, I photographed everything, did this in front of a security camera, saved the video, and have video of UPS picking up the packages.
September 2nd, 2021
As expected Lumen has gone silent. I wrote asking if they were going to fix that bill and would acknowledge the receipt of merchandise, and they have not responded, pretty much like every contact prior to this.
Holy crap, all I had to do this entire time was just update this article and they get around to responding. Nice to know there's *some* way to get something done. Got a response 6 days after they received the returns that they're going to take care of a credit sometime around the middle of the month. We'll see about that one.
September 23rd, 2021
I've got email acknowledgement from a couple of weeks ago from the returns team that they have the equipment and that a fix would be on the bill. Got another bill dated a couple of days after that for 10K again. While I'm still probably within the timeframe of the credit being applied I decided I'd go ahead and proactively open a case with Lumen because literally not one thing has worked out here.
I'm at 2 days and nobody is working the case evidently with customer care. Typical.
October 4th, 2021
We got a notice that we're going to be shutoff for non-payment. Have opened up yet another ticket.
During this call (37 minutes and some seconds) we learn that their threatening letter, because they haven't applied the credit to the account still, is a threat to cut off the internet service we don't have from them and not our phone service.
October 14th, 2021
Thought I'd mention that during the last interaction I had them assign me an account rep and said we had a need for a different service. We'd been running obviously without anyone for a long time. The helpful person on the line said she'd get one assigned, did while I was on the phone, and she said they'd be reaching out in a week.
Yeah, no… as with every other thing with Lumen that was the last I heard of that.
December 8, 2021
Finally have an account rep assigned – DM. Was told she was assigned on the day she sent me the email. That would be 55 days from the above time that I was told a Lumen rep would be reaching out in a week, or missing the time they gave me by 48 days.
December 16, 2021
After a bit of discussion on getting our existing phone system on a new circuit I was contacted and asked for some more details on our system which I provided.
Today is January 7, 2022. 22 days / or 3 weeks and one day for a quote. I've shot a follow up email to all concerned, but hold no hope because this is what they do.
The disconnect disco
Which has gone on so long we switch to real names near the end.
January 12, 2022
I've gone ahead and called the sales rep's cell phone (DM) as I just got a written notice from G that Lumen is discontinuing the service that we're currently using in two months. Left a message. No response to the email from the January 7th, or December 15th. Pretty sure I'm out yet another sales rep.
January 13, 2022
I call and leave DM a fairly snippy voicemail that it's been 30+ days at this point and it's just Lumen being Lumen again, finally get a call back. Basically I'm told the rep has been sick for weeks at this point. I resist pointing out that voicemail or an out of office auto reply would take care of messaging this much better than leaving customers hanging.
Jan 14-Feb 18, 2022
Our rep is now in, I explain the issue (service is being discontinued on March 31 and am told the rep will get back. On the 21st of January I'm told it's being worked on and waiting on approval.
Feb 9 I get a 42 page long quote on services from DM. None of which appear to address equipment changes which are going to be required because they're removing the old trunking/TDM Access system. I mention this. A call with an engineer is scheduled.
I have a call with the sales rep on Feb 11. Mentioning my concerns that we're being disconnected and this doesn't address anything we get a new call date for the 16th and I talk with the sales rep and an engineer and I forward him the document that says we're being disconnected.
He tells me to ignore that, that's an end of life notice, and we don't need to change our phone plan but they're going to reach out to the customer success department just to verify to ignore the sternly written very plain warning. I write the warning out and ask how this can be misinterpreted and am asked where that text I just wrote came from. I point to the document that has been commented on that I forwarded.
We set up yet another conference call for Friday the 18th. This time I have another engineer on who says basically "yeah, that's what the letter we sent says. Yes this is going to be disconnected if we don't do something immediately."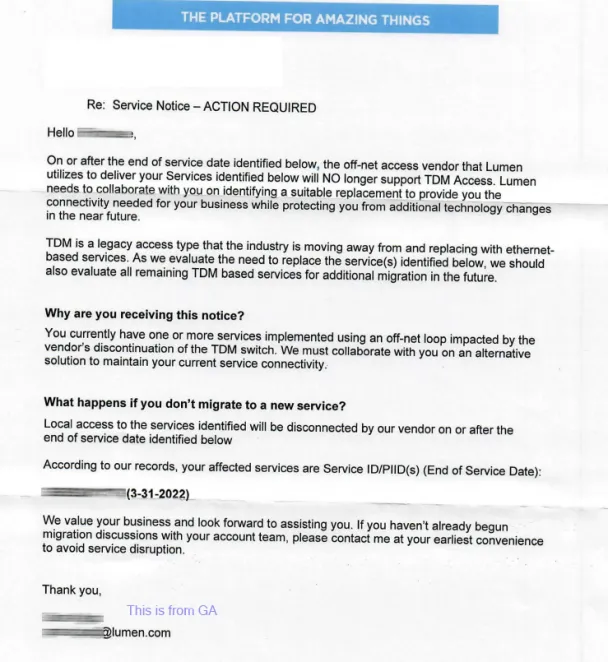 No crap? Really? I get someone to understand at nearly 60 days after they sent me the warning and the third set of conference calls where I had to insist that they read their own letter to me.
March 8th
The engineers have talked with my phone guys but do not have a plan and need a second call. The person, GA, who sent the immediate action required letter back in December has gotten into the loop. Two Fridays ago when I was sick as a dog they wanted me in on an emergency conference call. I literally could not and asked to do it last week.
I reached out last Tuesday (Mar 1) and didn't get a response until Thursday (Mar 3) when I asked what was going on. T responded that there have been some changes internally and they're working on it.
It's Tuesday, March 8. I've got 23 days at this point until the cutoff date. There still has to be a conversation with the local phone guys to see what is actually required to take our phone system to whatever the new Lumen box would be. We don't know what that box would be.
At this point we've lined up a replacement phone vendor for a VOIP system and will probably be pulling the trigger on Friday.
Mar 10th
I've been reached out to by the person I'm assuming is taking over for our rep because, per email, she's not working in that position any more. I'm told DM has taken another position in the company. My last 3 reps similarly did and I found two of them that position was "not at the company."
Mar 11th
I'm informed they supposedly have a plan, but not a cost going forward.
March 16th, 2022
So many things have happened I'm not sure where to begin but I'm cautiously optimistic because we're leaving Lumen.
There was a $3,300 install charge and our rates going up fifty or sixty dollars a month. Having to get our new rep up to speed on what Lumen's done for us, and I finally got the go-ahead to dump 'em.
We had reasons for staying until I showed we could save $8K in 16 months. This with our current usage, not with the original setup (we had a LOT of people at one time.) Lumen wasn't price gouging us much for the original setup. Not having an account rep that would return calls lost Lumen any chances of a handover.
The actual plan to respond to the December shutoff notice came on March the 11th. 93 days. It took three scheduled conference calls, two of which I had and was assured at least twice in emails and on calls there was nothing going on until I asked for a written statement of what was being said. Third conference call was "yup, we sent that, you're being disconnected".
During this 93 days I contacted DM, our rep, somewhere in the neighborhood of 20 times. I forwarded the letter of disconnect at least three times and asked why it said we were being disconnected if we weren't. It's been like dealing with someone in a house fire that keeps insisting that even though there's a fire that it won't affect you. Oh sure you're on fire but there's some wiggle room. Fire doesn't just engulf you in fire.
March 21, 2022
With 9ish days to go before we're disconnected everything's in place, except the 4 POTS lines we have, and nobody at Lumen is responding to calls or emails from Wednesday of last week. That's ok, we didn't need an elevator or security system line. /sarcasm.
March 22, 2022
I talked to GA yesterday. We discussed a bit about how the previous CSR had basically dumped my case in GA's lap and that it was a fiasco. I didn't notice that evidently the initial contact that we were being disconnected back in December was from GA, they guy who said it had gotten dumped in his lap recently. So yeah, GA was possibly the person supposed to be in touch with us this entire time, DM basically didn't understand we were going to be disconnected and kept trying to sell us a phone plan.
March 30, 2022
We jumped to VOIP for the phones yesterday and made the stupid assumption that our POTS lines would continue to work… or that they were installed correctly… because they're POTS, coming in on an AT&T punch down, AT&T markings on all of that. Little copper wires. Not so much evidently. When the Lumen equipment goes offline nothing works any more.
For the past month they've had the opportunity to maintain a business relationship with us on the POTS lines. We're 40 hours to disconnect of service. Nobody has an answer.
Le sigh…
April 6th, 2022
March 31 was my last contact with Lumen. GA forwarded me engineering notes that indicated Verizon was to blame for the faux POTS, they were the ones disconnecting the service, and that the emergency extension would enable time to port the numbers.
They filed an emergency extension to keep the faux-POTS lines they were delivering active. I asked if Lumen wanted to do anything to retain the business. Really just mostly interested at this point in whether they were going to just give up as I have POTS ordered.
I was asked by GA if I wanted to speak to a technician. I said yes and that was the last I heard from GA. I followed up on 4/04 but GA not found.
I've emailed everyone from a month ago about picking up the equipment as the last time they left equipment here they sent a $10,000 bill and threatened us. Probably going to file a BBB complaint at this time just so there's a record.
April 19, 2022
I've got emails pointing fingers and claiming that I was told there was no solution. I've got emails showing that was not the case. Whatever, tomorrow our POTS lines get in hopefully and we're done with Lumen. They do not have any plan to get their equipment, no communication from anyone since the 6th.
April 20, 2022
AT&T shows, two out of three lines get up and working, the third requires a second day because evidently someone spliced the lines together incorrectly 25 years ago.
April 21, 2022 (Thursday)
3 POTS lines are in place, numbers good, and everything fine other than one issue with an old piece of equipment. I hit all my contacts to cancel Lumen. Hear nothing
April 25, 2022 (Monday)
Hit up everyone again in the morning to cancel services. Am told we need to talk and coordinate on Tuesday. I'm given a list of times and select one.
April 26, 2022 (Tuesday)
The time I selected comes and goes. I was watching Metro Stormwater Services destroy my front yard and managed to miss noticing that the call time came and went. They were to call me.
Tossed an email, response later told that the morning meetings ran long and asked if I was free after 2. Yup I responded.
Surprise surprise surprise, nobody called. Nobody responded to emails.
April 27, 2022 (Wednesday)
Called again, got voicemail, while leaving a voicemail got a call from GA who was just returning the missed call he saw pop up / was not calling me as he didn't immediately know who I was. Apologies for more Lumen-like behavior, put in the cancellation request, mentioned I should generally have done that. I told him how many times I'd attempted and was directed to talk to "my team" and never received call backs, ever.
Extremely well documented at this point. Supposedly the request is in and they're sending boxes to return the obsolete equipment that they're going to throw away.
May 11, 2022 (Wednesday)
We've received word that our disconnected service is being disconnected. There's no physical sub-carrier connection for the past 12 days and Lumen has not been providing anything, so of course they've set the final billing for 30 days out and 2 billing cycles. That's about $1200 right there for subcontracting 4 faux-POTS lines (they weren't POTS, they were some random VOIP emulating POTS, which is not what it was supposed to have been).
In for a couple of months worth of fighting the last three bills. No return stickers and boxes for their equipment as of yet.
July 14, 2022 (Thursday)
We get an email from collections. I email the rep who's supposed to have taken care of all of this. He no longer works there it appears. Contact our account rep who refers us to the Customer Success Team who has been in on the emails the past 5 months… and evidently forgot to make sure we succeed.
July 20, 2022 (Wednesday)
Ah at this point, Terry Mattingly (rep) had sent an email last week to Ann Connell and Armando L Frezza (customer success team) last week updating them that Grant Agbo (GA from above) was no longer working with Lumen and had dropped us. I of course have received no response as of this writing which is expected.
Shot a follow up email to all involved asking if anyone was actually going to do anything.
Seems like I called also…
July 21, 2022 (Thursday)
Got an email from Terry at this point. I'm told Ann is swamped at the moment. She's been on CC on most emails I see since Feb 12. I have no emails back from her. I have never heard back from her as far as I know.
Terry asks for a brief summary… This summary is a page long. Terry came in after Donna (the rep who twice told us we weren't being disconnected and tried getting us the long distance plan,) so missed out on a lot of the ridiculous stuff. Terry thought this had been going on since March (4 months,) not January (7). New Customer Success Advocate Jason is on the case.
July 27, 2022
Responding to an email from the previous day I re-outline what the issues are – need final bill. Need credit because I was told I was waiting on a potential solution at one point. That we owe closer to $0 than the thousand something they're claiming (Probably $180 or so for the faux POTS which were the only things in use.) Not $0 but the only reason we were on for any time past the cutoff date was because they dropped everything, again, and again, and again.
I add a TL;DR summary on the 28th just for good measure.
Crickets.
August 3, 2022 (Wednesday)
I shoot an email asking if there's any movement on this as I have yet another collections note. No response.
August 5, 2022 (Friday)
I shoot emails to basically everyone involved asking if this has been abandoned again as I've had no contact with anyone from Lumen despite emailing them since July 26th. Ten days.
I get a response back that it's not abandoned just that there's been no response to an internal request for billing credit.
August 8, 2022 (Monday)
Got an email from the someone (NS) with the title "Senior Customer Success Dispute Resolution" – I'm guessing specialist but that's not in the title. She appears to have no information. I summarize the past 9 month fiasco yet again.
August 17, 2022 (Wednesday)
I receive an email from NS asking what year this is for. I point to all the dates which include the year in the email I sent her.
As a side note, this last fiasco has now gone on long enough that a child could have been conceived and born.
August 23, 2022 (Tuesday)
It's been 6 days, 3/4 business days. No updates. I spend a few minutes investigating filing a complaint with the FCC, FTC, and BBB. The BBB I've found is unilaterally useless in the past, so I haven't bothered with filling out their complaint. Shoot another message over asking whether anything is ever going to happen and actually get a response that the person NS working the case is going to attempt to get an update.
Not that there's an update, just that an attempt will be made to get one. Months into this.
I get an email near 3pm from NS. It's the same person asking if I'm trying to get a credit for all of 2022. Included in her response is the email in which I include the dates we're trying to get a credit for… at this point I know they're not serious and I'm writing up the letter to the BBB, and state attorney's office.
August 24, 2022 (Wednesday)
After two emails to this person stating that we probably owed a total of about $120 and that we were not attempting to get a credit for all of 2022 I'm asked if a very large amount credit is acceptable. I worked this number out and it's a couple of dollars off of the entirety of 2022. I've given up and wrote back that sure, whatever it takes to get us off of Lumen and close this case. We owe $120, you want to credit us thousands, whatever I give up.
I've explained again and again in emails to people that I'm not trying to screw them, we just want to pay probably about $120 for services we were forced to use, leave, and never hear from Lumen again.
September 1, 2022 (Thursday)
We received a certified letter from AC indicating that TDM Access was going to be discontinued on 9/30/2022. I've hit up everyone as it's once again been a week of no movements, CCed AC on this, that considering the last date we had anything with them was 4/22/2022 we'd like to 1) save them some money on certified letters, 2) get our credit or pay our final bill and go.
We long for the day we're out of this Lumen garbage heap.
September 29, 2022 (Thursday)
I received an email at 6:20pm indicating that a credit in the amount of pretty sure what was left on the account was issued. Oh wait, the way they phrased it indicates they're charging us… *sigh*… ah yes, we're getting a credit of negative amount…
This is not the credit we agreed to after giving up (August 24, credit accepted was $2,789.04 plus applicable taxes) but appears to be the amount that was left on the account (closer to $700). I'll have to wait another month probably to see if they've closed the account.
I've written them back asking for an email that states this correctly and asking what exactly was put in because I'm fine with the nearly $800 credit if we're done with them… I've spent more than $120 at this point in time fighting them and no longer feel any obligation… but if they're coming back for anything else and attempting to draw this out any longer I'm back to fighting.
October 3, 2022 (Monday)
Got a response to my email which was literally my email I'd sent above… nothing else… like they hit respond, removed anything to indicate it was a response, hit send so I got my own email back to me as their email.
October 10, 2022
I got an email from our accounting department – it was a bit delayed due to family issue, I wasn't waiting on it, that indicated that amount was what they kept threatening us for. I was requested to not attempt to pay for the $120 or so we actually owed because at this point they figure Lumen has wasted well more than that in time just from the accounting department's side.
Whether they close out the account or not do not know. Nobody has so far commented on whether I can get a letter of release on the equipment Lumen is abandoning, a statement that we're no longer a customer and we're done, etc… I fully expect like before for them to come after us for the equipment they refuse to collect, like they did the last time.
October 21, 2022
I reached out again last night spamming everyone I know asking the same thing again… NS has replied and asked other people whether they want the equipment back.
This is month 7 of not getting an answer as to whether they want equipment back. Keeping in mind with the fiber fiasco above they attempted to charge us $10K for some junk they left, I want it in writing.
Asking again whether we were done and the account closed I was informed we got a credit for that amount above…. not a negative credit as emailed… I assumed this but assumptions with this company generally come back to bite you.
I've asked once again whether our account is closed. Is there a balance left on the account. Do they want the equipment. Can we just go our separate ways at this point.
October 23, 2022
Received a collection notice. Emails from the past couple of days indicate that there's a credit pending for an amount they didn't factor in so of course this isn't done yet. This other credit has to process. Of course after my umpteenth email on the equipment they've asked another person who hasn't responded if they want the equipment back. I would lay odds this person will not respond.
I asked if any of the people on the email thread could do me a favor and write the words "there's a pending credit that will wipe out the balance and then your account will be closed" in plain text rather than vaguebooking back answers that an amount is being processed.
November 10, 2022
I sent Nikkie Scales, Jason Flynn, and Ann Connell an email on October 23rd asking if there was a single person who could answer in plain English "this account will be closed with a zero balance when this pending credit processes" and an email that states that they do not want the equipment back. All they had to do was any of the three of them respond with yes, no.
18 days later nothing.
November 11, 2022
Got an email from accounting that another credit had been applied. We now have a positive balance. It's once again not a number that we discussed, agreed to, or whatever. I still have no confirmation that Lumen is not going to do what they did last time and come after us for $10k over equipment they've abandoned. To be clear, they've abandoned the phone equipment here.
Still no responses from any of the employees involved who claimed they'd take care of it.
March 6, 2023
I've got an email that Lumen has been sending us a statement for the past six months indicating we have a credit. Accounting calls them "that truly horrible company" and asked if I have any contacts with Lumen who might actually respond… hah.. no.